BMW 6-Series Gran Turismo review
Current Model
7 Series comfort, more luggage space than 5 Series Touring, less desirable than either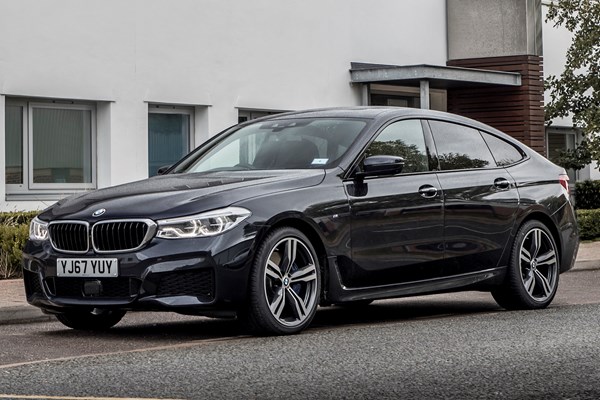 PROS
Extremely comfortable and refined
Interior space comparable to 7 Series
More luggage space than 5 Series Touring
Better equipped than 5 Series
CONS
Driving dynamics lack sparkle
More expensive than 5 Series Touring
Heavier than 7 Series and 5 Series Touring
PROS
Extremely comfortable and refined
Interior space comparable to 7 Series
More luggage space than 5 Series Touring
Better equipped than 5 Series
CONS
Driving dynamics lack sparkle
More expensive than 5 Series Touring
Heavier than 7 Series and 5 Series Touring

The BMW 6 Series Gran Turismo replaces the 5 Series Gran Turismo in the German manufacturer's line-up, but continues in the same vein. Badged GT, the new model is larger than a 5 Series, slightly smaller than a 7 Series, but adds a hatchback body style and modest increase in ground clearance unavailable on its siblings.
The 6GT's unusual ingredients mean it is without direct rivals, although both the Mercedes CLS Shooting Brake and Audi A7 are similar in concept and comparable in price. Buyers might also consider full-size SUVs such as the Land Rover Discovery and Volvo XC90, or large estates with raised ground clearance, such as the Audi A6 Allroad or Mercedes-Benz E-Class All-Terrain.

There's a crucial difference versus the Mercedes and Audis mentioned, however. On these models, the distance between the front and rear wheels (the wheelbase) is the same as the less expensive E-class or A6 derivatives on which they're based (or less, in the case of the older CLS).
Based on both 5 and 7 series BMWs
The BMW 6 Series Gran Turismo is based on a mix of 7 Series and 5 Series underpinnings. That's why its wheelbase is the same as a 7 Series (not the shorter, E-class- and A6-rivalling 5 Series), and its body just 6mm shorter overall. It's also as wide as a 7 Series.
The 5GT's rear seats were raised 30mm above the front seats to give rear passengers are commanding view ahead, but this necessitated a high, dumpy roofline. The 6GT's roof is 21mm lower, and it's body 87mm longer than its predecessor to create sleeker proportions (although they remain hard to covet), but this also demanded that the rear seats be positioned at the same height as the fronts.

Despite this, there's still a generous amount of both head- and legroom in the rear seats and a sense of airiness. The 7 Series limousine-like atmosphere can be enhanced with optional Comfort seats with an electric reclining function and head rests like goose-down pillows.
Unlike a 7 Series, however, the 6 Series GT has a large hatchback. The previous 5GT featured a dual tailgate, which would either open like a saloon car's (maintaining a sealed barrier between the car's interior and the outside elements), or as a more practical and windier hatchback. The 6GT adopts a more conventional hatchback.
It opens electrically as standard, providing access to 610 litres of luggage space behind the rear seats. This is more than both the 5 Series saloon (530 litres) and the 'Touring' estate (570 litres). The rear seats can be lowered almost flat (an angle of around 15 degrees remains) by pressing buttons easily accessed in the rear luggage area, or split so that either 40 or 60 percent of the rear bench is lowered and one or two passengers can continue to sit in the back.

With the rear seats completely lowered and the rear parcel shelf neatly stowed away beneath the boot floor, BMW claims 1,800 litres of luggage space – 100 litres more than a 5 Series Touring,
The driver sits 6cm higher than in a 5 Series, but this is still very much a car-like experience. The dashboard is carried over from the 5 Series, and impresses with its build quality, premium feel, fit and finish, and logically arranged controls. The infotainment system is responsive and mostly intuitive (accessing the optional Wi-Fi hotspot is a bit of a muddle), and at least up with the class best.
Larger, high-horsepower engines only
As a larger, more luxurious offering than a 5 Series, the 6GT is not offered with its siblings' smaller, more efficient engines.
Instead, buyers can choose from the 630i (actually a 2.0-litre turbocharged engine with rear-wheel drive, and up to 45.6mpg and 142g/km), a 640i (a 3.0-litre turbo six cylinder with xDrive all-wheel drive, and up to 40.4mpg and 159g/km), or the 630d (a six-cylinder turbodiesel with either rear- or all-wheel drive, and up to 57.7mpg and 129g/km – though xDrive all-wheel drive reduces the official fuel economy by around 10 per cent. All derivatives are fitted with an eight-speed automatic gearbox.

We tested the 640i xDrive M Sport. BMW engineers say they targeted comfort levels extremely close to the 7 Series, with dynamic behaviour approaching that of the 5 Series. The overriding impression is of an extremely comfortable, refined and luxurious car.
When equipped with optional air suspension on the front axle, the driver can adapt the 6GT's characteristics, with firmer or lighter steering, relaxed or aggressive gear shifts and three suspension settings. The ride height can also be raised by 20mm, and lowers by 10mm in Sport mode or at high speed.
The only BMW with a Comfort Plus setting
It speaks volumes that this is the only BMW to offer a Comfort Plus setting, but not Sport Plus. In Comfort, the 6GT glides over speed bumps like its ploughing through dough, and rides serenely on regular roads.
Pernickety occupants might still detect a very, very distant agitation as the suspension deals with small bumps, but select Comfort Plus and this disappears entirely. With wind and road noise reduced to a distant hush, this is an extremely comfortable way to cover great distances.
The downside, as you might expect, is a lack of driver engagement on a twisty road in Sport mode, an environment BMW traditionally aces. The steering – though quick and accurate – feels rather numb, body roll persists despite the optional roll-control system fitted to our car, and there's a general unwillingness to turn crisply into corners. The 6GT is capable enough, but it's not particularly engaging for the driver.

The 640i does deliver a large amount of performance, however. The six-cylinder engine is smooth, sounds purposeful without being raucous, and delivers excellent acceleration from low down in the rev range.
Rev it harder and progress becomes very rapid indeed, thanks partly to the extra power and 150kg weight saving over the previous model, despite the new model's increased dimensions. It's worth noting, however, that the 6GT is 100kg heavier than both a 5 Series Touring and a comparable 7 Series, giving it a significant chunk of extra mass to shift.
Despite all the 640i's positives, 70% of British buyers are expected to opt for the 630d. Previous test drives in the 530d suggest a blend of refinement, performance and frugality that suits this concept – and the likely manner in which it'll be driven – very nicely indeed.
Eight-speed automatic on all 6 Series Gran Turismos
The eight-speed automatic fitted to all cars ably covers a wide spectrum of uses, from smooth, refined shifts at very low speed, swift responses in auto mode, or extremely quick changes when the driver switches to manual mode and uses the paddleshifts behind the steering wheel.
UK buyers are offered either SE or M Sport trim. On either spec, standard equipment includes BMW Professional navigation with 10.25-inch touchscreen display, ConnectedDrive Services, adaptive LED headlights, cruise control, reversing camera and parking sensors front and rear.

To this, M Sport upgrades from 18-inch to 19-inch alloys, adds a panoramic sunroof, sportier styling, sports seats, plus suspension and brake upgrades, and a host of desirable finishing touches inside and out.
Many features that command a premium on a 5 Series are standard. All this goes a long way – if not all the way – to making up for the circa 11 percent price premium that a 6-series Gran Turismo commands over a 5 Series saloon.
Loads of optional extras available
Myriad options are also available, including the front air suspension fitted to our car (rear air suspension is standard), and rear-wheel steering, which makes the 5,091mm long 6GT feel more manoeuvrable through low-speed corners, and more stable at higher speeds.
Safety is a BMW watchword and the 6 Series Gran Turismo delivered with a five-star crash-test rating when it was assessed by Euro NCAP at the end of 2017.

However, many options are bundled together in tempting packages at a reduced cost. These are:
M Sport Plus package: 20-inch alloys, Hardman/Kardon stereo and privacy glass
Premium package: soft-close doors, four-zone climate control, massage seats, Comfort front seats
Rear Seat Comfort package: heated seats front and rear, rear window and rear side window blinds, reclining rear seats, rear-seat entertainment
Technology package: BMW Display key (check fuel range, if doors are open or closed, if alarm is sounding by looking at key), Wi-Fi hotspot, head-up display and Gesture Control, which lets you answer or decline phone calls or adjust volume with waves of your hand.