View all BMW 6-Series reviews


BMW 6-Series M6 Gran Coupe (2013 - 2018) review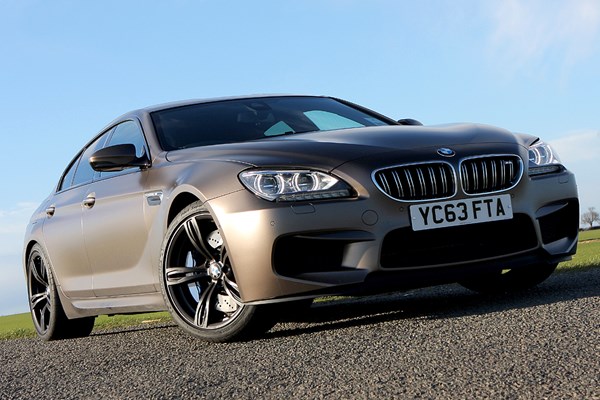 PROS
Epic performance and incredible engine
More practical than regular M6
CONS
Seriously expensive
M5 saloon considerably cheaper
Better suited to autobahns than UK roads
PROS
Epic performance and incredible engine
More practical than regular M6
CONS
Seriously expensive
M5 saloon considerably cheaper
Better suited to autobahns than UK roads
BMW 6-Series M6 Gran Coupe rivals
Like the regular 6 Series Gran Coupe, an impressive car in its own right, the M6 has four doors and seating for four, with a fifth smaller seat between the two rears that's only really suitable for tiny people and short journeys.
Blistering performance
Under the bonnet is the same 4.4-litre twin-turbocharged V8 petrol engine as the M6 Coupe and M5 saloon. It's an impressive powerplant that produces more than 550bhp and 680Nm of torque, giving the M6 Gran Coupe performance the equal of all but the most extreme supercars.
The sprint from 0-62mph takes 4.2 seconds and top speed is electronically limited to 155mph, although buyers can specify the optional M Driver's Package which raises the top speed to 189mph.
All that power is fed to the rear wheels via a seven-speed twin-clutch automatic transmission. There's a vast array of parameters the driver can adjust, from the standard-fit adaptive dampers to the engine map, via power steering assistance level and even gear change ferocity.
We tested the M6 Gran Coupe with the optional Performance package, which liberates an extra 15bhp and includes different suspension and differential settings for sharper handling.
Hugely expensive
A price tag brushing up against the £100,000 mark makes the M6 Gran Coupe a weighty proposition with competition from both the luxury car and performance car world. Direct rivals are few but the Gran Coupe does have a handful of rapid four-door coupe competitors in the form of the dramatic 5.5-litre V8-powered Mercedes CLS AMG and the seriously fast but rather numb-feeling Audi RS7.
It also faces an enemy from within – the BMW M5 saloon shares the same stunning engine and eye-opening performance figures yet costs well over £20,000 less.
For some buyers the Gran Coupe's more striking looks and Grand Tourer character will give it an important extra layer of desirability over the M5, however.
To find out exactly what this striking car feels like on the road, read on for the full BMW M6 Gran Coupe review.