View all Cadillac CTS reviews


Cadillac CTS Saloon (2008 - 2010) review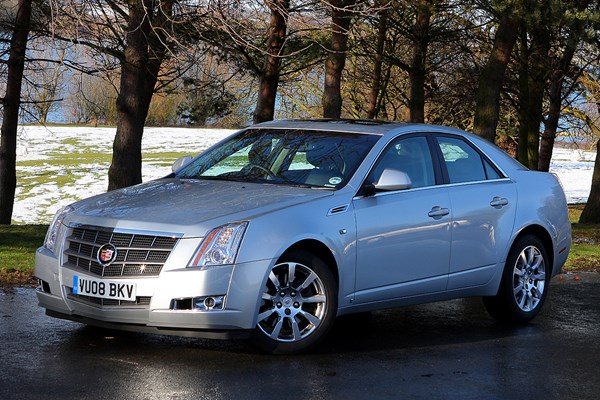 PROS
Bold styling, good quality interior feel, alternative choice to the mainstream
CONS
No diesel option at launch, lazy automatic gearbox, tiny dealer network
PROS
Bold styling, good quality interior feel, alternative choice to the mainstream
CONS
No diesel option at launch, lazy automatic gearbox, tiny dealer network
At long last Cadillac appears to be taking European customers seriously with a car designed and engineered in-house. Although the Cadillac BLS of 2006 was the most 'European' Cadillac to date, that doesn't really count as it's closely related to the Saab 9-3 and built alongside it.
The 2008 Cadillac CTS - a car similar in size to the Audi A6 and Mercedes-Benz E-Class - is a much better offering and with its striking design should appeal to buyers after something different. And if you're worried this is just another wallowy American saloon then think again - the suspension has been stiffened to minimise body roll and the steering is neatly responsive.
Unfortunately it's not a match for rivals like the Jaguar XF in terms of refinement or comfort and few customers will be interested until the V6 diesel arrives in 2009.
Quality feel
Unlike some American offerings we've seen in recent years, the Cadillac CTS comes with a good level of perceived and actual build quality. This is key to competing in a sector where the likes of the Audi A6, BMW 5 Series, Jaguar XF and Mercedes E-Class all deliver on this front in a big way. The CTS manages this in the way it looks from the outside and a reasonably restrained approach to the cabin design, which is much more European in its style than some Caddys we've seen in previous years.
The fit and finish of the CTS is also good and the interior is free from rattles and creaks, which has not always been the case with Cadillac models for the Euro market.
No diesel option
While the CTS is always going to have niche appeal in the UK where executive buyers are very conservative in their choices, which explains why Jaguar and the three German makers dominate sales.
However, Cadillac shoots itself in the foot good and proper by not offering a diesel engine in the CTS. This all but excludes the car completely from the company car sector as the 3.0- and 3.6-litre V6 petrols cannot offer sufficient economy or emissions to persuade business drivers to abandon their silky smooth diesels. Coupled to the high prices of the CTS, economy of 27.4mpg at best is not going to win over many buyers.
So is it worth looking to America for your next large saloon car? Read on for our full Cadillac CTS review to find out.