The perfect day is just tinkering with your car, head under the bonnet in warm balmy weather and no one at your feet asking you questions or how long you will be.
One inevitable thing, though, is that day will turn to night, and you may have to down tools at some point because you can't see anymore, well, not without the appropriate lighting anyway. This is why a little floodlighting can go a long way on your car project.
What to look for
Consider what you're going to be using it for and if your engine bay has enough space for the lights you want – also consider where you see your lights being, on the floor, on the bonnet or in the bay itself?
You'll need your lights to be more blue-white than yellow-white; this will enable you to see more and be much brighter, helping you pick out what you need to see. Sometimes we see big strip lights plonked on an open bonnet and blasting out the light. This is great, except it can throw shadows around a lot of the time, and these big long lights mean you'll likely end up needing another to get into the smaller areas.
A large light can be great when doing surface work, but sometimes smaller can be better when you're getting down into the smaller, harder-to-reach areas.
Related: The best car maintenance books | The best magnetic tool and part trays
Features to look out for
Magnets: Floodlights have come along in recent years and have some handy features, like having a magnetic back, so you don't have to hold or ask someone to keep the light in the correct place.
Portable: The only thing worse than your car breaking down is it breaking down at night. Floodlights can help in these situations on the road, so if they're portable and don't need plugging in, this is a huge bonus. Some can be used off your car's battery, but if your vehicle is 'dead', this isn't much use to you out in the wilderness.
Battery life: If you're planning on chucking it in your boot and taking it with you, something with reasonable battery life could save you. LEDs generally offer the most light with minimum battery usage, so something along these lines would be good.
The Best Floodlights
Let's look at some of the floodlights we've picked that could help shine a light on your garage woes.
NextLED Rechargeable Work Light Bar
The best LED floodlight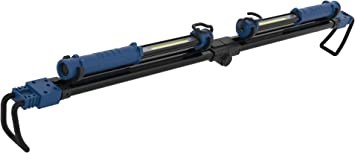 This light bar will attach to your bonnet to keep it in place. With two removable lights that can either be handheld or hooked to a pinion point, giving you maximum coverage, the large battery will supply three hours of power and can be charged by a USB cable.
There are three brightness levels and a UV function which can be very useful if you're searching for leaks on an air-conditioning line.
Pros
• Three brightness levels
• Long battery life
• UV lights
Cons
• High price
Wessex LED Twin Tripod Work Light
The best standing LED floodlight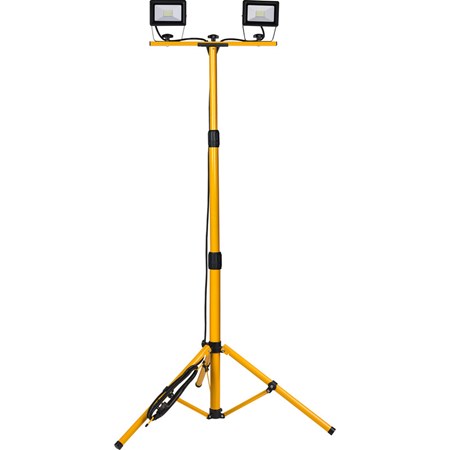 Now, if you want something more substantial with a more permanent home, then the twin tripod lights by Wessex might be more up your street.
If you can get the car up in the air, these would be great for getting light underneath the car so you can see what you are doing. With three meters of cable, the 240V lights are made of die-cast housing and tempered glass, giving robust strength.
Pros
• Powerful lights
• Durable with 25,000 hours of bulb life

Cons
• Wide footprint due to tripod
Eecoo LED Inspection Lamps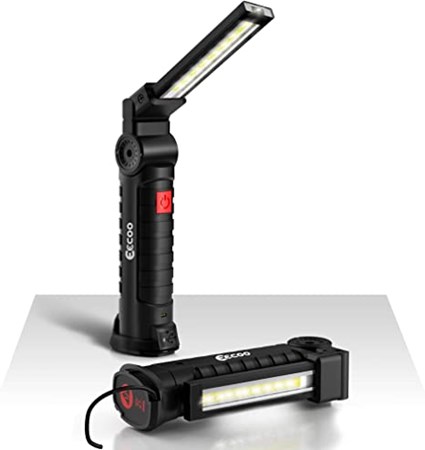 With a three-hour charge time and seven hours of battery life, this handheld torch has a head which can rotate through 270 degrees with a magnetic base which will rotate 360 degrees. The bottom of the lamp will stick to the underside of your car's bonnet and hang by a hook.
The light not only has a bright and medium level, but it will also show a red warning and strobe light if you've broken down by the side of the road.
Pros
• Long battery life, even in high power mode
• Magnetic base and hook handle
Cons
• We would prefer different buttons for the different modes than going through a cycle.
• No battery life indicator
ENUOTEK Rechargeable LED Work Light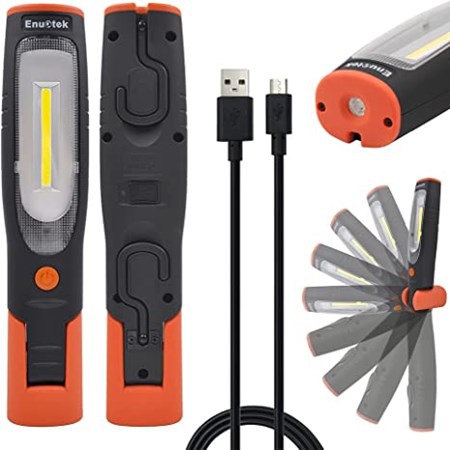 This handheld torch is made of durable and rigid plastic and covered in a rubberised surface to give it extra protection—a handheld torch with a magnetic base which the torch head can travel through 180 degrees. A hook is also on each end of the torch if you need to hang it. The rechargeable AA batteries (done so via a USB cable) will take up to four hours to recharge fully.
Pros
• Powerful light for its size
• Adjustable head
• Magnetic base and back
Cons
• We would prefer a separate switch for the spotlight torch rather than cycle through the power button.
• No battery life indicator
Luceco Compact USB Rechargeable LED Worklight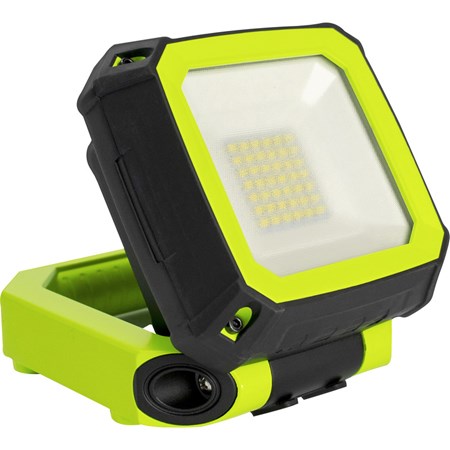 This pocket-sized LED light is perfect for use around the home or in the garage with a powerful (for its size) light for its size.
The magnetic base will enable you to attach it to the underside of your bonnet or car chassis. It is not the brightest light, with only 750 lumens at 7.5 Watts, but you must remember that this is only a small light. A few inches thick with its rechargeable battery housed in it too.
Pros
• Nice compact size
• Not the brightest light available
Cons
• No battery life indication
• It can tip forward due to the weight of the light if not secure.
Nightsearcher Micro-1000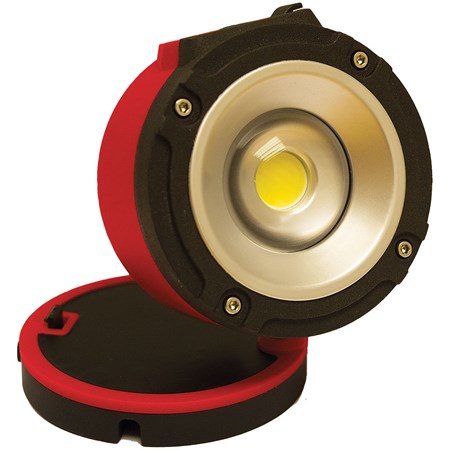 Fitting in the palm of your hand, this little light is great for super quick inspections of your engine bay; with a magnetic back, it'll stick to where you need it in the engine bay and with 1000 lumens of bright white light, you should be able to see all you need.
The magnetic base also has a hook attachment, and a USB cable can recharge the light.
Pros
• Compact size
• Bright
• Magnetic base
Cons
• The angle of the light isn't adjustable.
Sign up to the Parkers Newsletter to keep up to date with more of the latest reviews, news, and recommendations from the Parkers team.
Just so you know, whilst we may receive a commission or other compensation from the links on this page, we never allow this to influence product selections – read why you should trust us.