Seized screws, nuts and bolts are a real chagrin for anyone who's ever tinkered with an old car. The easiest way to shift these jammed nuts is to invest in a quality impact driver.
They work by providing a rapid rotational force (like a more powerful electric screwdriver) with the addition of a rotating hammer that delivers exceptional torque once the hammer encountered resistance (measured in blows per minute, also known as bpm).
The two types of impact driver
There are two types for sale, manual and electric. Manual ones are cheaper and foolproof mechanically, but they do require a hammer and steady hands to master.
Electric examples are simpler to use but inevitably cost more money. Pretty much every electric impact driver is sold as a bare unit leaving you to source the correct battery. For that reason, we suggest looking at your power tools and see what you currently own before buying one. For example, if you own a bunch of Worx gear already, buy the Worx impact driver and save yourself battery and charger costs.
What else can impact drivers be used for?
Like most power tools, an impact driver will find some use around the home as well as with your car. It can drive screws into wood without the need to drill holes beforehand, and it's ideal for using machine bolts. Also, bolts and screws can seize around your home too, not just on your car, so having a bit of kit that can loosen them off quick-sharp is ideal.
The best impact drills
The best impact driver
For our money, we'd recommend this impact driver from Worx. Compact in size it's more than capable of any domestic task thanks to its brushless motor. This advanced motor also helps extend runtime and should last longer than a brushed example.

Tried and tested by Group Commercial Content Editor Adam Binnie: "I've got a few Worx tools and they're all excellent, plus I can swap the batteries between them and use the same charger instead of having to plug loads of different ones in.

"Anyway, I've been on the fence when it comes to impact drivers for a while - I've already got a drill with a screwdriver attachment, so why spend money on another tool that can only handle screws?

"I'll tell you why - because it's absolutely brilliant. Simultaneously punchier and yet kinder to screw heads than a drill driver, the ratchet mechanism on this tool applies a powerful hammer action before releasing the rotational force over and over until the fixing is driven home.

"This makes jobs faster and less fatiguing than with a generic drill, because you have to only have to press lightly and let the tool do the work. It is quite a bit louder though, so it's worth considering this before starting DIY jobs early in the morning. I'd also recommend using ear protection."

The quality of this device means it should last for a long time (the aluminium gearing is a really sure sign of this build quality). It also has Worx's exceptional eye for ergonomics, it features an LED light and is lightweight to avoid tired arms. It's one of the most powerful options listed here and reasonably affordable too which means it's our top pick.
Pros
Brushless motor offers plenty of power
Lightweight but robust
Cons
You'll need your own battery and charger
| | |
| --- | --- |
| <strong>Max torque: </strong> | 260NM |
| <strong>Max Impact Rate:</strong> | 4000 bpm |
| <strong>Voltage: </strong> | 20 V |
| <strong>Weight:</strong> | 1.27 kg |
The best impact driver for small spaces
For more serious amateur mechanics, a smaller impact drill will make working in awkward spaces (like engine bays) a lot easier. Despite its small size, this is still powerful thanks to a brushless motor and is our top pick for drilling in confined spaces. Featuring three settings it's an excellent tool for any task and features an advanced overload system to prevent damage to the motor. The supplied six Ah battery has an excellent runtime - it just costs a lot.
Pros
Small but powerful
Brushless motor is excellent
| | |
| --- | --- |
| <strong>Max torque: </strong> | 147NM |
| <strong>Max Impact Rate:</strong> | 4000 bpm |
| <strong>Voltage: </strong> | 12 V |
| <strong>Weight:</strong> | 1.2 kg |
The best lightweight impact driver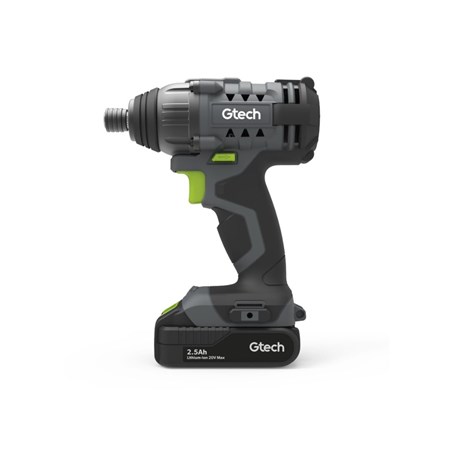 No longer a brand dedicated to lightweight vacuum cleaners, Gtech now has a range of lightweight power tools that are designed to pack a fair punch. The brand's impact driver is the perfect example of this ethos. Small and lightweight, this impact driver still packs a punch and should be more than capable of dealing with any DIY chore. It's well-made, includes a number of head attachments and features an automatic LED light for precision screwing.
Pros
Small but decently powerful
Stylish design
Cons
Battery sharing range isn't very fleshed out
| | |
| --- | --- |
| <strong>Max torque: </strong> | 180NM |
| <strong>Max Impact Rate:</strong> | 2900 bpm |
| <strong>Voltage: </strong> | 20 V |
| <strong>Weight:</strong> | 1.5 kg |
The best impact driver on a budget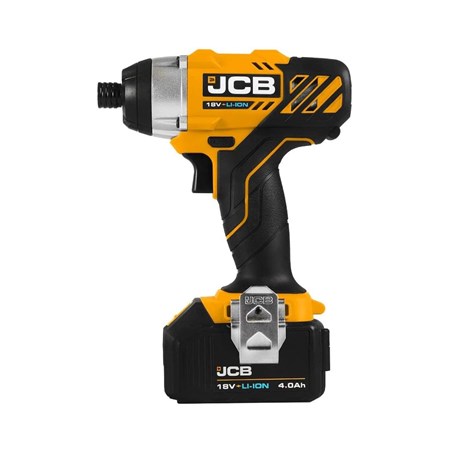 It might seem a little odd pointing to an impact driver that costs over £100 and proudly declaring it our budget pick, but there is a method to our madness. This impact driver comes with a chunky four Ah battery and fast charger included making it an affordable complete kit. While it may do without a brushless motor, it's well-made (like any JCB), features a rubber grip and comes with a handy LED light.
Pros
Affordable electric impact driver
Quality feel
Cons
Not the most powerful
Quite a chunky design
The best manual impact driver
An old-fashioned alternative, a manual impact driver works like a normal screwdriver that you then whack with a hammer to help loosen jammed screws and bolts. This one from Draper will be robustly made, comes with a number of bit heads and the grip is designed to absorb the vibrations from the hammer.
Pros
Mechanically bullet-proof
Affordable
| | |
| --- | --- |
| <strong>Max torque: </strong> | N/A |
| <strong>Max Impact Rate:</strong> | How quick you can hit it with a hammer |
| <strong>Voltage: </strong> | N/A |
| <strong>Weight:</strong> | 998 g |
Sign up to the Parkers Newsletter to keep up to date with more of the latest reviews, news, and recommendations from the Parkers team.
Just so you know, whilst we may receive a commission or other compensation from the links on this page, we never allow this to influence product selections – read why you should trust us.