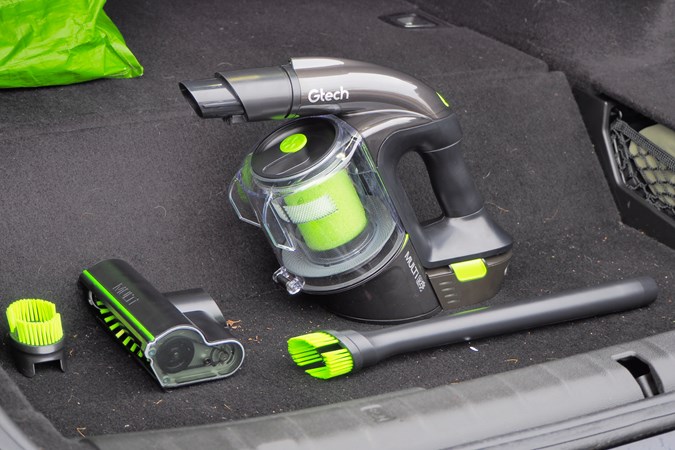 From food to dogs to vacuum cleaners, things that are miniaturised are often very fashionable and popular. Such is the case with Gtech's handheld cordless vacuum, the Multi MK2. Along with household touch-ups, one of its supposed areas of expertise is car cleaning. Therefore, the product team Parkers has put it to work to find out whether it can deliver.
Sci-fi styling is one of the primary superficial features of vacuum cleaners and the Gtech is no exception. But looking beyond aesthetics, we were pleased to find that the Gtech possesses a nicely shaped handle, easily removable attachments, and solid construction. It gets a big A+ for ergonomics too.
The mention of construction draws attention to the difference between the K9 and the standard Multi MK2. Designed more adept at dealing with pet hair, the K9 has certain plastic parts replaced with aluminium to make it more robust. The substitution of materials results in the K9 being an extra £20 more than the standard model.
The Multi MK2 K9 comes with an excellent range of attachments; a 0.4-litre bin with a filter (spare included) and scent cartridge (extras included); and a 2200mAh lithium-ion battery.
Gtech Multi MK2 K9
Pros:
• Decent runtime
• Powerful suction from a handheld
Cons:
• Car cleaning kit isn't worth it
Specs
Weight:1.5kg
Dimensions: 250 x 136 x 386mm
Bin capacity: 0.4L
Max quoted run time: 20 mins
Battery: 2200mAh
Warranty: 24 months
Attachments: Powerhead, crevice tool, extension tube, dust brush
Performance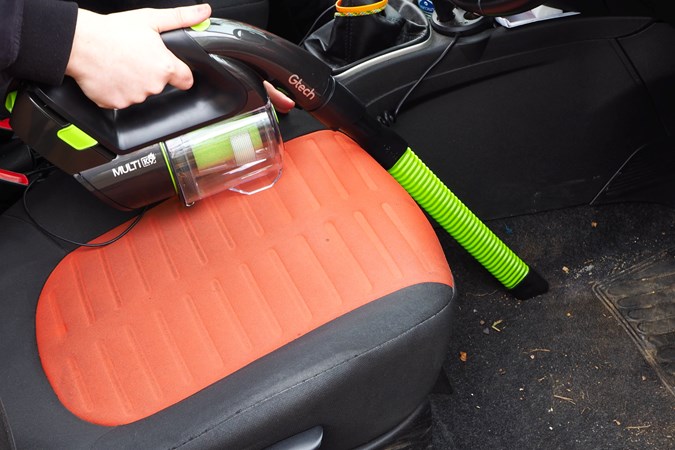 In the company of other, lighter handheld vacuums, the Gtech is a much better machine. It can deal with stubborn dirt or hair embedded in upholstery or carpet. But its restricted battery life means it can't do a full deep clean of a car interior. It can cover a dirty boot or seat rows but not both. If you need it to clean the whole car interior, it can't be too dirty to begin with.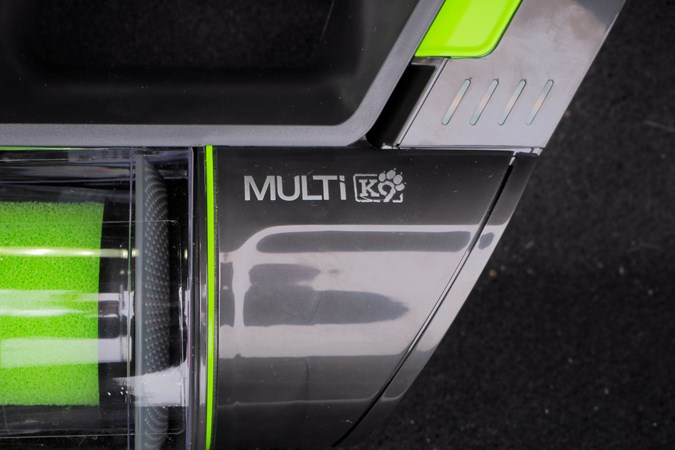 We certainly approve of the attachments included with the Gtech. What normally comes as standard is a crevice tool and a brush of some kind. With the Gtech you also get another, longer brush and wider power head attachment. With the crevice tool attached, you get about 20 centimetres of reach, which was enough to reach down beside seats; the longer brush gave access to the far reaches of the dashboard; and the power head attachment was great for seats and carpets.
Where there were issues was in the footwells. While the power head attachment could cover most of the carpet, it wasn't able to do the edges because the body of the vacuum would bump into a seat or door sill. Substituting the power head for the crevice tool would then mean slow progress because it's a small nozzle.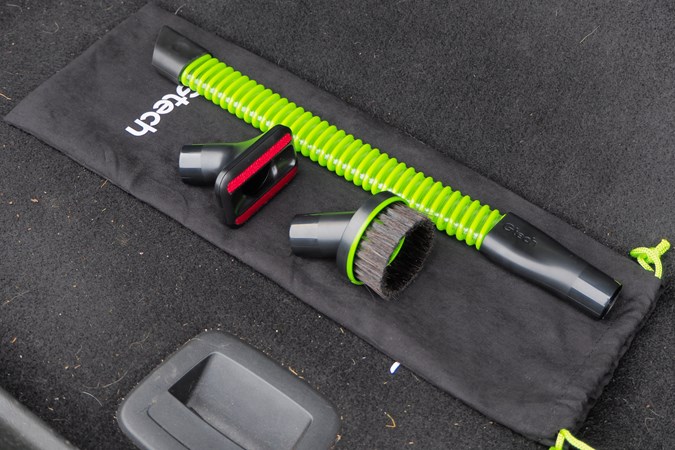 We also tried the optional Car Accessory Kit. It consists of a longer, flexible crevice tool, a softer brush, and an attachment for upholstery. If it were £10, it would struggle to be convincing. But at £50 (or £25 when bought with a number of Gtech models) it's a solid no. It's not just because it's too expensive, it's also because the standard attachments render it redundant.
Value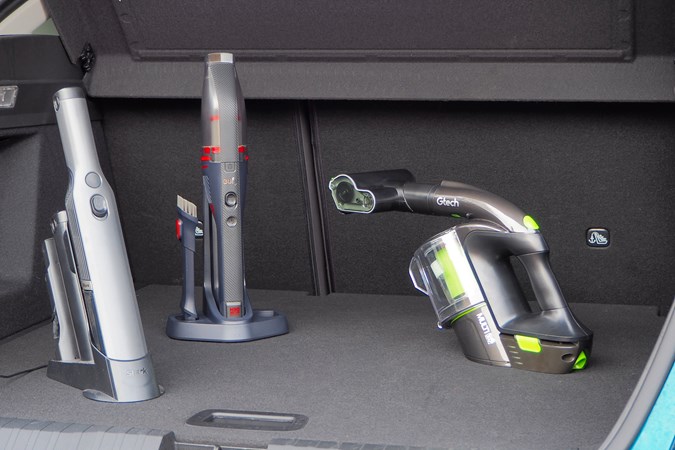 This is an interesting one. Something like the Dyson Micro, which has a similar weight and run time, is almost double the price of the Gtech. It comes with a floor tool for around the house use and is more powerful but is nevertheless almost twice the price. So the Gtech stands up well there.
The Gtech is also superior to the lightweight cordless vacuums, such as the Shark and Eufy models featured in our group test (pictured above). Though heavier, the Gtech is more powerful, has a longer run time, and an all-around better piece of equipment.
But if one looks at corded options, such as home-use wet/dry models, the Gtech is outclassed in terms of power and robustness. Not only that, but models like the tried and tested Draper Wet/Dy Vacuum and Karcher WD 2 Plus are less than half the price of the Gtech.
Verdict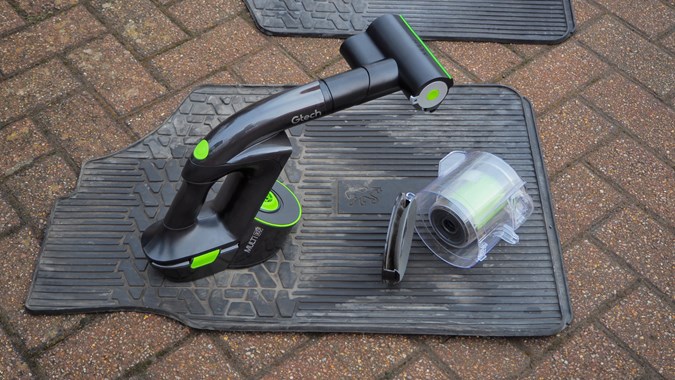 We recommend the Gtech Multi MK2 K9 if a small handheld vacuum is absolutely what you want. It's better in every respect than the smallest handheld competitors and less expensive than models like the Dyson Micro.
But it's not our favourite vacuum for car cleaning. We've found that domestic wet/dry vacuums such as the Draper and Karcher models previously mentioned are much better. Their powerful suction and robust design allow you to give your car interior a deep clean without worrying about run time or damaging the vacuum. They're also less than half the price.
How we tested the Gtech Multi MK2 K9
We're primarily focused on the car cleaning abilities of this vacuum, and we tested it on a grubby car interior to find out how well it performs, what the run time really is, what the ergonomics are like, and how well the Gtech is made.
Sign up to the Parkers Newsletter to keep up to date with more of the latest reviews, news, and recommendations from the Parkers team.
Just so you know, whilst we may receive a commission or other compensation from the links on this page, we never allow this to influence product selections – read why you should trust us.