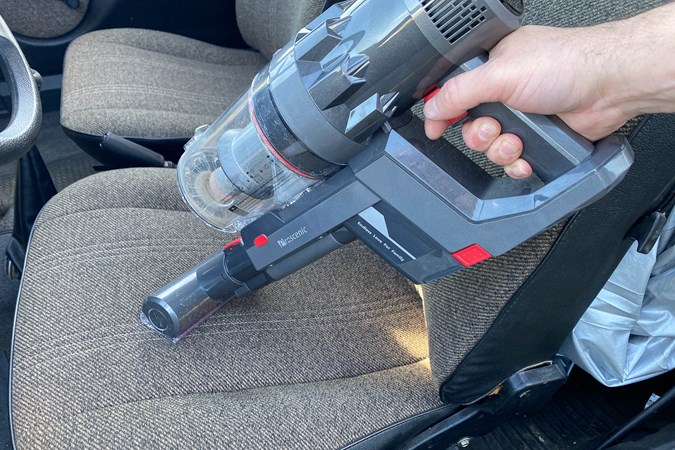 If, like me, you've been reluctant to take on a cordless vacuum cleaner after the lasting impression of typical 12V 'Dustbusters' sold for cleaning cars, the Proscenic range looks like an interesting bridge between the cheap-but-useless car vacs, and the high-end, high-priced Dyson or Shark.
The P11 is the most powerful of the range currently, and comes in a set with both small and large motorised heads, a crevice tool and a soft brush tool, plus a mop attachment.
The wand attachment – calm down, Potter fans, the only magic trick it allows is passing power to the brush motors – yields a comfortable standing distance for floors and the corners of ceilings and is easy to detach. It doesn't extend, though – so for Georgian cornices you'll be standing on tiptoe.
Proscenic P11 Vacuum Cleaner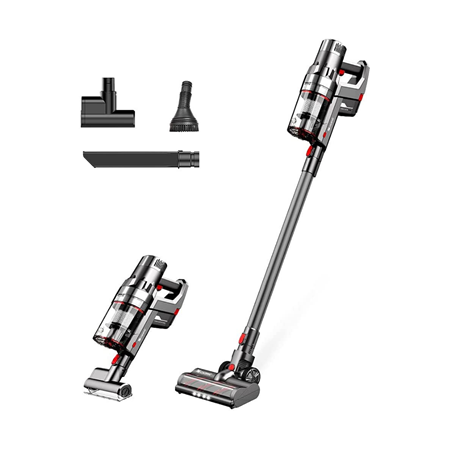 Note: The P11 is now discontinued, with the P11 Smart replacing it. Offering the same basics but with a longer run time and accompanying app, it's a smart choice.
The vacuum itself embraces the lightweight, handheld science-fiction phaser style – enhanced by a backlit panel that shows charge status, vacuum power and when under excessive load, warnings that you should probably back off. Most of the time you'll leave it in auto mode, swapping to max for cobwebs and the like, but it's a nice feature on an appliance that usually gives you no feedback or control.
As is typical for this class of cleaner, there's a wall-mounted hook the battery drops into, a small charger with a fairly short lead (so finding places for the hanger to live is quite tricky in older houses with few plugs), and a small dustbin.
Proscenic P11 – power and control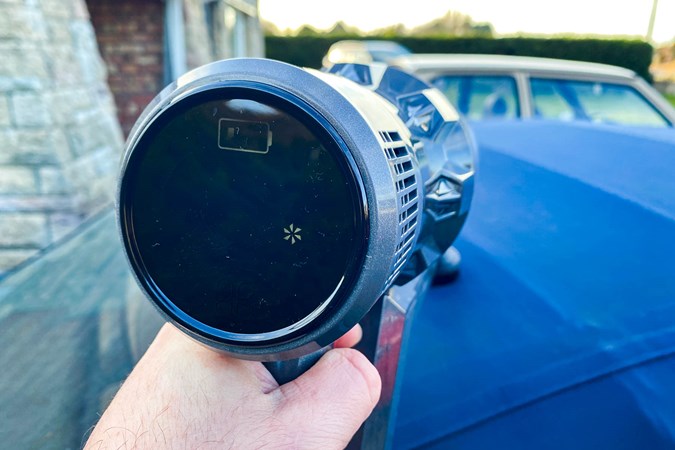 Taking up most of the weight and bulk away from the motor, the Proscenic's battery is a 34V, 2500mAh unit that charges in less than three hours and yields a runtime from 15 minutes in Max mode (at which point the vacuum pressure is almost twice that of the Proscenic S1) to an hour in Eco mode.
While it seems logical to just use it at full power to 'get things clean', vacuuming expert Tom Wiltshire explained why I got better results just leaving it in auto mode. 'Too much suction pulls the vacuum head into the carpet piles and reduces airflow – you'll get more fine dust and restoration of pile if the brush is free to move, rather than pulled into the pile'.
So that runtime is actually sufficient to whizz around a couple of rooms often and get all the fine dust out of the floor. The eco mode is enough for fine pet hairs and dust bunnies on hard floors, and the Max mode has proven most useful when using the crevice or brush tools on car interiors.
Use your head(s)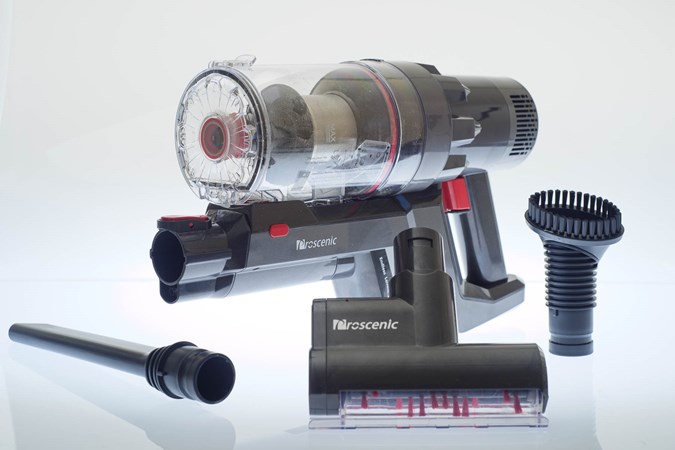 In the P11 kit you get a wide motorised floor brush with a neat magnetically attached wet mop, a narrow motorised furniture/stair brush, and the aforementioned crevice and brush tools. Don't think that the wet mop means this is a wet and dry vacuum – it's got washable filters so it probably won't sulk much at less-than-dry dust, but the mop is a purely passive item.
It's ideal for hard floors and works much like the 'spray floor cleaner' type ones – in fact, the mopping surface looks very similar to the peel-and-replace mop heads. You fill it with cleaner and it trails behind the floor head. Anyone who has mopped a tiled kitchen floor when they've got pets is already ahead of me here; it means no more soggy, claggy balls of moist pet fur attached to the mop. The vacuum picks up the dust, the drag-along mop wipes the surface. It's simple, and clever.
The mop is attached simply with a magnet and it's easy to remove, and there's a spare mop head in the box.
The main motorised head includes a design of brush that can cut through pet hair and it seems to work; compared to my conventional upright vacuum the beater bar gets far less buildup of fur, animal or human. It also features fine felt edge bumpers, and bright LEDs so you can see the floor as you vacuum, just like an old Hoover upright. It reveals all the dust and is a useful feature.
Although small, the stairs and furniture head is also motorised – no air-powered 'turbo' heads here. It's great for cars, though the angle adjustment to keep it flat to curved floors is perhaps not as flexible as you'd like. This highlights one element the Proscenic P11 is missing, a flexible hose extension, though you don't miss it as much as you might expect as the vacuum itself is small and easy to manoeuvre.
Dishing the dirt – filters and bins
Be prepared to get intimately acquainted with your dust. The P11's bin is compact and fills up quickly, but it also has a tendency to build up around the mesh internal filter and need dismantling to clean up. Doing so is not hard; it slides apart easily for cleaning and the only questionable aspect is a thin, hard-plastic flap on the inlet.
It's easy to empty quickly and on the upside, if you're regularly accidentally picking up the kids' Lego, it's easy to retrieve small items.
Overall performance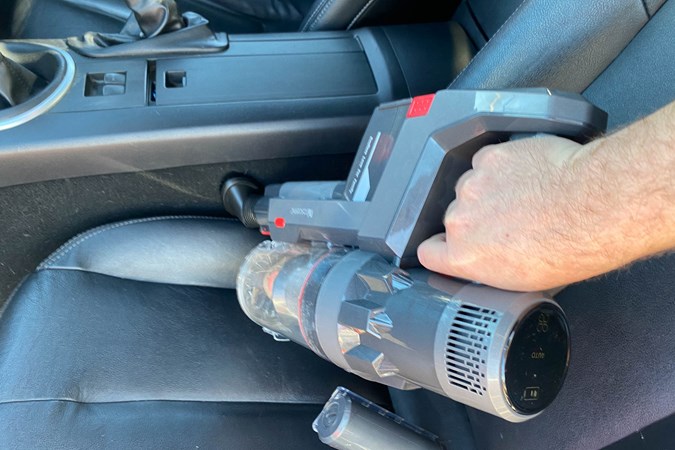 It doesn't sound powerful. It doesn't lift the carpet off the tacks or threaten to inhale small children and pets. However, the Proscenic P11 does vacuum up dust and dirt my mains powered upright misses, it does an excellent job cleaning car interiors partly thanks to the small dimensions and light weight.
More to the point, for a busy lifestyle and no small amount of being easily distracted, the Proscenic P11 has been a life-changing device. The house is very, very clean because it's easy to grab the vacuum, run around corners and carpets and quickly empty it into the bin. No spills are left 'to be vacuumed later', no procrastination. This wouldn't be the case if it were not powerful enough to do a good job, or too heavy, and crucially it costs just a little more than a reasonably good corded upright.
So as an overall package, and as a demonstration that a relatively low-cost cordless vacuum cleaner can be a genuinely useful device for home and car, the P11 is very impressive. I recommend it – particularly if the idea of plugging in and moving a bulky upright vacuum fills you with dread every evening or weekend.
Proscenic P11 Vacuum Cleaner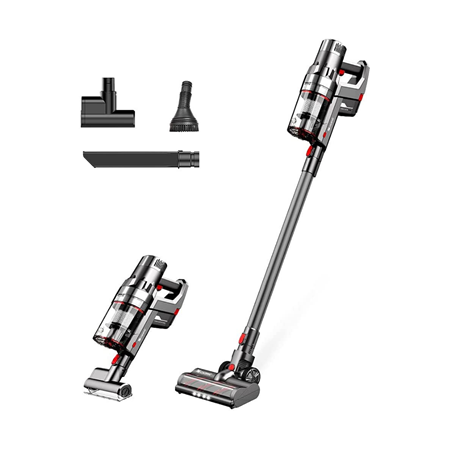 Sign up to the Parkers Newsletter to keep up to date with more of the latest reviews, news, and recommendations from the Parkers team.
Just so you know, whilst we may receive a commission or other compensation from the links on this page, we never allow this to influence product selections – read why you should trust us.