Aftermarket gadgets for cars vary enormously in usefulness and quality. The little dash cam is one that has not only stuck, but is becoming increasingly popular for obvious reasons. They provide evidence for incidents, help lower insurance premiums, and of course, are responsible for a significant portion of the footage uploaded to YouTube.  
The performance and features of dash cam models cover a wide spectrum and one of the outliers is the mirror-style dash cam. Mainstream dash cam brands such as Garmin and Nextbase don't produce such things – they're generally available from brands you've never heard of on Amazon.  
Vantrue's M2 dash cam is one of these breeds of dash cam and we were curious to try it out. In theory, it rolls a lot of desirable features into one, and we put it to work to find out if the M2 is worthwhile. 
Specs
Resolution/frame rate: 1440p, 1080p, 720p/30fps front; 1080p/30fps rear 
Field of view: 148° front, 140° rear 
Dimensions: 30 x 7.6 x 3.8cm  
Screen size: 11.8 inches 
Max memory card size: 512GB 
Bluetooth: No 
Wi-Fi: No
GPS: Yes
Setup 
Where a regular dash cam is primarily a stick on and plug in task, the M2 (and mirror dash cams in general) is more of a hoo-ha. Attaching the M2 over the existing rear-view mirror is the easy part, it's the rest of it that's somewhat fiddly.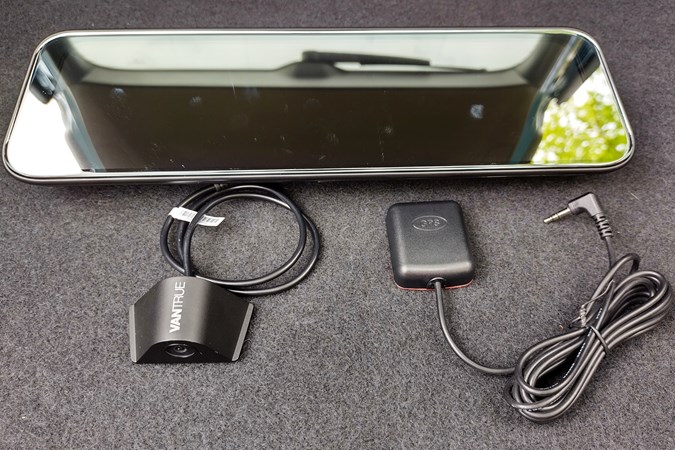 The M2 comes with an external rear camera and GPS logger, which both require connecting to the M2 via cables. In addition to the power cord needed for the M2, you consequently end up with the substantial task of hiding wires. This was an issue in our test car – a Volkswagen Arteon – which doesn't have any space in the headlining to hide the reasonably thick 5mm cables.  
But the biggest challenge with the M2 is the rear camera. It's not like a rear camera add-on like other dash cams, it really replaces the rear-view mirror, in addition to acting as a rear parking aid. Therefore, it sits by the rear number plate and in order to make the rear parking assist kick in automatically, you need to use the provided cable to connect camera to the reversing light.  
This means locating the wires for the reversing light (usually by removing the internal trim panel of the car's boot), before stripping the wire protection sleeve and connecting the camera's wire. It's not something the average person would feel comfortable doing to their own car. You then have to find some way of invisibly threading the power cord all the way up the front to the main camera. You can bypass all this of course and not connect the rear camera to the reversing light, but it means you forgo the parking aid.  
Once everything is in place, or at least as well as it can be, fiddling with settings is all reasonably straightforward, helped by the responsive touch screen.  
Performance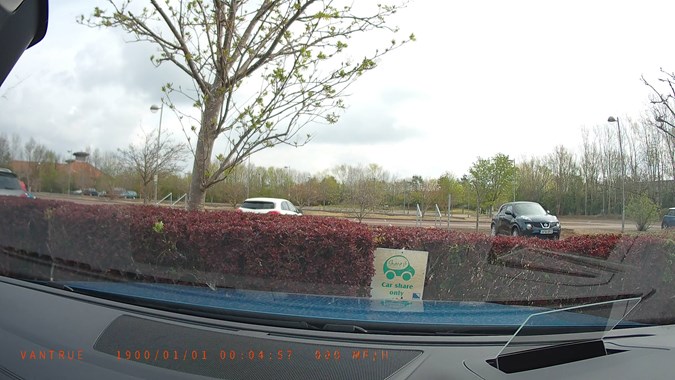 Unlike regular dash cams with three-figure price tags, this mirror dash cam doesn't use an app to give extra features, they're all available to find within the menus of the M2. It's not a bad thing – the large 11.8-inch screen is easy to use and gets away with this where the small two or three-inch screens on regular dash cams would not. 
There are three tiers of dash cam footage quality these days: 4K, 1440p, and 1080p. In terms of footage quality, the front camera is good and the rear camera is okay. The M2's front camera can record in 1440p, 1080p, or even 720p at 30fps, while the rear camera records in 1080p only. For dash cam that doubles as a rear-view mirror, the rear image quality is a bit grainy and doesn't look like 1080p. It's on par with factory reversing cameras but given its other crucial role, it should be better.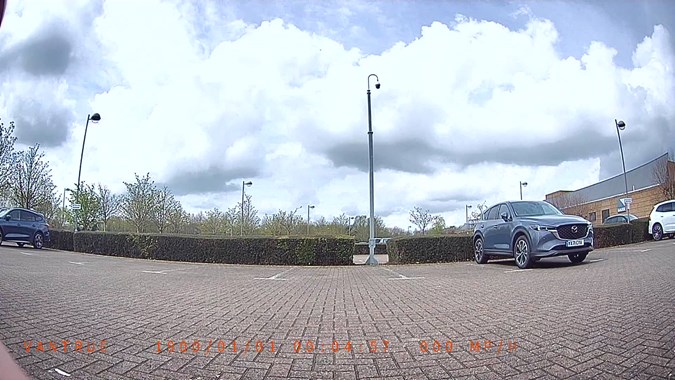 If you've gone to the effort of hooking up the rear camera to the reversing light, the parking aid is a handy feature to be sure. The lines don't move as you turn the steering wheel or anything like that but you can adjust them to accurately portray the size of your car.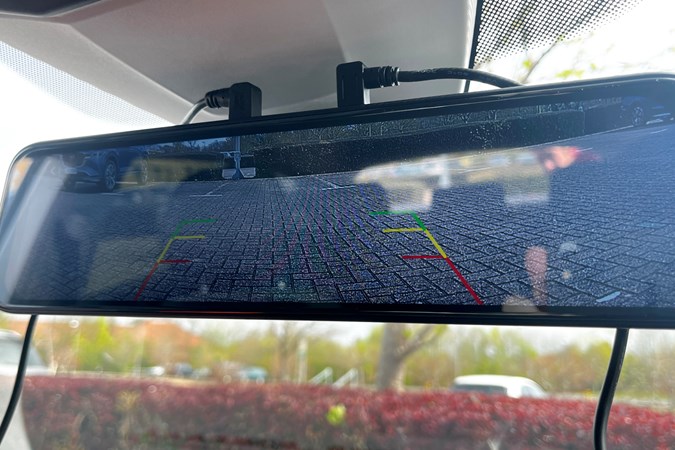 Both cameras have a decent field of view and it doesn't feel like the cameras suffer from tunnel vision. We were also impressed with the M2's build quality. It did feel properly put together.   
Because this is a dual dash cam, it's important to remember that it'll chew up memory card space much faster than a dash cam with a single camera. As we pointed out in our dash cam memory card guide, a 64GB microSD card will store about six hours of 1440p footage (variable depending on frame rate), for example. Adding 1080p footage on top of that will mean a 64GB microSD will hold significantly less than that.    
Value 
One of the main plus points of non-mainstream dash cams is usually the value. However, the M2 certainly doesn't sit in that camp, at this price it wants to be taken very seriously. In terms of the volume of features, the M2 stacks up well, but if you compare other products from the dash cam world at this price point, it's not quite so rosy.  
Nextbase offers its two top dash cams, the 622GW and 522GW. The former is £30 more than the M2 but offers 4K at 30fps and 1440p at 60fps in addition to a host of smart and safety features. Meanwhile, the 522GW records in 1440p at 30fps or 1080p at 60fps while carrying most of the 622GW's features for £140.  
Both of these Nextbase dash cams can also have rear-view cameras that give you 1080p that really does look like 1080p. These rear-view cameras are also easier to install, either by attaching straight to the dash cam itself of adhering to the inside of the rear window.   
Verdict    
If you're in the market for a feature-packed dash cam you may well be at least intrigued by the mirror dash cam concept. For older cars without parking aids and vehicles with poor rear visibility, the M2 can be helpful. It's quite fiddly to set up but once it is, there are many benefits to be had.  
However, for other vehicles, we think regular dash cams are better, certainly around this price point. A Nextbase 522GW with a rear camera module is less expensive, easier to install, has more and better features, and has superior image quality.  
The M2 represents a group of dash cams that sit on the fringe of the market and do so for good reason. It's an interesting concept but one that doesn't serve most motorists' demands as well as more focused dash cams.
Sign up to the Parkers Newsletter to keep up to date with more of the latest reviews, news, and recommendations from the Parkers team.
Just so you know, whilst we may receive a commission or other compensation from the links on this page, we never allow this to influence product selections – read why you should trust us.