Tools are great things. Without them, even the simplest of home and car maintenance tasks would become impossible. It's also a good idea to keep them together somewhere so you easily transport them around and don't lose parts.
There's little worse than realising you're missing a crucial tool just after you've dismantled the kitchen sink or removed your car's wheel and having to do an anger-filled scavenger hunt. What you need is a good toolbox.
Modern polymer toolboxes are lighter and offer better water protection but don't offer the same durability that steel options offer. Extreme cold and overloading can cause plastic toolboxes to crack, which isn't such a problem in metal options. Metal toolboxes also utilise space better as there is no need for strengthening patterns as plastic examples require.
We're putting the Draper Barn Tool Box to the test to see if steel is still king when it comes to toolboxes.
Draper 48566 Barn Tool Box with 4 Cantilever Trays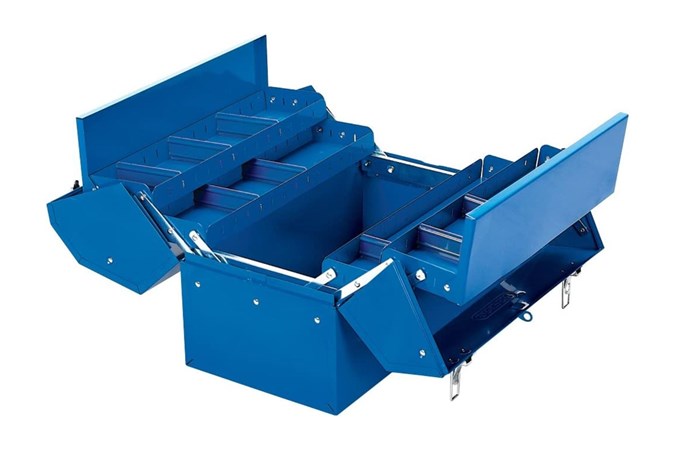 Draper has a reputation for excellent quality and value when it comes to tools. Since it was founded in 1919 the brand has become renowned for durability and quality for both professional and personal use tools.
We've previously tested an inspection lamp, funnel, precision screwdriver set, and vacuum cleaner from Draper and found then very impressive. Now we'll see if Draper is any good with tool storage.
Is it well made?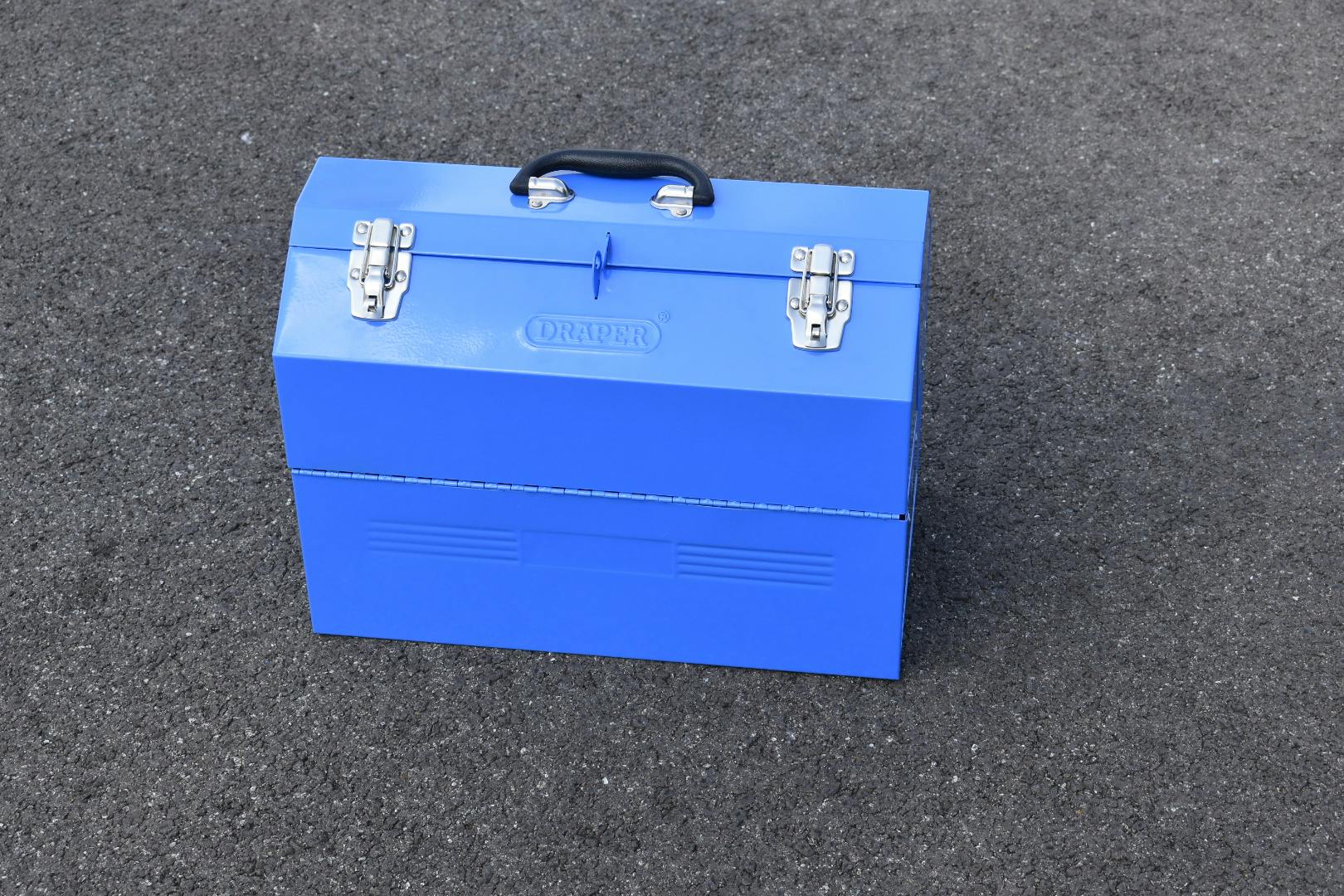 The first thing you'll undoubtedly notice about this toolbox is its size. At 47.8 x 36.8 x 26.4 cm it's quite big and probably not the best choice as an in-car toolbox unless your daily drive is a Ford Transit and you have a decent load bay available.
It also has a feeling of quality to it. Made from sheet steel and featuring a simple barn door opening and four tray cantilever system it's a robust piece of kit and perfect for the knocks and bangs of a building site or being bunged in the garage.
If you've ever interacted with an older van then the Draper will feel familiar. There's a reassuring quality feel and heft to every surface. It's basic and a little agricultural but it'll keep working until the end of time. Although unlike an old van it shouldn't rust thanks to the lacquered finish.
There is a trade-off with this quality feeling however because it's rather heavy. Discussing the unloaded weight of a toolbox is usually a little pointless because nobody uses an empty toolbox, but in this case, it's worth mentioning. The Draper weighs 8kg empty which makes it quite hefty. With a selection of tools onboard, it can easily tip the scales north of 25kg, something to remember if you enjoy not having back pain.
Is the Draper Barndoor good as a toolbox?
The strength offered by the sheet steel means that there's no need for internal strengthening like you'd find with a plastic toolbox. This means that there's next to no wasted space and the storage space can be maximised.
It can hold 22kg of tools, which also means it should absorb most domestic tool collections with ease. In fact, a toolbox this size could realistically be used by a mechanic or electrician. Indeed, I tentatively sat on it and it could easily support my weight, a testament to how tough it is.
The four cantilever trays are another excellent addition. They make organisation even easier and help maximise space that could otherwise be lost. These trays even feature covers to prevent tools from spilling everywhere. The lower trays are only covered when the toolbox is closed but the top trays come with a separate cover.
This makes these trays the ideal place to store smaller items like screws that would otherwise go everywhere during transit. The toolbox even ships with eight plastic dividers to better organise these trays. Just be mindful that each of these trays has a drainage hole if you're planning on carrying very small items.
What are the drawbacks?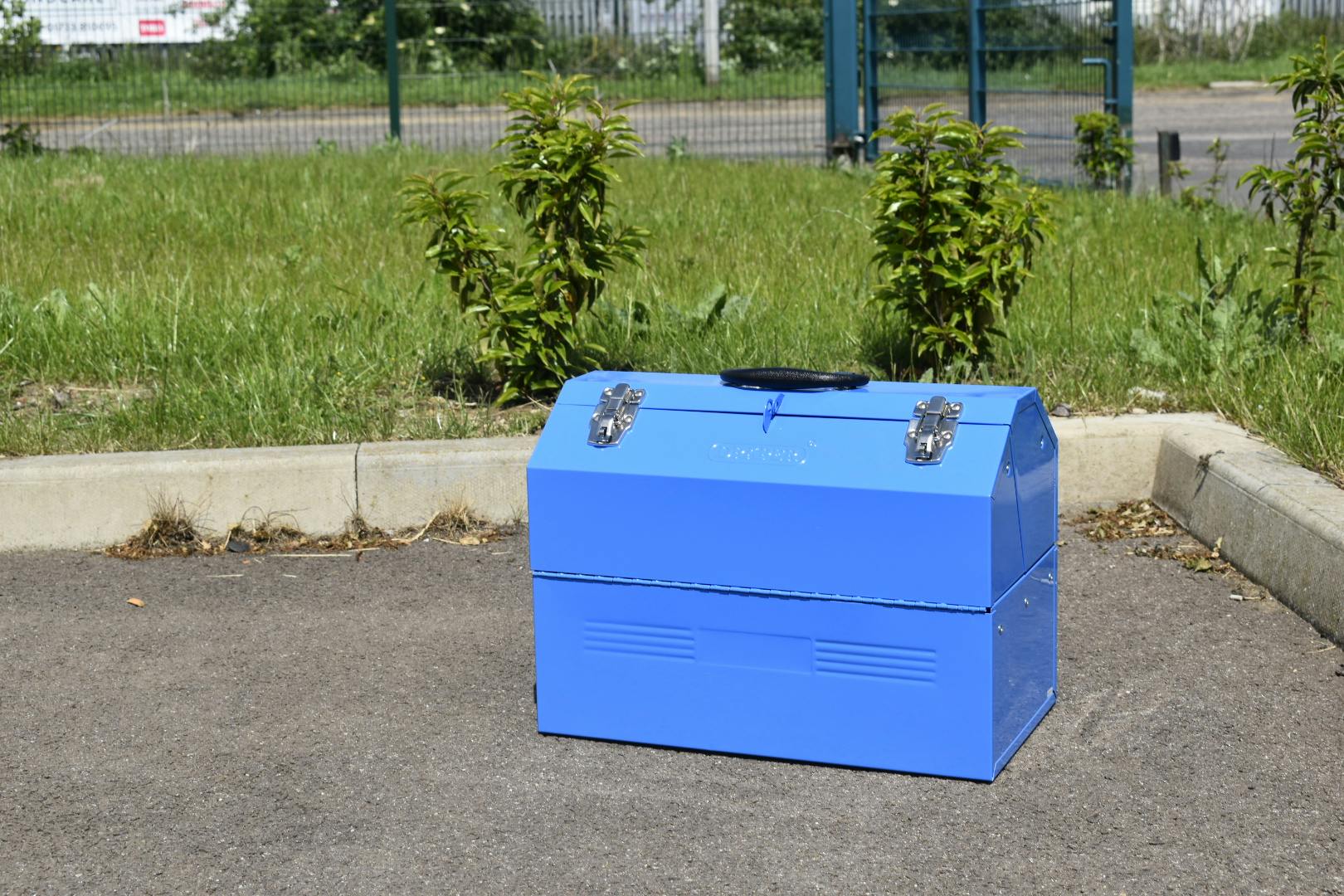 Aside from the excess heft from the steel construction, the main drawback is the sheer size of the toolbox. Clearly, this isn't a viable option if you want a toolbox to keep in your city car and the size is a bit excessive if you don't own that many tools.
Smaller niggles include the handle doesn't feel quite as sturdy as the rest of the toolbox and there are no security features as standard. The toggle latches are good enough to keep the toolbox closed but aren't lockable or burglar-proof.
And while it comes with provisions for a padlock, it doesn't actually ship with one meaning you'll need to source one yourself for better peace of mind.
Verdict
In terms of quality and capacity, not much can get close to this. This toolbox shows that steel still has its place in toolbox construction, it's incredibly strong and utilises storage space far better than plastic alternatives.
It's pretty obvious that this toolbox is way too big to be kept in a normal car but that doesn't mean it isn't useful. Indeed, a toolbox like this makes most sense either in a full-sized van or something to store your tools in a garage.
And if you still can't justify the large dimensions, there is a smaller 2-tray cantilever toolbox from Draper that offers the same quality in a more manageable size.
Draper 48566 Barn Tool Box with 4 Cantilever Trays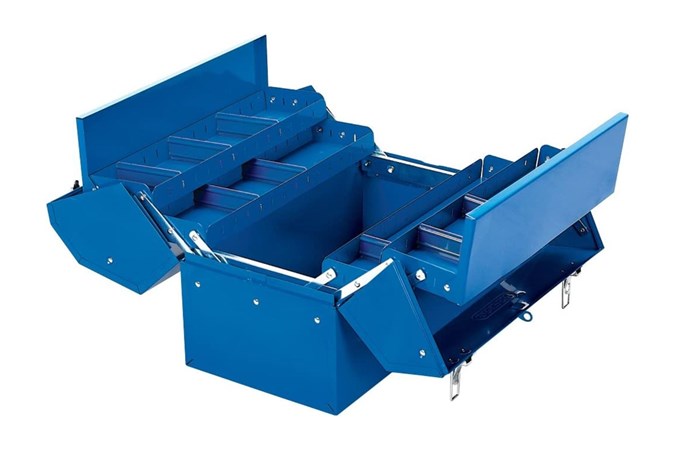 More items to consider
Stanley Fatmax Waterproof Toolbox, £35
Faithfull Metal Cantilever 5 Tray Tool Box, £36.70
Sealey 4 Tray Cantilever Toolbox, £39.85
Sign up to the Parkers Newsletter to keep up to date with more of the latest reviews, news, and recommendations from the Parkers team.
Just so you know, whilst we may receive a commission or other compensation from the links on this page, we never allow this to influence product selections – read why you should trust us.