Choosing the right car seat for your new baby is vitally important. You want to make sure the little bundle of joy is as safe and comfortable as possible when travelling in the car, after all. But working out which baby car seat is right can be confusing and time-consuming, especially if you're a new parent. There are just so many seats to choose from, many of which appear to be basically the same, and the terminology around them can be rather baffling.
As a result, baby car seat shopping can end up being a lot of stress and hassle – not what you need when you're on the final approach to your new arrival arriving. But Parkers is here to provide some enlightenment that will make buying the right seat much easier.
In this guide, we're going to explain the main factors to consider when shopping for a car seat. We're focusing on seats for babies, but all of our advice applies to seats suitable for older children, as well. Hopefully by the end you'll feel much more confident embarking on your search.
Pick a seat that's the right size for your baby
Sounds obvious, but it might not be as easy as you think. See, there are two parallel sets of regulations governing car seat design and manufacture. One is based on the child's weight, one is based on the child's height.
Some car seats are only suitable for a specific stage of a child's life, others are designed to last multiple years, having cushion inserts that you take out as the child grows. You can find arguments for and against using either, but most parents go for the latter simply because they can spread the cost of the seat over several years of the child's life.
Car seat Groups
Car seats designed around a child's weight are sorted into Groups numbered 0 to 3, each Group pertaining to a certain weight range. Some seats fall into a single Group, some span several Groups:
Group 0/0+ – Newborn to 13kg (approx. 0 – 15 months)
Group 0+/1 – Newborn to 18kg (approx. 0 – 4 years)
Group 0+/1/2 – Newborn to 25kg (approx. 0 – 7 years)
Group 0+/1/2/3 – Newborn to 36kg (approx. 0 – 12 years)
Group 1 – 9 – 18kg (approx. 9 months – 4 years)
Group 1/2/3 – 9 – 36kg (approx. 9 months  – 12 years)
Group 2/3 – 15 – 36kg (approx. 4 – 12 years)
Group 3 – 22 – 36kg (approx. 5 – 12 years and over 125cm tall)
EU-approved weight-based seats are labelled with a circled E and the code ECE R44/04. They're still available to buy new and perfectly safe to use, however they were superseded in 2017 by seats designed to a new set of regulations described below.
i-Size car seats
The previous R44 car seat regulations have been replaced by R129, known as i-Size. These latest seats are designed around a child's height, rather than their weight. As with R44 seats, you'll find i-Size seats intended for a particular stage of a child's life, or multiple stages. There are four categories of i-Size seat:
i-Size baby – Newborn to 85cm in height
i-Size baby and toddler – Newborns to 105cm
i-Size toddler and child – 61 – 105cm
i-Size child – 100 – 135cm
EU-approved i-Size seats are labelled with a circled E and the code R129. Note that a child is too tall for the seat once their eyeline is above the level of the head restraint. Once they reach 135cm tall, they can start using your car's seats.
Whether Group or i-Size seats are best is a matter of personal preference. While both are available to buy new, we recommend you consider both before making a decision about which is best for you and your child.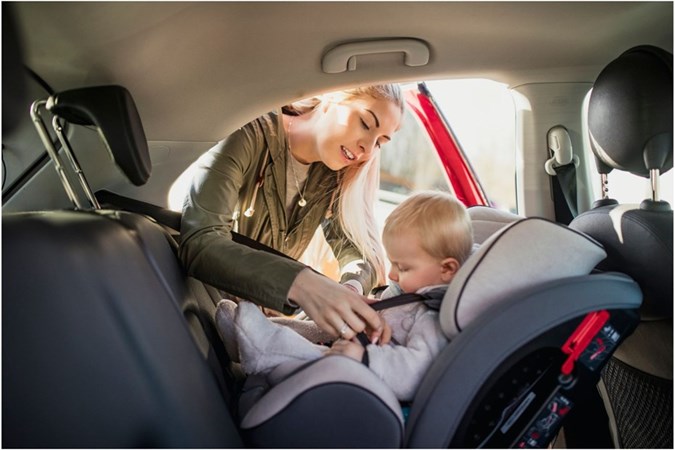 Rear facing vs. forward facing seats
According to UK law, all children under 15 months of age must face the rear of the car – it's a stipulation of the i-Size regulations, as well. That's because they're much better protected if you're unfortunate enough to get into an accident.
After 15 months, many experts still recommend that toddlers use a rear-facing seat because their spine and head are easily injured in a crash. In Sweden, children are legally required to face the rear until they're four years old for that very reason. You might even come across advice suggesting children remain rear facing until they're six or seven. After that age, they'll probably be big enough to start using a booster seat.
Facing the rear of the vehicle is undoubtedly the safest position for a young child to be in. However, as they get older it can become necessary for them to face forward for various reasons such as a lack of legroom and car sickness. You'll be the best judge of when to have your child facing the front.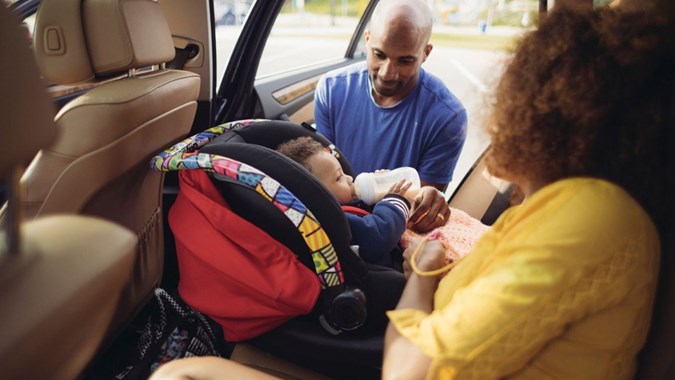 Make sure the seat meets EU safety standards
The EU sets the regulations governing the design and manufacturer of car seats in the 27 member states and the UK. Look for an orange label on the seat bearing the code ECE R44/04 or ECE R129 at the top. They show that the seat is EU-approved and can be used in the UK. It's worth noting that R129 seats pass more stringent crash protection tests and are therefore safer.
Consider the features you want
There are baby seats with all sorts of extra features you might find are worthwhile having. For instance, many seats sized specifically for infants are part of a travel system that comes with two bases – one that's installed in the car and one with legs and wheels that's used as a pram. The seat itself transfers between the two as needed.
Another popular feature is 360-degree rotation. That allows you to angle the seat wherever you want to make lifting your child in and out or attending to them easier. Some children like to see a different view occasionally, as well. Remember, though, that children under 15 months of age must directly face the rear of the car while it's in motion.
Some seats also have a reclining feature that allows you to lay the baby flat while they sleep, without compromising their safety. And you can get impact-absorbing side panels that fill the gap between the seat and the car door. Bear in mind that the size of your budget may limit what features are available to you.
It's always worth giving consideration to how easy a seat will be to clean, as well. They all have machine-washable cushions but the fabric covering the seat's shell can be tricky to remove and replace. And there are often lots of crevices where gunk can accumulate.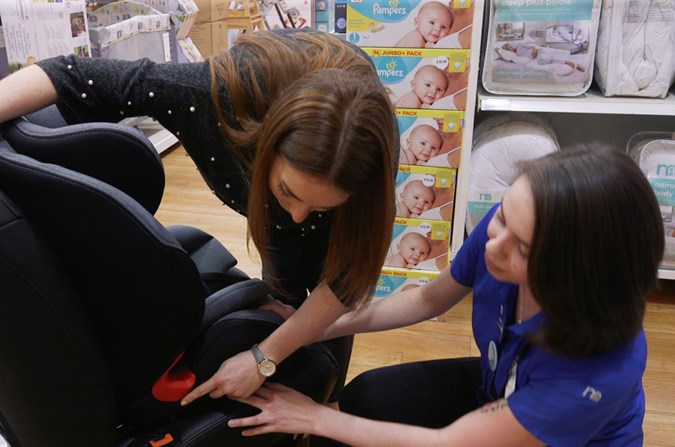 Make sure the seat fits in your car
This is another thing that sounds obvious but it's easy to get caught out as many of the latest car seats are really bulky. So you need to do a trial installation of any seat you're thinking about buying before you commit to it. The best family cars are designed with car seat installation in mind.
Ideally, you need some clear space between the forward-most part of the seat and the back of the seat in front. That's assuming it fits through the door in the first place. Seats can be very heavy, as well, which may be an issue if you have a tall SUV. Installing a car seat usually involves contorting yourself into an awkward position but you should still lift from your legs, not your back, and try not to strain yourself. Some seats have a separate base that can make installation a lot easier.
Also bear in mind that not all seats are approved for use in every car. Universal seats are, whereas semi-universal seats are only approved for use in some cars. The seat's manufacturer will provide a list of what cars it's compatible with in the instruction book. There are some seats designed for use in specific cars, as well.
If your car has Isofix car seat mounting points, you should get a seat that attaches to them. They're much safer and easier to use than strapping a seat in with a car's belts. However, you can't really use an Isofix seat in a car that doesn't have mounts. The Isofix clasps protrude from the back of seat, making it difficult to position the seat securely.