One of the most important decisions you'll make for your family is what car to buy. There are so many things to consider – size, interior space, boot capacity, what features would be useful, safety, cost, and so on and so on. Many families now get an SUV because they tick so many boxes, but there are other types of family car well worth considering, too.
We're talking about hatchbacks, estates and people carriers, there are all sorts of electric family cars, too. Point is, there's a huge variety of family cars available covering a wide range of shapes, sizes, budgets and lifestyles. Some of them are great all-rounders, some have a killer USP.
Scroll down the page to see our list of the best family cars available to buy new in 2023. And if our choices don't grab your fancy, check out the Parkers car reviews to help you find your next family car.
Top 10 best family cars 2023:
Editor's choice: Honda Civic
Brilliant to drive, very efficient and stylish with it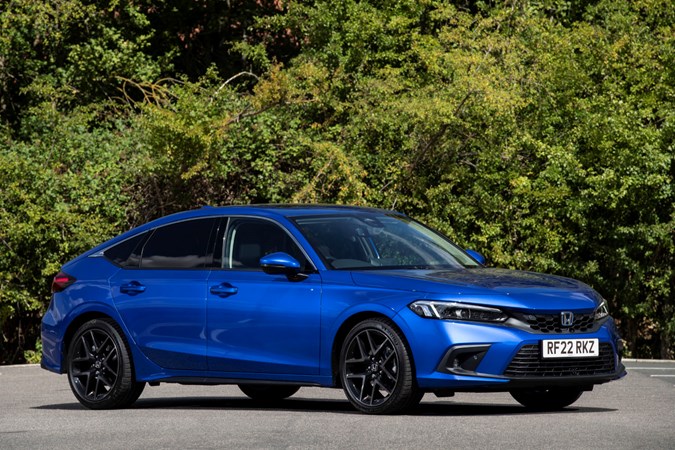 Pros:
✅ Great handling
✅ Economical hybrid powertrain
✅ High quality interior materials
Cons:
❌ Small model range
❌ Undersized windscreen washer reservoir
Our experts really rate the latest Honda Civic, so much so we named it both Medium Family Car of the Year for 2023 and overall Car of the Year. It works really well as a family car. Four six-foot-tall adults fit easily, so even rapidly growing kids are unlikely to run out of space. The 410-litre boot is one of the bigger ones you'll find in a midsize hatchback. The roller blind load cover is an ingenious bit of design, too.
On top of that, the Civic's hybrid powertrain delivers peppy performance and diesel-like fuel economy, it handles neatly and rides comfortably. There are three generously-equipped trim levels to choose, all of them quite reasonably priced. It's a bit of a looker, too.  
Read our full Honda Civic review
SEAT Leon Estate
Award-winning family wagon offering great value
Pros:
✅ Lots of engine choices
✅ Good to drive
✅ Big boot
Cons:
❌ Fiddly touch-sensitive controls
❌ Firm-riding FR Sport models
The SEAT Leon Estate is a former Parkers Medium Car of the Year award winner. Our team of experts were particularly impressed by its vast 620-litre boot capacity, which is right at top of the scale among midsize estates like this. Indeed, there are plenty of considerably bigger estates with much smaller boots.
There's a lot to like elsewhere in the Leon Estate. There's generous space for a family of four, it's comfortable, there's loads of safety tech and the handling is as sharp as the car's looks. It's good value, too, and available in petrol, diesel or plug-in hybrid form. SEAT's sister brand Cupra does sporty versions of the Leon Estate including one with 310hp.
Read our full SEAT Leon Estate review
Seat Leon lease deals | VIEW OFFER
Skoda Octavia estate
Great value for money with a massive boot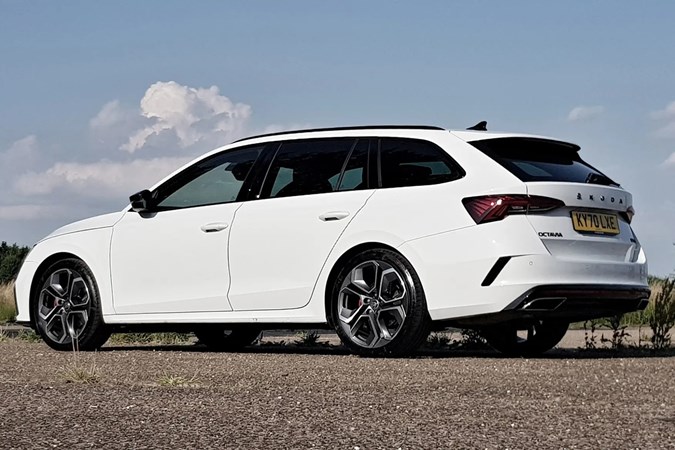 Pros:
✅ An awful lot of car for the money
✅ Huge interior and boot
✅ Comfortable and refined
Cons:
❌ Infotainment system can annoy
❌ Some questionable interior plastics
Both the Skoda Octavia Estate and SEAT Leon Estate discussed above are based on Volkswagen's MQB platform. So why is the Skoda here, as well? Because its boot is bigger, at 640 litres. That extra bit of space makes a surprisingly big difference in practice. If your family regularly needs to take a lot of stuff with them, this is the car to get.
It's also more spacious in the back than the Leon, and the Octavia is full of Skoda's Simply Clever features – storage drawers, a parking ticket holder, an ice scraper clipped onto the fuel filler flap and so on. It's not the sharpest drive but is very comfortable and refined. Great value, too.
Read our full Skoda Octavia Estate review
Skoda Octavia lease deals | VIEW OFFER
Dacia Jogger
Spacious seven-seater bargain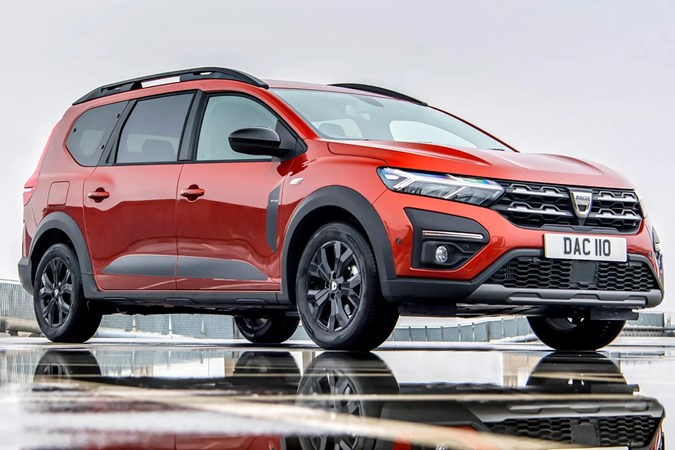 Pros:
✅ Amazing value for money
✅ Cavernous interior with room for seven
✅ Comfortable ride
Cons:
❌ Limited engine range
❌ Prices have been creeping up
Our reigning Best Value Car award-winner is one of the biggest bargains the car world has to offer right now. That's because it has space for seven adults to travel in reasonable comfort, yet costs less than a Ford Fiesta. Remove the third-row seats (a little tricky to do) and there's a generous 599 litres of boot. Drop the second-row seats down and it becomes a van.
Kids will love the space and the near-panoramic view out. The ride is really comfy, it's surprisingly fun to drive, even the base-spec model comes pretty well-equipped for the money and it costs little to run. A hint of SUV-ness in the Jogger's styling ups its street cred.
Read our full Dacia Jogger review
Dacia Jogger lease deals | VIEW OFFER
Kia EV6 
Long-range electric car exuding cool
Pros:
✅ More than 300 miles of range
✅ Zero local emissions
✅ Stylish, roomy interior
Cons:
❌ More expensive than direct rivals
❌ Interior layout isn't entirely logical
The Kia EV6 is one of the most stylish, exciting electric cars to come out in the last couple of years, so much so we named it our Best Large Electric Car for 2023. It's one that the whole family can enjoy, too. Space is very generous for a family of four, even five without too much of a squeeze, and the 490-litre boot will swallow a week's holiday luggage.
It's an easy car to travel long distances in. Every model has a WLTP range of at least 300 miles and high-speed charging capability. It's great to drive, too, if a little firm-riding. The 577hp GT model is seriously fast, the others merely very swift.    
Read our full Kia EV6 review
Kia EV6 lease deals | VIEW OFFER
Citroen C5 X
Comfortable, reasonably priced non-conformist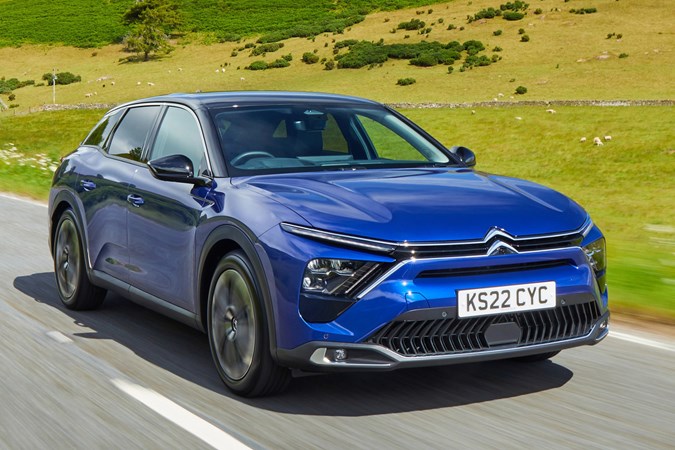 Pros:
✅ Great value entry-level models
✅ Hugely comfortable and refined
✅ Unique styling
Cons:
❌ Unconvincing plug-in hybrid version
❌ Limited rear headroom
Parkers' Best Large Family Car for 2023 is a curious mash-up – part saloon, part estate, part SUV. Sounds confusing but what it is doesn't matter as much as what it does, and that delivers on the non-negotiables of family motoring. It's really spacious (limited rear headroom for six-footers notwithstanding), the boot's big, the ride's incredibly comfortable and running costs are low. It also comes very well-equipped and reasonably priced.
The 1.2-litre petrol engine is the best option, it's efficient and quick enough. The plug-in hybrids are costly and not particularly smooth. It's a really likeable car, the C5 X, that looks and feels different to the SUV norm. If Citroen has its way, cars like this will become the new norm.
Read our full Citroen C5 X review
Citroen C5 X lease deals | VIEW OFFER
Skoda Kamiq
Distinctive compact SUV ideal for small families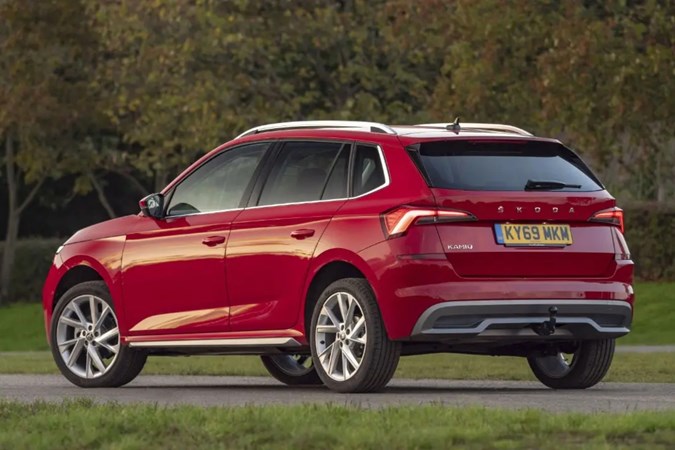 Pros:
✅ Up-to-date tech
✅ Comfortable ride
✅ Big boot
Cons:
❌ Low seating position for an SUV
❌ DSG automatic lacks responsiveness
It may be the baby of the family, but the Skoda Kamiq is just as good a family car as the Czech brand's bigger SUVs. Inside its compact body there's space for four six-foot adults and it has more boot space than many midsize hatchbacks. You sit lower in the than in most other small SUVs, but the seats are still at a convenient height for lifting in children.  
The Kamiq's interior is very solidly made and there's plenty of useful tech, even in the base model. It's only available with petrol engines, which are impressively quiet and refined. It drives neatly and rides comfortably, too. Running costs are low and it doesn't cost much to buy, either.  
Read our full Skoda Kamiq review
Skoda Kamiq lease deals | VIEW OFFER
Volkswagen Multivan
Versatile MPV with tech focus and green credentials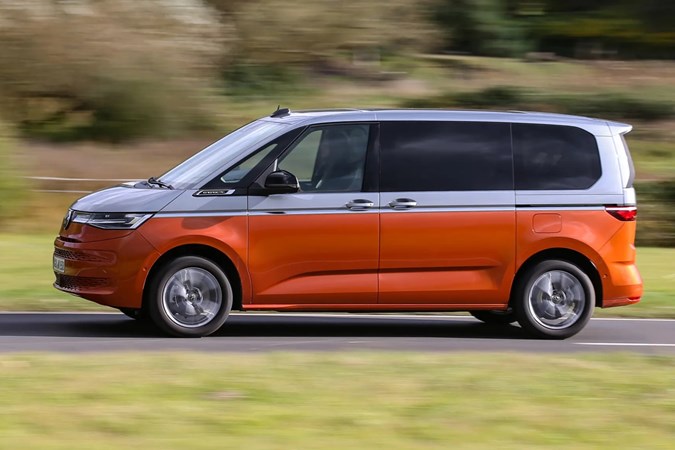 Pros:
✅ Massive, flexible interior
✅ Plug-in hybrid available
✅ Loads of options to choose from
Cons:
❌ Costs a lot more than rivals
❌ Thirsty petrol engines
When you need as much space for people and things as possible, you can't do much better than a big, seven-seater SUV. And the Volkswagen Multivan is the best – it's our reigning Seven-Seater of the Year. It has seven adult-size seats that can be configured in many different layouts. An ingenious console with cupholders and a fold-out table can move from front to back. Boot space is decent in the standard-length version, enormous in the longer body.
The Multivan is superbly quiet and comfortable to travel in, the view out is fantastic. It even handles neatly, despite its considerable size. The plug-in hybrid version boosts the car's green cred. Just looking at it makes you want to adventure with it.      
Read our full Volkswagen Multivan review
VW Multivan lease deals | VIEW OFFER
MG5 EV
Affordable electric estate with lots of standard kit
Pros:
✅ Really very good value for money
✅ Long-range version available
✅ Zero local emissions
Cons:
❌ Boot is on the small side
❌ Seats could be more comfortable
Estates are a family car sweet spot – more practical than a hatchback, more efficient than an SUV. Oddly, there are just two electric estates currently available, and the MG 5 is the most affordable by far (the other is a Porsche). Its family car credentials are pretty strong. There's ample space for a family of four and the 464-litre boot, while small for a midsize estate, is ample for most family's needs.
The latest version of the MG 5 has 250 miles of WLTP range, performance is spritely and it's even quite enjoyable to drive. The ride's smooth but the seats won't suit everyone. A generous helping of standard features is thrown in for a very affordable price.
Read our full MG5 EV review
Skoda Enyaq iV
The electric family car par excellence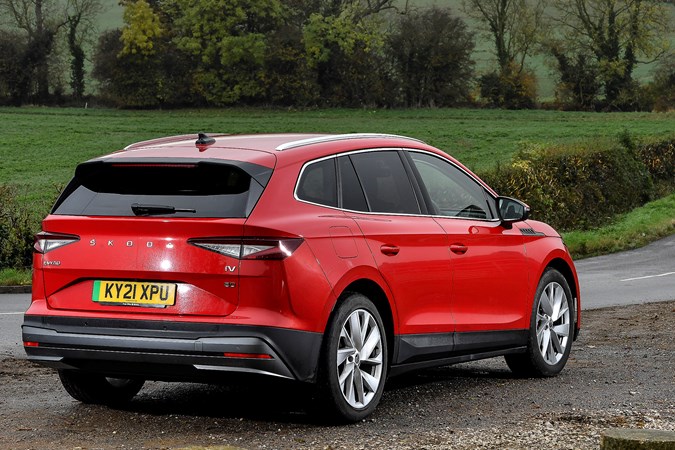 Pros:
✅ Roomy, practical interior
✅ Long range on big-battery version
✅ Zero local emissions
Cons:
❌ Option packs are costly
❌ Not particularly engaging to drive
Even on this list, there are few family cars that nail their brief as squarely as the electric Skoda Enyaq. It has generous space for five and a big, 585-litre boot. The interior is full of useful storage compartments and it'll withstand the worst punishment kids can exact. The standard-issue VW Group infotainment system is easier to use than in many of the Enyaq's stablemates, too.  
The entry-level Enyaq 60 offers 247 miles of range, big-battery Enyaq 80 models can go at least 300 miles on the WLTP cycle – a psychologically important boundary for many prospective EV buyers. Throw in very reasonable prices and you get the idea that owning and using the Enyaq is as hassle-free as possible. No wonder it was our 2022 Car of the Year.
Read our full Skoda Enyaq iV review
Skoda Enyaq iV lease deals | VIEW OFFER
---
Why we've chosen this Top 10
The Parkers team tests hundreds of cars every year and this list reflects their expert views. Some of them have families of their own and closely scrutinise the family car credentials of the models they test.
We've included a number of cars we highly recommended in the SUV, people carrier, hatchback and estate car sectors of the market. After all, a great family car can have any one of these bodystyles –  many lists of the best family cars found elsewhere just focus on one type of car.
Right now, SUVs are the most popular family cars. That's because people like their style and height, which gives a great view out and makes it easier to lift small children in and out. Many also have features useful for active, outdoorsy families – multi-level boot floors, additional power outlets and so on. However, you'll often find more passenger space in a people carrier and a bigger boot in an estate. SUVs aren't the most economical of cars, either.
If passenger space is your main priority, it's still hard to beat a people carrier (also known as an MPV). Especially ones like the Citroen Berlingo and Ford Tourneo which are based on vans designed to maximise interior space. Most have seven seats, some of the bigger ones can seat nine, in many cases the back seats can be configured in dozens of different layouts. You'll find yourself sat as high up as SUV occupants in a lot of people carriers, as well. On the downside, they just don't have the style and kudos of an SUV.
Many hatchbacks have more than enough passenger and boot space to suit most families' needs. They also generally offer the best driving experience and fuel economy of all the types of family car. However, an estate might be a better option because of their extra boot space – no need to pack light for family holidays. There's no real compromise in efficiency or handling, either.
If you take one thing from reading this, try out as many different types of family car as you can before making a decision. You never know, you might find you prefer something you hadn't considered before. Most importantly, get the car that works best for you and your family.