Road Test: Audi A3 Sportback 1.4 TFSI e-tron S-tronic
Petrol-electric plug-in hybrid A3 e-tron tested on British roads
Varying economy will make or break buying decision for many
Competitively priced at £34,305 but that's before extras added
Petrol-electric plug-in hybrid A3 e-tron tested on British roads
Varying economy will make or break buying decision for many
Competitively priced at £34,305 but that's before extras added
On paper, Audi's A3 Sportback e-tron has it all: badge appeal, premium build quality, a spacious five-door hatchback body and an attention-grabbing fuel consumption claim of 176.6mpg, courtesy of its petrol-electric hybrid powertrain.
We've spent a week with the A3 e-tron to discover whether it's a viable replacement for diesel power for those looking to reduce their running costs in the premium hatchback sector.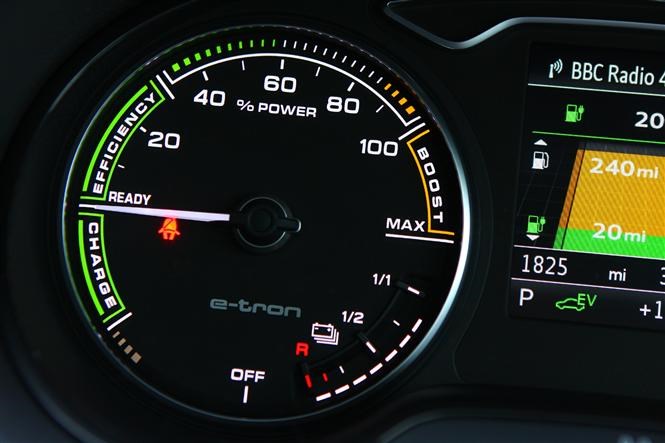 Real-world e-tron fuel economy
Let's clear something up immediately – the manner in which official fuel consumption testing is undertaken flatters plug-in hybrids and real-world figures tend to bear little relation to them.
Switching between the A3 e-tron's four hybrid modes will significantly influence how much petrol the 1.4-litre turbocharged engine consumes, depending on the type of roads you tend to use and how long your journeys are.
Keeping the e-tron sytem in 'Auto' mode ensures the Audi's software varies the combination of petrol engine and electric motor propulsion that's sent to the front wheels. In this mode there's up to 201bhp at your right foot's disposal but it doesn't make the A3 feel particularly quick. Yes, there's the instant torque surge from the electric motor helping deliver a 0-62mph acceleration time of 7.6 seconds, but beyond that it's brisk rather than fast.
By modulating its own power delivery, a typical drive involving urban routes, B-roads and motorways yielded an indicated average of 52mpg; shy of what we'd expect of a diesel A3, but better than the petrol engine would achieve without the electrical supplement.
'Hold' mode essentially runs the A3 e-tron as a regular petrol car, albeit carrying the additional weight of the electrical components. Expect around 46mpg. Here you're keeping your battery reserves intact until you want to use them, such as for emissions-free city driving.
Flicking to 'Charge' forces the engine to produce slightly more power than it needs in order to replenish the batteries as well as drive the car. It's handy if you've run out of electricity, but is far less efficient than charging from the mains. In 'Charge' average fuel consumption hovered around 40mpg, the extra fuel used costing more than plugging the A3 e-tron into your domestic electricity supply for required four hours.
Audi claims in 'EV' mode up to 31 miles of range and a top speed of 81mph are possible, but not at the same time. Using the same kind of roads mentioned earlier, our electric range was limited to 23 miles but included long stretches at 60mph. Obviously, no fuel is being consumed at all in this setting, until the engine kicks back in – after a slight, but noticeable, hesitation – when the batteries are empty.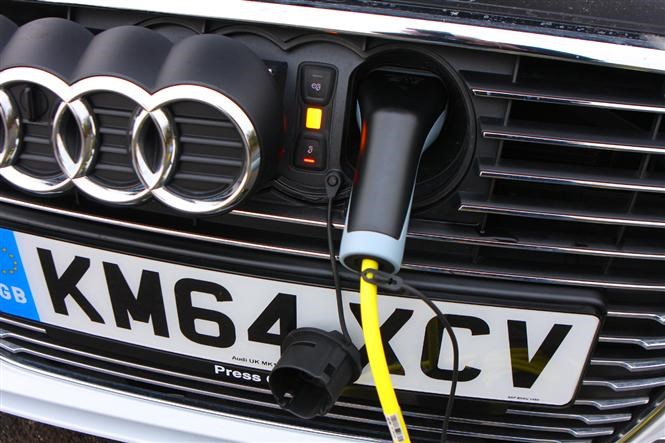 Other e-tron changes
Hand-in-hand with the high fuel efficiency claims is a low CO2 emission figure of 37g/km, or zero-cost VED car tax for private motorists. Company car drivers benefit too: choose an A3 e-tron without cost-options and the monthly bill for a 20 percent rate payer's a difficult-to-ignore £29.
Save for the dashboard's EV button and an efficiency gauge where the rev counter would ordinarily go, the e-tron is much the same inside as other Sport specification A3 Sportbacks, while outside it's similar save for a unique grille with charging socket nestled behind the four-ringed badge and LED lights as standard.
Practicality has taken a knock in the e-tron with boot space reduced by 100 litres to 280 litres thanks to the petrol tank's revised location under its floor; batteries now reside in its usual location beneath the rear seats. That aside it's no different to live with than any other A3 Sportback.
Batteries bloat the A3's weight too, negatively impacting its handling traits, feeling less wieldy on twistier roads. Elsewhere the regenerative brakes feel a bit grabby when your foot glances the pedal and the six-speed S-tronic automatic gearbox holds onto engine revs longer than you'd expect, arousing a coarser note from the engine.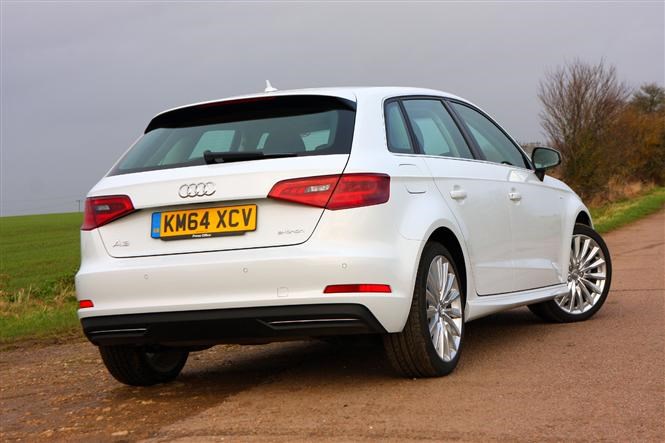 Competitively priced
Priced at £34,305 before options, the A3 Sportback e-tron feels significantly more luxurious than Toyota's Prius Plug-in than the £900 price premium suggests.
Our test car was loaded with options, nudging the price up to £39,455, which makes it harder to justify for private motorists. Of the many extra-cost options fitted, including special Glacier White paint (£525), Alcantara and leather sports seats (£795), upgraded 18-inch 'Turbine' alloy wheels (£995) and a panoramic glass sunroof (£950), it was cruise control that caught our eye at £225. It's the one that we'd recommend the most although it really ought to be standard at this price.
Should you buy one?
The existing caveat about hybrids not suiting everyone remains resolutely in situ.
Private motorists who tend not to venture too far from home at lower speeds will find the Audi A3 Sportback e-tron proves very inexpensive to run, but it's those monthly payments for company car drivers that make it particularly attractive – recent reductions in petrol prices add to its appeal.
Step outside those customer parameters and the e-tron's lustre dulls, being less enjoyable to drive than conventional A3s and lacking the long-distance fuel efficiency inherent in Sportbacks wearing TDI badges.