Lexus has given its striking LC a mild refresh for 2020, bringing new tech and styling choices as well as revised driving dynamics to the brand's top-of-the-range grand tourer.
The LC, which rivals other large coupes such as the BMW 8 Series or the Bentley Continental, now benefits from a variety of weight-saving measures. They include new aluminium suspension components and lightweight, 21-inch alloy wheels.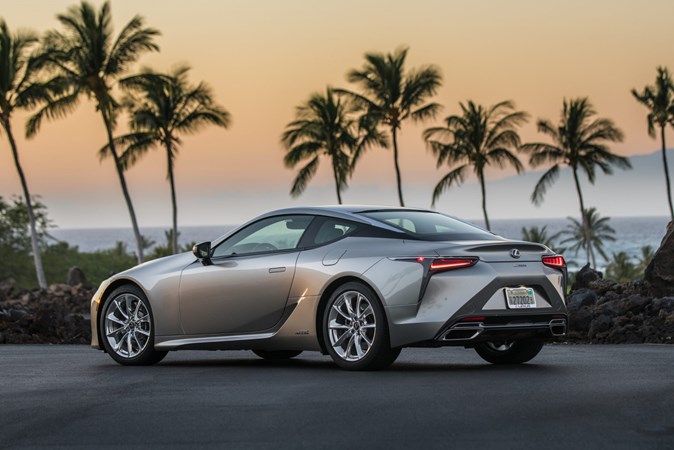 The brand has altered suspension settings to give drivers a 'stronger feel of the road' – or so it says. Expect small but positive changes to the way this already very comfortable car drives.
The LC's bold styling remains – it's one of the most distinctive cars on the road with slashes and creases all over. New for 2019 are two new paint shades, one of which – Terrane Khaki – was previously only available on the LC Limited Edition released in 2019. There are also two new shades for the interior fabrics – Flare Red leather or Manhattan Orange Alcantara suede.
One huge improvement is the addition of Apple CarPlay and Android Auto smartphone connectivity. Lexus' own built-in infotainment system is one of the car's weakest aspects as it's complicated and difficult to operate, but the much simpler interface of these smartphone connections goes a long way towards addressing those concerns.
As before, Lexus offers the LC with a choice of two engines. The pragmatic option is the 354hp petrol-electric hybrid, which uses a 3.5-litre V6 engine paired to an electric motor and put through a fiendishly complex multi-stage transmission. It's badged as LC 500h.
For those for whom green credentials aren't as important, the LC 500 – without the h – is the weapon of choice, featuring a simple 5.0-litre, 464bhp V8 mated to a 10-speed gearbox. This model is actually the cheaper of the two to purchase, though running costs will be significantly higher.
These revisions come ahead of the launch of the new LC Convertible, which will be along later in the year. A high-powered LC F flagship is also on the way.
Pricing for the updated LC range hasn't been confirmed, but the current model begins at £78,190 for the 500 or £78,810 for the 500h.
Further reading: