There is something about the used car market that has attracted less than honest dealers since the first second hand vehicles traded hands. Most of the time buying or selling a car can be a pleasant experience, but the anxiety (and risk) of any significant financial transaction is not misplaced; criminals and grifters make their car buying scams work by trying to reach as many people as possible.
You can avoid the chancers with a few simple tips, and make yourself too much effort for the skilled ones to waste their time on as well. It's worth remembering that there are fraudsters buying cars as well, so we'll look at common cons from both sides of the deal.
While these are the easiest and most obvious scams, never underestimate the sophistication and determination of criminals. If you have been a victim of fraud, bear in mind that these people work night and day to hone their skills. They even read guides like this to try and work out how to get around your diligence.
Car buying scams are constantly evolving. If you get caught out after making all the effort to be diligent, it's no reflection on your part. Some people will go to immense effort to steal from their victims.
Fraudulent car buyers more risk, less protection
Fraud is more likely to affect you in two situations. More recently, when selling your car or van privately, and traditionally when buying from disreputable dealers or private sellers, and when trading your car in with the same sort of dealers.
Most car scams are straightforward cons and dishonesty, such as being persuaded that your car is worth less than it really is, particularly as used car prices have been rising to reflect demand and inflation (and the better quality of used cars overall), or misrepresentation of a vehicle for sale.
Before marketing your car get a Parkers valuation and consider the benefits of a car buying service such as Motorway. Even if you don't choose to sell via this route, you'll have some legitimate buyers' offers to base your asking price and deal expectations around. Check out classified ads and completed listings on eBay as well.
If it's a specialist car, a classic or performance model it can be worth consigning to auctioneers who will prep and sell it. There is a degree of protection for you in return for the cost. Some classic car buying scams aren't really scams so much as theft, in that alleged buyers are merely 'casing the joint'. Proceed with care if not selling within respectable trade or club circles, particularly if it's a fast Ford or other high profile model.
Some common car buying scams
Car condition scam: 'Mechanical trouble? I'll take it off your hands'
Faking evidence of, or claiming knowledge of, mechanical defects is an age-old scam that's found a new life, and it's unpleasant to deal with when selling a car privately. It generally affects cars over five years old, right down to classics, and the con of telling you the car isn't worth the asking price, then persuading you to sell it cheap.
The most common form of this car buying scam is to carry a small amount of used engine oil, and squirt it into the coolant expansion tank before a test drive. The 'buyer' will check the car over after the drive, and proclaim it has a head gasket fault with a substantial repair cost. Naturally, they'll offer a low price with some excuse about how it is easy for them to fix.
Aside from the fact you now have oil in your cooling system, which could cost a fair bit to flush out and will dissuade future buyers, this scam could cost up to £2,000 in reduced value.
How to avoid car condition scams:
Take pictures of your car's engine bay and coolant bottle, note the colour and condition of both the coolant and the oil. Don't leave the buyer unattended when they look under the bonnet – take the lead, show them the dipstick, the oil cap and the coolant as part of some basic checks before starting the engine. The chances are they won't want to look under the bonnet after a drive if they haven't been able to perform the scam, and will walk away.
Other 'car condition' scams:
Driving with handbrake on/foot on brake to simulate dragging/binding or slipping clutch sensations, disconnecting sensors or battery terminals to induce failures. For cars made since 2002, you can get a cheap OBD-II code reader that is easy to use before a test drive: if the buyer then checks and finds something new, there's a chance they've disconnected a sensor to induce a fault.
Car payment fraud and scams: chargebacks, counterfeit cash, wire transfers
The safest way to ensure your payment is safe is to get a bank transfer payment and don't release the car until you can see cleared funds arrive in your bank. Online banking makes this much easier, but be aware that legitimate buyers may face delays from the bank's own anti-fraud checks.
You should always check the buyer's ID (driving licence, which you'll have wanted to check before they test drive the car after all) as you need their details to to change the registered keeper and provide a receipt to prove transfer of ownership.
Some fraudulent buyers may claim to be buying for export and thus 'tied to wire transfer firms such as Western Union', where the con is essentially to provide documents that look like payment has been made and arrange collection, but there's no payment to receive from the agent.
Payment via PayPal, if made via 'Friends & Family', will save on fees and cuts out potentially abused buyer protection. However, if that payment is funded via a credit card it's still possible for it to be reclaimed via a chargeback or in the event of the card being used fraudulently. It'a also worth noting that credit card companies may charge a cash advance fee for a PayPal payment made this way (which can also incur interest charges right away rather than the usual interest-free period for purchases).
Cheques and cashiers' cheques are still a thing – wait for cleared funds. You can pay a cheque in online via your phone, but it will take a week to be safe.
How to avoid car payment scams:
Don't release the car until you have cleared funds credited to your account, or if you prefer to deal in cash, you are confident the cash you're holding is genuine. Record details of your buyer, and if you have driveway CCTV or a Ring doorbell with camera, make sure you do some of the handover where it can be captured.
Theft, robbery and intimidation – car thieves posing as buyers
Advertising a car means signposting its availability to thieves, and sometimes revealing a location via an enquiry. This type of organised crime isn't limited to car theft in your absence. Tactics include sending a collection driver either with less cash than agreed and relying on intimidation or simply sending counterfeit money, or simply using what seems to be a legitimate viewing to case the joint, as such.
If a buyer wants to collect the car via a third party insist on cleared funds before releasing it – if they claim it's been paid but you don't have the money, and a recovery firm shows up, take the details of the firm, the vehicle registration, if you have CCTV get the driver into the field of view for recording, and do not release the car.
How to avoid car theft/robbery scams:
Speak to the potential buyer on the phone, don't just make an appointment by text. Be wary of anyone wanting to meet at an unfamiliar location – it is quite common for legitimate buyers, particularly of specialist cars a long distance away, to propose meeting at a halfway location, choose a place you know, daylight hours, and if you can bring a friend along.
If you have a desirable classic car, see if you can arrange to meet at your trusted garage with booked ramp time for an inspection. It will dissuade thieves and keep them from knowing where the car is stored. Auctions provide the best way of selling a good classic car now.
In any photographs of documents, cover your address and any identifying information not relating to the car – including the V5's document reference number. That reference number can be used to change keeper online; it can also be abused to steal the vehicle registration mark from a classic car via a cherished transfer. DVLA no longer includes previous owner details on the V5, so if you are uncomfortable sharing that information don't give the buyer the V5 with the paperwork.
Ownership/keeper scams – don't forget the paperwork!
It is extremely important to change the registered keeper of your car – if the buyer asks to do the logbook when they get home, do you really trust them? If they don't give you details, take the V5 away with them so you no longer have it, they could continue driving around with your details for any fines or offences. When you change keeper it automatically refunds or stops the direct debit for any remaining months of VED so the new keeper has to tax or SORN it immediately.
Car selling scams – don't get ripped off
To make sure you're not buying a lemon, your first port of call should be a Parkers car history check. A valuable source of information is the DVLA's MOT history check, and for classic cars or high-performance and luxury models, do a simple web search (including relevant Facebook groups) for the car's model and registration – you may find history the current owner has forgotten to mention, and you may also find evidence of maintenance and care that makes it clear it's a good purchase. Not all searches need to be looking for bad things.
Car scams to watch out for from private sellers
Private car selling scams start with the classics. A part-time dealer pretending to be a private seller, or an actual dealer selling a car from stock that isn't good enough for trading standards requirements as a private (sold as seen) sale. Dishonest descriptions, undisclosed faults, and hidden damage are as old as the concept of a second hand car. But there's plenty of opportunity for car scams that don't involve paint, filler and sawdust.
Fake news: the rise of the false classified advert
This scam is particularly prevalent on Facebook Marketplace, though it can also be found on eBay and in routine classifieds. You are unlikely to find these scams on Parkers Cars for Sale, Autotrader and so forth, as those adverts cost money to place. Most are vetted or come via established dealer networks.
However, you will often find the same vehicle you saw on social media advertised in reputable places, for a much higher price, by the real vendor.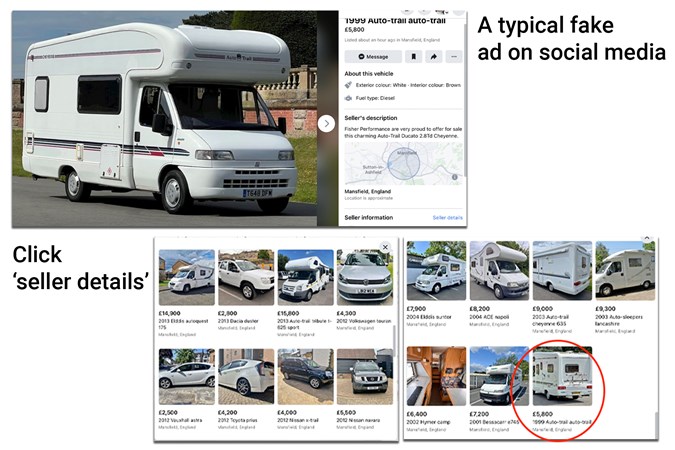 That's because these scam adverts are usually based on a copy of a genuine advert. They may not even be generated by a person, but by bots using stolen/hacked accounts. Whenever looking at a deal on these marketplaces that looks too good to be true, see what else the seller has listed, and how old the profile is.
New profiles are an instant red flag, but an old profile with lots of cheap cars, vans and motorhomes for sale is equally likely to be a scam via a hacked account.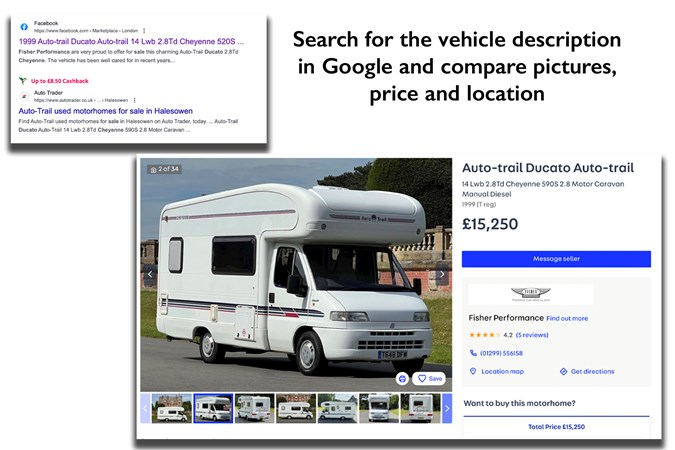 How to avoid the fake advert:
The deal looks too good to be true, and it is. If you're local they may not reply at all, as they're looking to take a deposit from you for delivery to to secure the once-in-a-lifetime deal you've spotted. Ask yourself how likely it is that one random on social media would have 40 cars for sale all at 40-60% of the usual retail price.
If you really want to pursue what looks like an amazing deal, don't send any money and don't give out any details, insist on seeing the vehicle at the seller's premises – chances are, it will disappear.
These scams do fool many people, and one of the hidden costs to the victim is taking out insurance before collecting the car. You can easily obtain insurance online in minutes – don't pay for cover on a vehicle until you have collected it; if you're concerned about not having internet access get quotes beforehand and make a note of your preferred insurer's phone number and reference for your quote.
Papers, please: is the seller the owner of the car?
Even if you have a V5/logbook in the seller's name and address, they may not be the legal owner. If the place you are viewing the car isn't the home address, if the seller's driving licence does not match the details on the logbook, and if there's any paperwork implying lease or finance company ownership – check that this has been paid off.
Beware of cloned cars
This is a scam where a dodgy car's details are altered to look exactly the same as an honest car of the same make and model. Usually carried out by organised criminal gangs, the VIN (vehicle identification number) and in some cases even the V5C ownership document is forged to make the car appear genuine.
This may also fool a car history check in some cases. We'd suggest you watch out for cars with unusually high specifications and low prices, and also try to meet the seller at the location shown on the V5C form.  
International used car scammers
If you see a car advertised for an unbelievably low price, it may be an overseas scam. What can happen is the seller will begin a conversation with you via email, explaining that the car is in mainland Europe and that for some reason they have to sell it quickly.
You'll be directed to a money transfer website, which will actually be a fake site set up by the seller simply to get your money. That's the last you'll hear from them.
Dealer car sales scams: fine print and extras
Car dealers, at least, the ones which have claimed a patch of land and a permanent entry in the phone book (or Google), have had to lose the filler-and-dodgy deals image in the 21st century. You'll still find bad cars, but there's better legal protection and generally, cars don't age as badly and there's more profit in selling a good one with finance, than a rough one tarted up to appear worth more.
Even the classic trick of 'clocking' a car, winding the mileage back, has been largely left in the past thanks to easy public access to MOT history. Lost paperwork on an unusually low-mileage car? A few clicks and you'll see the truth unless something criminal is afoot.
The exception to this is personal imports. Buy those very much on condition.
Finance and car sales fraud
If you agree to buy a car on finance, you may get a call a few weeks down the line saying that the finance has fallen through because of bad credit, and now you'll have to pay extra. This scam is aimed at people who have a bad credit history, and the loophole the firm uses is usually hidden in the smallprint of the contract you signed.
Poor credit history/high APR
Always know your own credit score. Occasionally a dealer may try and sell you finance at a high APR when you're actually entitled to a much better deal. Similarly, if the dealer claims you have poor credit they may also imply that they can't discount the car. Brush up on the latest finance and PCP deals as well – they are constantly changing.
'We'll pay off the finance'
If you're buying a car and want to part exchange your old one, yet still have finance outstanding (which includes the final payment on a PCP finance deal) then the dealer may offer to pay off the outstanding money. Be sure that they do pay, because the last thing you want is a call from your bank asking why you're not paying your loan when you thought the dealer had pair the balance off.
Bill consolidation
Watch out for dealers or finance firms offering to 'consolidate' all your debts into a monthly payment. What actually happens is the loan term is much longer than before, and for that reason you'll probably end up paying more money in APR.
You can't be forced to buy a warranty
Never allow a dealer to insist you get a warranty with a car. It's not compulsory to pay extra for one, and it's not going to affect your credit score. Along the same lines, any used car you buy from a dealer has to be fit for purpose, which implies a 'reasonable expectation' that it will work for a period commensurate with its age, price and condition.
To wrap up that grey area many dealers provide a 30-day, 3-month or longer warranty – do not be fobbed off with a trade sale or 'sold as seen' unless you know what you're doing and have inspected the car thoroughly. If you do want to take that risk, don't accept a tiny discount in exchange for it.
The low valuation
Be on the look-out for companies that quote you a certain valuation for your car, and then amend it when you turn up to drop the car off once their engineer has had a chance to check the car and find 'faults' with it. They rely on the fact that you've taken time to come to them, so you're likely to take a lower offer. This practice isn't currently illegal, so just be aware that it could happen.
Dealer preparation – you don't need it
Always check exactly what is included in a 'dealer preparation' charge if it's listed on your invoice. It's fairly common for dealers to charge a large amount while actually only doing a few hour's work.