Caterham Super Seven review
Current Model
Stripped-down retro-roadster offers huge fun for little cash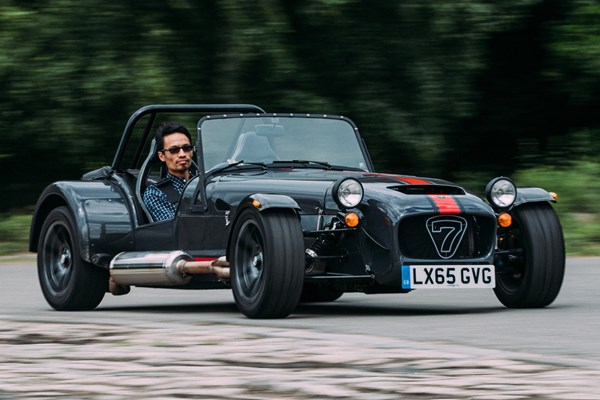 PROS
Hugely fun and involving to drive
Back to basics appeal
Thrilling pace
Exciting noise
CONS
Impractical
Open to the elements
Heavy controls
Lack of cabin space
At a glance

New price
£18,744 - £43,055
PROS
Hugely fun and involving to drive
Back to basics appeal
Thrilling pace
Exciting noise
CONS
Impractical
Open to the elements
Heavy controls
Lack of cabin space
The Caterham Seven has essentially been in production since 1957 - although at first it wore a Lotus badge. While it still looks much the same today as it did back then, not one component of the original car remains.
Its unique selling point is unchanged too - providing a pure driving experience and eye-opening performance for relatively little money.
Nowadays you can spec your Seven with anything from a 80hp, 660cc Suzuki motor to a ballistic 310hp tyre-smoker from Ford. Rivals like the Lotus Elise, Morgan 3 Wheeler or Westfield can't offer that diversity.
Back-to-basics driving
Driving any Caterham is a physical experience. There are no assistance systems, and the brakes and steering are very heavy. Power must be meted out carefully to keep it all pointed in the right direction, too.
Once you're used to the control weights, the information flowing through every surface tells you all you need to know about what's going on underneath the wheels.
Driving one fast requires a bit of a reboot in what you previously thought speed was. The combination of massive power, a lightweight body and the wind rushing through your hair means you feel like you're going twice as quickly as you actually are.
Spartan equipment levels
Don't expect luxury gadgets like a reversing camera or sat-nav – the Caterham Seven strips away anything that detracts from the pure experience of driving.
As such you get a clutter-free cabin that allows you to focus on the job at hand, and anyway, luxuries like carpets, doors and a windscreen can be optionally added at the time of purchase.
Bootspace is obviously at a premium, but thankfully a handy flap in the centre-section of the vinyl cover makes stowing a sandwich and thermos flask an easily-accessible job. That's about the limit of the car's practicality.