Company car test - Alfa Giulietta
Giulietta Cloverleaf costs £270 a month on 40% pay scale
Cheaper than VW Golf R, not so good on the road
Returns 32mpg, emits 177gkm of CO2. £32k with options
Can the fastest Alfa Romeo you can buy work as a company car? The Giulietta is arguably one of the best-looking hatchbacks available right now, but at what price style?
The Giulietta is currently Alfa's flagship car - a hatchback majoring on distinctive styling and shooting for the motorist looking for a touch more than just a generic 'euro-box'. Indeed, even the Alfa website states it's 'a sporty alternative to an everyday car' - a more generic, advertising-sloggany claim, we think.
Our exercise is a simple one; to find out if a car with a focus on style and performance can work as a company car. We've been testing the top-of-the-range derivative, 'Cloverleaf' trim.
Driving the front wheels is a 1750cc petrol engine that makes 235bhp, meaning an exciting sprint to 62mph takes 6.8 seconds. Top speed is 150mph, putting the Cloverleaf in the upper echelons of the hot hatch hierarchy.
Handling is impressive too, largely thanks to the sports suspension and Q2 electronic differential Alfa has installed to maximise traction both in a straight line and through the corners.
On the dash there's a switch labelled D.N.A. which changes the way the car drives. D stands for Dynamic, and gives the sharpest set-up. Steering and engine response is maximised, while the differential intervenes less and allows slightly more wheel-spin. N mode is Normal, and as the name suggests, this is the mode the car defaults to. It's the best compromise for everyday driving. A is for All-weather, and as you'd expect this mode is primarily for adverse weather conditions such as heavy rain and snow.
In Dynamic mode you find a car that's uncomfortable to drive for long distances but ultimately very accomplished as a performance hatch. Excellent grip levels, direct steering and sharp throttle response makes the car come alive, and prodding the throttle becomes addictive in fairly short order. For everyday driving you'll find Normal mode much more civilised, toning things down and generally smoothing out the ride.
Still, in even normal mode the Alfa feels fidgety, and when you factor in a pretty atrocious steering feel, a less than user-friendly handbrake, the convoluted and ungainly Blue&Me infotainment system and a confusing dashboard arrangement it doesn't seem that attractive.
Added to which, those twin tailpipes puff out a significant 177g/km of carbon dioxide, meaning your company car tax bill takes a hit. You'll have to pay 26% benefit-in-kind taxation, which when you do the calculations equates to around £270 each month on the 40% pay scale. How does this fare against the competition? A Golf R will cost you just over £300 each month, while a Renaultsport Megane is around £230 per month so the Alfa slots neatly between the two.
However, both of these competitors are quicker, more refined and better to drive than the Giulietta, and it doesn't stop there. It's the same story with the old Focus RS (£320ish per month) and the SEAT Leon Cupra R (£240 per month), so why would you pick the Italian? Three words: car park chic. This Alfa exudes cool. It's extroverted without being gaudy, which means it scalps the likes of the outlandish Leon and Focus offerings. It's also much more distinctive than the Megane and the Golf - both of which have fairly subtle styling tweaks to set apart the 'hot' versions in the range.
Fuel economy is a claimed 37.2mpg on the combined cycle, although in our test car we achieved 28mpg over a mixture of roads and driving conditions.
So what does Cloverleaf specification buy you? Standard features include those unique wheels, lowered sports suspension, Alfa's Blue&Me entertainment system, lots of sports-orientated trim inside (steering wheel, gear knob, pedals), Cloverleaf badges, automatic wipers, six airbags, cruise control, fog and daytime running lights, electric windows, and heated door mirrors.
Optional extras on our car include rear parking sensors, Bi-Xenon headlights with headlight washers, electrically-folding wing mirrors, black sports leather interior, electric double sunroof and a paint scheme usually reserved for Alfa's supercar, the 8C.
On-the-road price is £31,240 after the options or £25,010 with no options at all.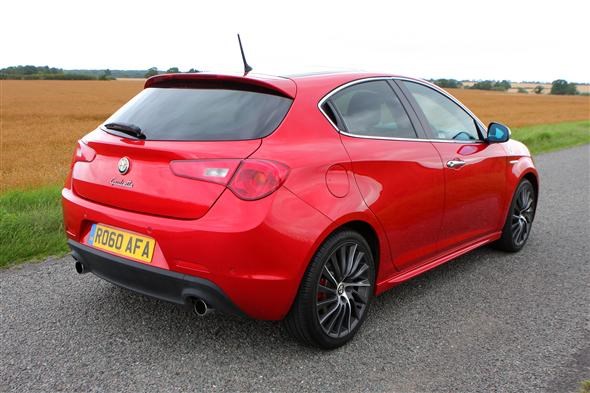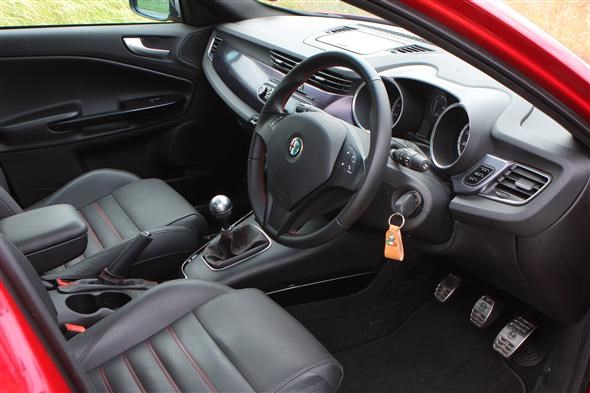 Also consider:
Volkswagen Golf R
Fast, great handling, refined wonderfully composed, interior lacks drama
SEAT Lean Cupra R
Left-field choice but great value for money.
Megane Renaultsport
This is for the hardcore among us. Stupidly fast, rock-hard ride, imperious handling