The clever Ford B-Max is an all-new car which majors on practicality and low running costs. It would make an excellent company car for those who need good access to the rear seats, but can it work with a 1.0-litre petrol engine? We've been driving it to find out.
Cost considerations
First, let's take a look at the cash aspect since that's the main reason Ford installs the little petrol engine in its cars. The B-Max is a pretty cheap car in terms of running costs. With the 1.0-litre petrol engine it emits 114g/km of CO2, which slots it into a Benefit-in-Kind band of 13%. With a P11d value of £18,140 you're looking at company car tax of £39 per month on the 20% pay scale.
The claimed fuel economy is 57.7mpg on the combined cycle, although we were seeing around 40mpg in real-world conditions. With a 48-litre fuel tank, that means a range of just over 600 miles if you can hit Ford's claimed figures and a whisker over 420 miles if you drive at normal road speeds.
What's it like to drive?
On the road, this B-Max is surprisingly good to drive. The engine is outstanding – its 118bhp means you can hit 62mph in 11.2 seconds, but the really nice thing about it is how versatile it is. Pulling power is available wherever you are in the rev range, which means you don't have to work the five-speed manual gearbox very hard at all. There's more than enough poke for the odd over-taking manoeuvre if required, yet when cruising it's a docile and comfortable car which easily maintains motorway speeds.
The seating position is fairly high, but the car doesn't move around as much as you'd expect and it handles very well. It has quite a small footprint and the turning circle is small, while the steering is light and direct. This makes parking very easy. Our car had the optional City Pack, which further improves parking by adding electrically folding door mirrors and parking sensors. It costs £200.
Impressive list of equipment
Other optional extras on our test vehicle were the metallic blue paint work and a keyless entry system, costing £495 and £250 respectively. With the accessories factored into the price, company car tax bill goes up to £41 per month.
Of course, one of the B-Max's biggest selling points is the clever rear door system. Doing away with the central pillar found in most cars, the doors slide backwards and allow an opening which is 1.5 metres across. That makes for a seriously accessible rear – perfect for those who need to load larger objects into the back.
Being Titanium spec, you get quite a lot of standard equipment. The adjustable load floor further adds to the versatility of the load area, while there's a host of labour-saving devices installed to make life easier. Cruise control, automatic air conditioning, rain-sensing wipers, automatic headlights, DAB digital radio and a heated windscreen all come as standard.
To conclude, if you're after a car which is simple to drive, has great access to the rear seats and comes loaded with kit for a low monthly tax bill, you should definitely take a long look at the Ford B-Max with the 1.0-litre engine.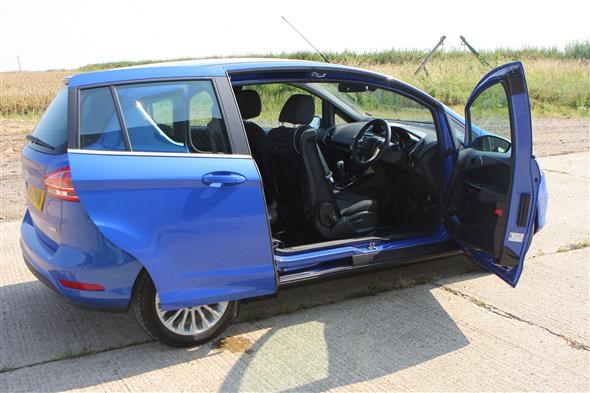 Also consider:
The Jazz is a simple car to drive and it's very comfortable too. It benefits from smooth engines and has fairly cost-effective too.
Essentially a pumped-up 500, the retro-style 500L is affordable and comes with myriad customisation options.
Clever rear-hinged doors make the Meriva more practical than most competitors and a range of efficient engines mean running costs are kept low.