Honda has responded to dealer and customer feedback regarding the driving characteristics of the Civic by making a series of subtle but effective modifications to improve the popular hatchback's dynamics.
Parkers was one of the first motoring titles to get behind the wheel of a factory fresh 2014 model Civic to explore what was new and to judge how effective the changes were.
Minor styling tweaks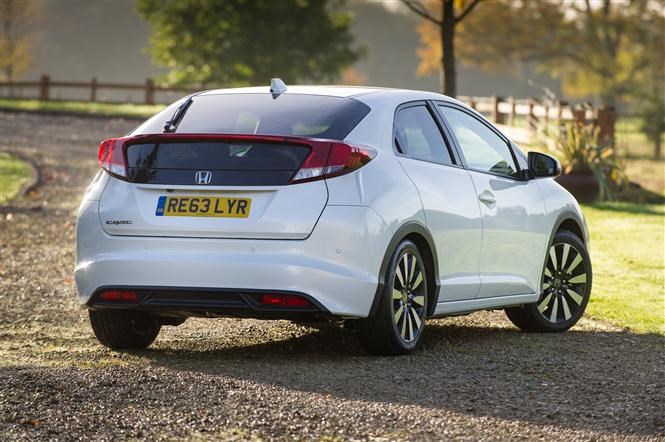 Visual changes to the Civic are restrained but they lend the car a sportier air, a useful tie-in to the model's successes on the race track as well as the 2015 return of the Type R and Honda's Formula 1 programme.
Exterior trims which were previously lighter shades of grey are now anthracite or gloss black, while there's a dark applique on the lower edge of the rear bumper, smoked tail lights and privacy glass too.
Tweaks are few inside the Civic, with a smattering of new gloss black and metallic trims, complemented by white stitching for the steering wheel and seats. Other than that it's a case of as you were.
Improved driving dynamics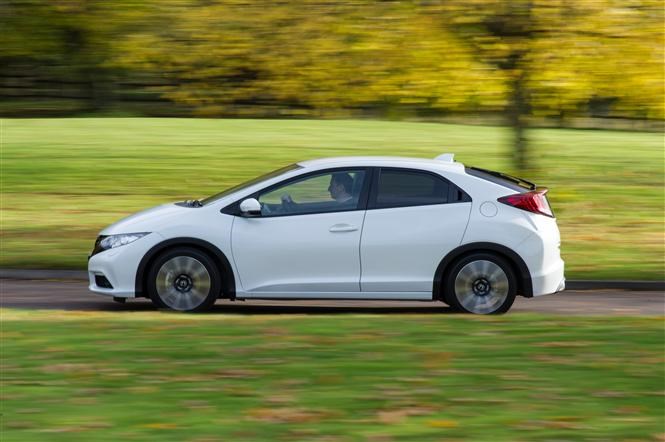 But it's under the skin where the most significant modifications have been made, all with a view to improve the Civic's behaviour on the road.
As the previous version felt somewhat anaesthetised to drive, Honda's European engineers have sought to remedy issues by retuning the front and rear suspension geometry as well as revise the steering.
Even a brief drive confirms that the new suspension arrangement is stiffer, making the Civic feel more secure on the road and less susceptible to 'floating' over high speed undulations, while body roll through corners is appreciably reduced too.
The most obvious downside of the firmer setup is a slightly harsher ride quality, most apparent at lower speeds, although this is a minor compromise.
Steering modifications are less successful. Yes it feels weightier than before, but not significantly so, and there's still only a vague appreciation of what the front wheels are doing through the steering wheel itself.
Enthusiastic drivers would still be best to look elsewhere but many will appreciate the reduction in steering lightness and feel more confident as a result.
Company car driver appeal
Honda's also using the revised Civic as the launch vehicle for its 'Advanced Driver Assist Systems' package, combining emergency city braking, blind spot warnings and automatic main beam among other functions. It's likely to cost around £800 and be optional on most models but the benefits in minimising collisions are significant.
When the new models arrive in early 2014 the trim levels will be revised with improved equipment and slightly higher P11D values as a result.
The effect can be minimised by opting for the superb1.6-litre i-DTEC diesel engine. It's a gem, being quiet with strong engine performance with 300Nm available. With a claimed average fuel consumption of 78.5mpg and just 94g/km of CO2 meaning a BIK rating of 13 percent at 2013/14 levels, it's inexpensive to run too.
Should you consider one?
Not as keen to drive as a Focus, and lacking the prestigious feel of a Golf, the Civic instead appeals because of its practicality with the best-in-class boot and ingenious rear seats, low running costs for the 1.6-litre i-DTEC engine and distinctive looks inside and out.
That it's now more satisfying and confidence-inspiring to drive helps its case.
You can read the Parkers Honda Civic review here.