Seven-seaters were once massive boxes on wheels with big, uneconomical engines. But now the market is awash with zero emission vehicles. And better yet, the best 7 seat electric cars come in all shapes and sizes.
SUVs are a popular body style of choice, but you'll notice most of the cars in this list are actually van-derived. The long bodies lend themselves to taking electric batteries, plus they offer lots of space for seats, kids, dogs and all of their associated mess.
Below you'll find the best seven-seat electric cars on the market along with how far they'll officially go on a charge, plus a more realistic figure from our own testing.
The best 7-seat electric cars
Editor's choice: Tesla Model X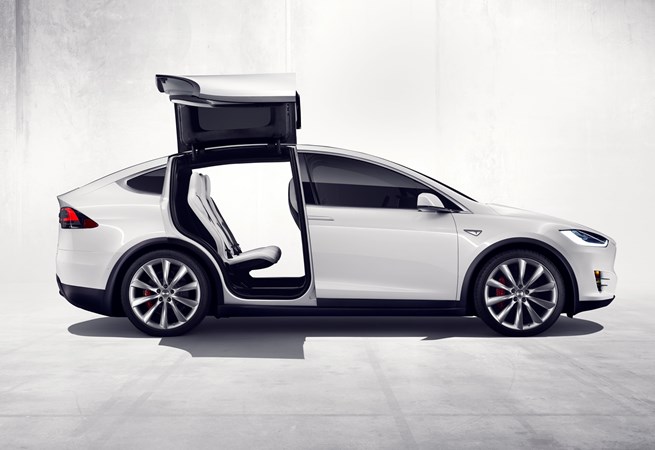 Pros
✅ Great to drive, massive range
✅ Supercharger network
Cons
❌ Expensive
❌ The doors
WLTP range: 311-332 miles
Parkers range: 300-315 miles
No electric car list is complete without a Tesla. The X is the largest of the range, boasting five-, six- and seven-seat models, a huge boot, a frunk (front trunk) for keeping cables in and a turn of pace that no other seven-seater can keep up with.
Whichever version you choose, the middle row seats are all individual chairs that slide back and forth electrically for convenience. We should point out that the falcon wing rear doors (as shown in the picture) are also rather thick, making those outer middle row seats a little tight for broader adults.
If you want to go for the insane 'Plaid' model with a 2.5 second 0-60 time, we regret to inform you that it's only available with six seats.
Read our full Tesla Model X review
Vauxhall Vivaro Life Electric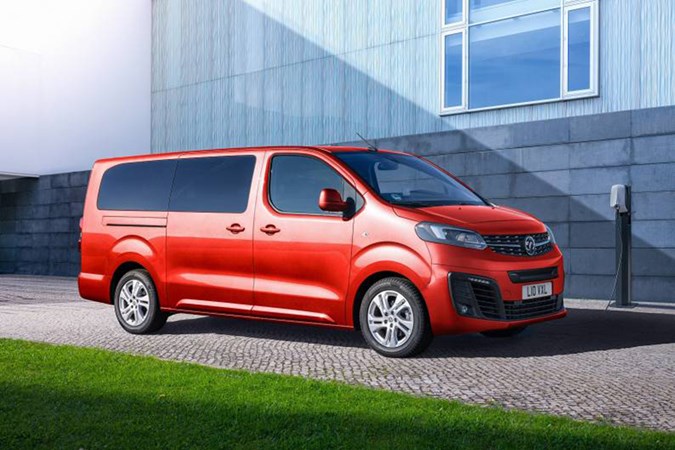 Pros
✅ Truly cavernous
✅ Strong dealer network
Cons
❌ Not the most desirable
❌ Won't go that far
WLTP range: 144 miles
Parkers range: 100-115 miles
Like the first seven seaters on the market, the Vivaro Life Electric is essentially a van with seats. It's broadly the same as the Citroen e-Space Tourer and Peugeot e-Traveller but the Vivaro gets the nod because of its trim levels and dealer network. Oh, and the fact it can actually come with nine seats rather than just seven.
Inside it's truly cavernous. The Vivaro Life Electric's battery pack is located under the floor, which means there's no impact on space for passengers or luggage, just the same as the diesel version.
But where the diesel engine is gruff, the electric Vivaro serenely glides through traffic. Sure, it's not quick, but who really wants to go at full tilt with all of those seats filled anyway?
Read our full Vauxhall Vivaro Life Electric review
Vauxhall Vivaro Life Electric lease deals | VIEW OFFER
Mercedes-Benz EQV
Pros
✅ Good range
✅ Massive
Cons
❌ Expensive
❌ Too posh for kids' mess?
WLTP range: 213 miles
Parkers range: 150-175 miles
The EQV has the same recipe as the Vivaro above, in that it's a van that's been converted into a people carrier which has then been converted to run on electricity, except it comes with a bigger battery for a longer range and a lot more luxury.
In other words, it's posh. There's leather, soft touch plastics and a slew of electrical gubbins to keep everyone happy. Plus there's the option of air suspension that can make the car's ride harder or softer depending on your mood.
The biggest downside is the price. It's pretty much double the money of the Vivaro e-Life and although it's palpably posher, it's not really that much more practical.
Read our full Mercedes EQV review
Mercedes-Benz EQB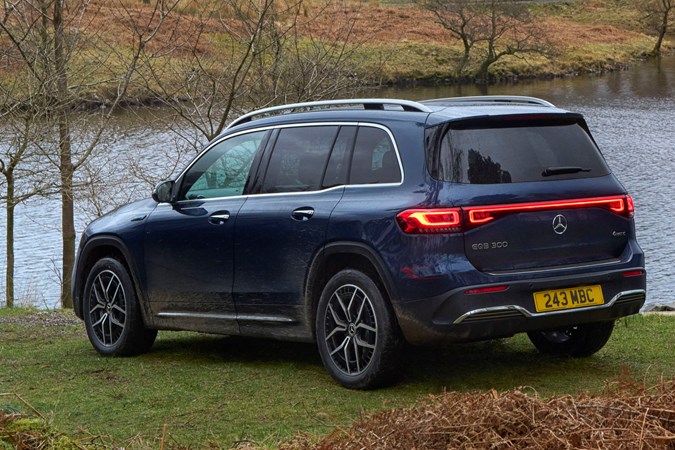 Pros
✅ Stylish
✅ Good range
Cons
❌ Expensive
❌ Not as practical as van-based models
WLTP range: 250-257 miles
Parkers range: 200-215 miles
More suited to Richmond than the Rubicon, the EQB is an SUV that errs on the mild side. This does mean it's easy to drive, practical and comes with a real-world range which is acceptable for people who will use it as their only car. 
In terms of seating it's probably best to think of it as a 5+2 rather than a full-fat seven seater. Tall adults won't really fit in the back row, but people below 5'4″ should have no problem.
If you're in the market for a premium-badged electric SUV with seating for seven and four-wheel drive, not much can touch it.
Read our full Mercedes EQB review
Peugeot e-Rifter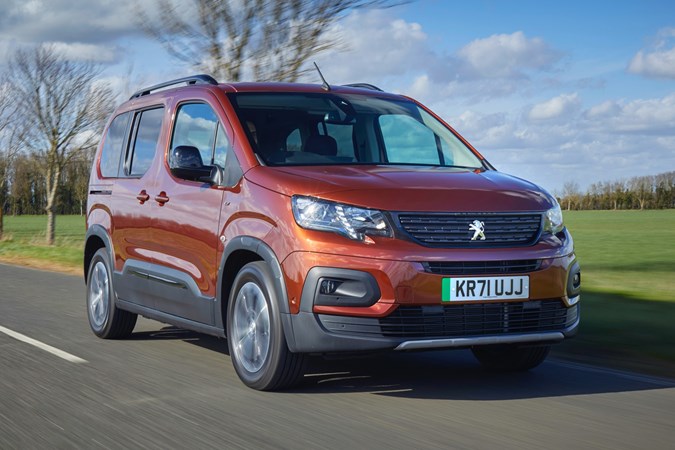 Pros
✅ Clever use of space
✅ Impressive headroom
Cons
❌ Small electric range
❌ Looks like a van
WLTP range: 172 miles
Parkers range: 120-130 miles
Despite some SUV-inspired black plastic cladding and faux skidplate up front, there's no hiding from the e-Rifter's commercial vehicle roots. This is definitely a former van.
That does make it supremely practical. Go for a seven-seater with the longer body and you'll find the headroom is very impressive in the third row, and it has a 1,050-litre boot with the rear two seats folded down too.
The limited range makes this more of a grocery-getter than a long-distance cruiser, but that's where the Rifter excels. It's nippy off the line thanks to the electric powertrain and the soft suspension does a good job of cocooning you from potholes normally found in towns.
Read our full Peugeot e-Rifter review
Peugeot e-Rifter lease deals | VIEW OFFER
* These deals are indicative examples of some packages available as of 14 November 2023, but are subject to change without prior notice. Everyone's financial circumstances are different and the availability of credit is subject to status. Terms, conditions and exclusions apply. Parkers cannot recommend a deal for you specifically.