Tesla Model X review
Current Model
Capable, roomy and fast – now with free Supercharging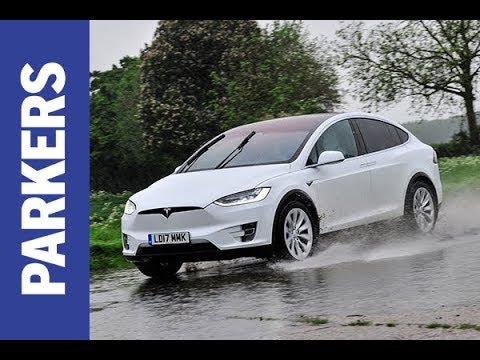 Enlarge
1

videos
Enlarge
53

photos
PROS
Zero exhaust emissions, silent running
Sports car acceleration, all-wheel drive
Quick charge times, growing network
Now available with free Supercharging

CONS
Pronounced wind and tyre noise
Real-world range drops to sub-200 miles
Lumpy ride quality on big wheels

Below average fit and finish
PROS
Zero exhaust emissions, silent running
Sports car acceleration, all-wheel drive
Quick charge times, growing network
Now available with free Supercharging

CONS
Pronounced wind and tyre noise
Real-world range drops to sub-200 miles
Lumpy ride quality on big wheels

Below average fit and finish
The Tesla Model X was an interesting addition to the range when it was launched in 2016. Following on from the original Lotus-based Roadster and the svelte Model S, the Californian-made X emerged as the world's first all-electric SUV, even if it looks about as much like a Sport Utility Vehicle as it does a London bus.
But like all Teslas, it achieves the seemingly contradictory goals of zero exhaust emissions and very high performance, with the additional benefits of seven-seat practicality, and a huge and adaptable passenger compartment. And these qualities make it a unique proposition, years on from its launch.
Other Model X USPs include an enormous 17-inch central touchscreen and electrically activated Falcon Wing rear doors. To see them in action, check out our video above. Tesla also pioneered advanced semi-autonomous driving aids, and although the best of the opposition is catching up fast, Tesla's system should be praised for being easy to use and relatively natural in feel.
Simple, two-model model range
Since the 2019 model updates there are two versions of the Model X are available, named Long Range and Performance. The old versions of 75D, 90D and 100D and P100D. The higher the number, the greater the performance and/or the longer the driving range – see the Performance section for a full explanation. All are swift, interesting, and well stocked with tech.
The Tesla Model X has few direct rivals, but 2019 sees a slew of new premium EVs go on sale. Like the Model X, they're SUV-shaped – so, your choice will include the Audi E-Tron and Mercedes-Benz EQ C, as well as the smaller and more sporting Jaguar I-Pace.
The Jaguar and Tesla are less conventional looking than their German rivals, which appear to have designed all-new EVs with yawn-inducing and rather derivative SUV styling, despite impressive tech.
Designed around the battery pack
The Model X's large battery pack sits low down between the front and rear axles, and powers an electric motor at either end of the car to provide all-wheel drive. Despite producing zero exhaust emissions, the Model X has performance to rival sports cars and, in some cases, even supercars – the P100D is claimed to accelerate from 0-62mph in 2.9 seconds, beating the Ferrari 488 GTB by a tenth of a second.
Tesla does not market the Model X as an all-terrain vehicle, but has engineered it to tow up to 2,268kg when equipped with the tow-bar option. As we say, it's not really an SUV in the conventional sense of the word – but marketing it as an MPV (a now unfashionable concept) would be a bad commercial decision.
The absence of a conventional engine and gearbox allows for a completely flat floor inside the vehicle, with no bulky transmission tunnel to consume foot space. Stowage space for luggage is also available in both the boot and under the front bonnet, and the Tesla can be specified in standard five-seat or optional six- or seven-seat layouts.
Home charging popular, Superchargers still unrivalled

The majority of Model X (and Model S) customers follow Tesla's recommendation of buying a dedicated Wall Connector for home recharging, at an approximate cost of £400-£440. Typically this provides between 22 and 51 miles of driving range per hour of charge, depending on power-grid supply.
For journeys further afield, a network of Tesla Supercharger stations are easily navigated to via the touchscreen multimedia system. New customers are given an allocation of free recharges, but once they've been used there is a fee – credit is given annually and the cost is minimal after that.
Tesla claims approximately 170 miles of range is recharged in as little as 30 minutes using its Superchargers. Various factors can affect the exact time to charge, but we plugged the Model X into a Supercharger station and received 177 miles of range in approximately an hour.
Tesla's website lists 35 UK Supercharger sites, with between two and 12 Superchargers each. They are still an object-lesson in usability, as they're fast, clean and simple to use – a true premium experience. The Model X can also be used on slower conventional chargepoints, which can also be found at other sites including hotels, restaurants and shopping centres.
Free Supercharging available on all Tesla Model Xs
All Tesla Model X and Model S electric cars will now come with free Supercharging for life. At first, Supercharging was free for all, then it restricted users to 400kWh each year before charging users from November 2018. Current owners will still have to pay as they go.
Tesla Superchargers are slowly becoming a common sight in service stations and car parks across the UK, and there are currently more than 12,800 of the charging points worldwide. The company claims that owners of its cars have now driven more than 10 billion all-electric miles since the Model S launched way back in 2013.
Now, alongside the growing infrastructure, Tesla has revealed plans for V3 Supercharging, a new type of charging point that could see charging times reduced by an average of 50%. In fact, Tesla claims the new high-speed ultra-rapid charging could add as much range as 1,000 miles per hour.
Find out more about all electric cars here