The price of public rapid charging has risen by 50% since May 2022, making the cost to charge an electric car this way more expensive than using petrol or diesel. The soaring price of wholesale gas and electricity has forced up the cost of charging a typical electric car, with £10 of charge taking you less far than the same amount of petrol or diesel.
This rise in EV charging begins to bite even as petrol and diesel prices have started edging upwards. Images shared widely across social media showing huge queues at public chargers are also denting the attractiveness of travelling far in an electric car. Despite the spiralling costs of using the best public electric car chargers, 26% of Parkers readers are still actively considering an EV for their next car.
According to Zap-Map the average price per kilowatt hour (kWh) of a UK rapid charger is now £0.75, but it can cost a lot more. Osprey announced in August 2022 prices of its rapid chargers to £1 per kilowatt hour before rapidly reversing that back to £0.79. By contrast, Tesla charges an average of £0.53 per kWh for non-Tesla drivers, and the second largest rapid network, Gridserve, charges up to £0.69 per kWh.
Refilling petrol vs public charging prices
The gap between petrol, diesel and electric has closed especially when using public electric car charging points. Using Parkers' own Miles Per Pound data gathered from official WLTP testing, we can directly compare how much it costs to fuel your car – by saying how far your money will take you when using public chargers at the RAC's average cost. Putting £10 in your tank is now working out cheaper than £10's worth of plugging in at a typical fast or rapid charger.
Audi Q5 45 TFSI vs Q8 e-tron 50
Petrol takes you 47 miles for £10, whereas electric on a public charger takes you 43 miles
BMW 420d Gran Coupe vs i4 eDrive40
Diesel takes you 68 miles for £10, whereas electric on a public charger takes you 57 miles
Citroen C4 1.5 BlueHDi 110hp vs e-C4
Diesel takes you 76 miles for £10, whereas electric on a public charger takes you 59 miles
Mercedes-Benz GLA200 vs EQA250
Petrol takes you 63 miles for £10, whereas electric on a public charger takes you 52 miles
Peugeot 208 1.5 BlueHDi 100hp vs e-208
Diesel takes you 81 miles for £10, whereas electric on a public charger takes you 56 miles
Vauxhall Mokka 1.2 Turbo 136ps vs Vauxhall Mokka-e
Diesel takes you 75 miles for £10, whereas electric on a public charger takes you 60 miles
Rising prices, lessening convenience
A robust and reliable public charging network is the key to ensuring EV drivers have a positive experience when making the switch to an EV. February 2023 figures from Zap-Map show there are now 45,737 public chargepoints in 26,805 UK locations compared with 28,375 in 2021. Recent months have also seen a number of ultra-fast hubs opening up in the country. In March 2022, the government announced a pledge of 300,000 public chargers to be available by 2030.
But it's not all plain-sailing. Zap-Map revealed in its September 2022 data update that suggested that at any given time, 10% of the network is unavailable. Despite recent news that Tesla has enabled access by non-Tesla drivers to selected Superchargers in its well-established network, EV drivers continue to raise concerns that public electric car charging stations on the whole are woefully inadequate.
EV owners rated the public charging network 2.16 out of 5 in a survey of more than 1,000 drivers conducted by the Electric Vehicle Association England (EVA). This is unlikely to improve until there are many more chargers, or the much-anticipated wireless chargers are rolled out.
The most common public electric car chargers rated
Ranking in order of performance experienced by the Parkers team, in this guide we help you understand which operators provide public charge points, how to access them and what prices you can expect to pay. Below, you can also understand the types of charging port and differences in power delivery, the science of charging and more on hydrogen development.
1. Tesla
2. Gridserve
3. Pod Point
4. Fastned
5. Instavolt
7. Geniepoint
8. Ionity
10. Osprey
12. Chargeyourcar (CYC)
---
1. Tesla Supercharger network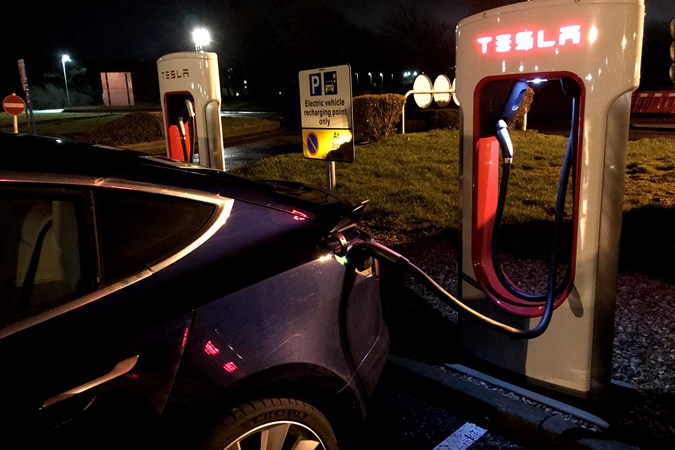 There's no denying Tesla got the jump on providing its customers a reliable network of fast charging points, offering quite simply the best service in the UK. Early Tesla owners were given lifetime free use of the chargers, but Tesla changed the policy after some owners abused it by never charging at home.
In May 2022, Tesla opened up access of its Supercharger network to non-Tesla customers. The pilot was also extended to Spain, France, Belgium, Sweden and Austria. This won't necessarily come as good news to some Tesla drivers on the continent, however, who have been reporting queues of up to an hour to use a Supercharger. Tesla has introduced off-peak hour discounting to alleviate this situation.
Tesla Superchargers have also become the target of vandalism, with cables being cut in protest against EV uptake.
Size of network: Well over 1,000 chargers at 106 locations in the UK
Tesla Supercharger cost: First 1,000 miles per year are free, then from £0.22-£0.32 per kWh for Tesla customers. Non-Tesla customers can sign up for monthly membership of £10.99, which gives them a lower per kWh price than the higher per kWh price paid by non-members. Average off-peak and on-peak kWh will respectively cost £0.54 and £0.67.
How to charge: Tesla drivers and newer non-Tesla customers need to use the Tesla app to hook up and pay.
Our experience: Quite simply the best. However, our experience has been a little skewed, since anyone with a Tesla on loan, including prospective customers, can charge using the Supercharger network for free. Ease-of-use is straightforward enough and availability has never been an issue.
2. Gridserve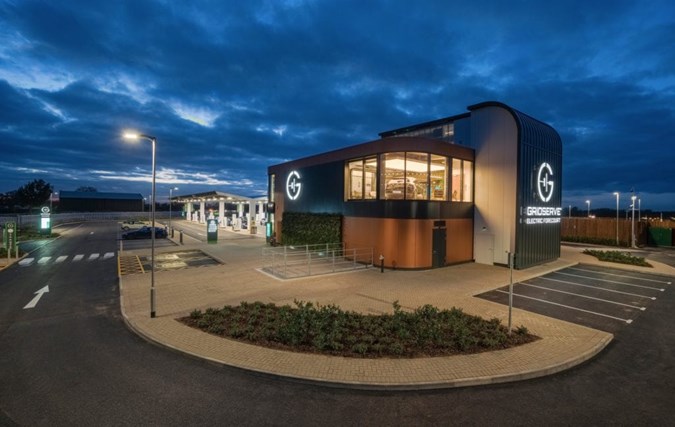 You might be familiar with the brand, Ecotricity, which was acquired by Gridserve in June 2021. Gridserve opened its first multi-point EV charging service station, called 'Electric Forecourt', at Braintree, Essex in March 2020. The Electric Forecourt provides enough points to charge 24 cars simultaneously and an area for food, drink, shopping and dog walking while vehicles are on charge.
Size of network: Gridserve has taken over the Ecotricity network. It's also opened a second Electric Forecourt in Postwick, Norwich, plans to open another soon at Gatwick's South Terminal and a further five have been granted planning permission.
Price to charge: Gridserve quotes two prices: £0.49 per for 'low' power chargers (up to 22kW) and £0.69 per kWh for 'high' power (up to 350kW). There's a flat rate of £0.65 per kWh at Electric Forecourt sites.
How to charge: Through Gridserve's interactive map, you can find chargers on your route. All Gridserve points take contactless payment.
3. Pod Point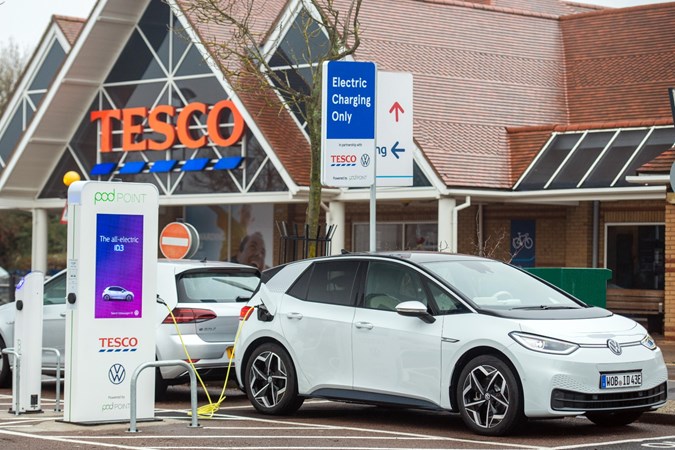 One of the oldest networks in the UK, Pod Point, like others on this list, provides domestic and commercial charge points, as well as operating its own charging network. Some of the commercial chargers are for use in its network, such as those found at Tesco and Lidl.
Size of network: More than 9.200 bays, sharing charge points – with more being added every month.
Price to charge: Pod Point used to be free at Tesco, but charges have now been introduced. Rates vary depending on how fast the charger is. Prices start at £0.44 per kWh for a 7kW charger and go up to £0.69 for 75kW. Find one of Pod Point's own sites and you'll pay £0.73 to use a rapid charger.
How to charge: Through the app, whether you register or not, you have to find the charge point name and initiate the charge that way.
4. Fastned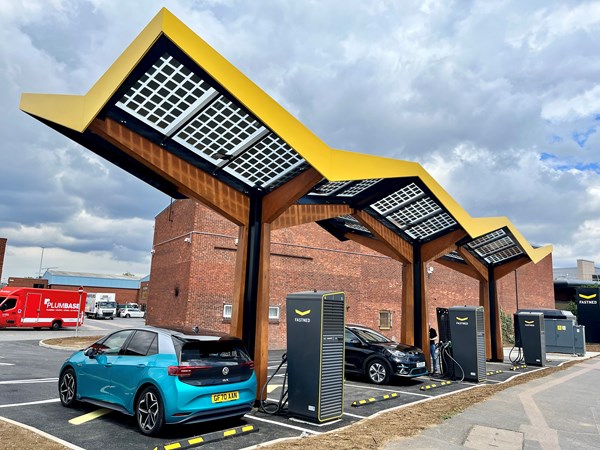 Fastned has some 12 stylish, multi-charge point sites stretching from Scotland to Sandwich and a new ultra-rapid charge station with six bays in Greenwich. The European network, based out of Holland, is quickly adding to its charge point count.
Committed to using 100% renewable energy, the locations with a distinct solar canopy help keep drivers dry, as well as generating some of the energy used to charge. The new Greenwich chargers are capable of charging a compatible EV to 186 miles in 15 minutes.
Size of network: UK has 14, locations, most of them in the North East, and aims to ultimately create 1,000. In spring 2022, Fastned raised a further £19.9 million (EUR 23 million) investment, so that number is expected to grow considerably between now and 2026.
Price to charge: £0.69 per kWh – unless you're a member paying the £9.99 monthly subscription, in which case the price is £0.48 per kWh.
How to charge: Two methods: Be a Gold member, for discounts, or Pay-as-you go
Our experience: Fairly positive with Fastned: turn up, plug in, tap your card, charge and go. Once, in a field of five chargers, the first two weren't working; screens didn't feature a welcome message and needed to be reset. Fastned customer service was helpful and can initiate remote updates, but still required a phone call. Also, it's not cheap. Efficient but expensive.
5. InstaVolt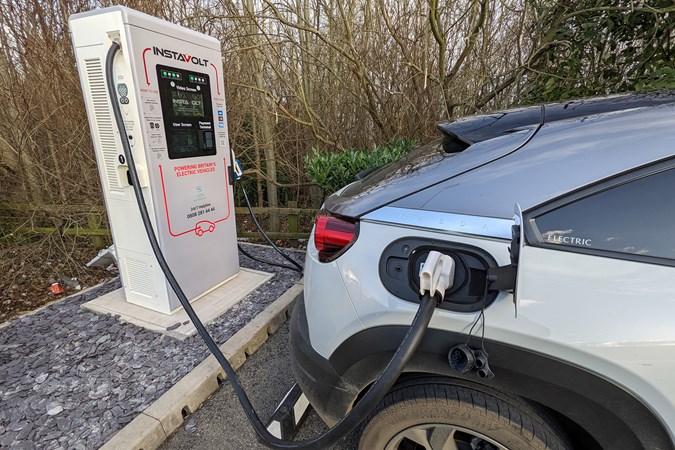 InstaVolt is the UK's largest owner-operator of rapid DC charging points, meaning it develops, installs, owns and operates all devices on its network. Not only does it have a great reputation for ease-of-use (you simply rock up and pay with contactless or the app, pay-as-you-go) but the chargers always seem to have good availability.
Size of network: InstaVolt currently has over 1,000 chargers in its network. In June 2022 InstaVolt became the second largest rapid charging network in the UK, and plans to install 10,000 rapid EV chargers by 2032.
Price to charge: All chargers incur a flat rate of £0.75 per kWh.
How to charge: Pay-as-you go, via contactless cards
Our experience: Largely positive, but not cheap. Our experience of Instavolt has always been good, albeit pricey, with machines being reliable and easy to use.
6. Shell Recharge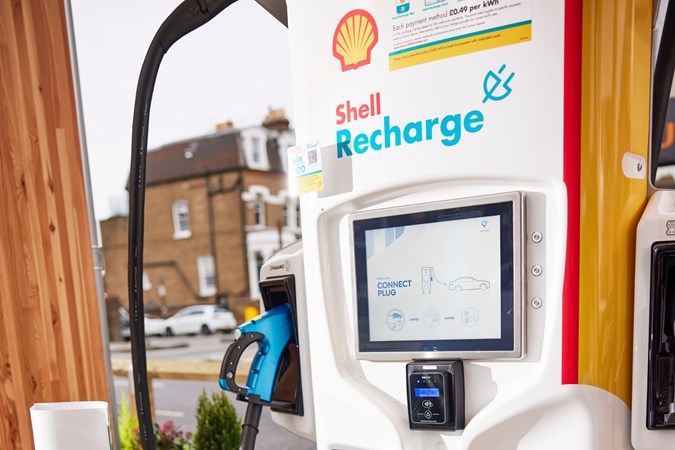 In January 2022, Shell Recharge opened its first all-EV charging hub, with nine charging points, a Costa cafe, Little Waitrose and other provisions in Fulham, London. The city is where 50 of its on-forecourt charging points are already located.
Size of network: Well over 120 charge points so far, including 65 rapid and 54 ultra-rapid, Shell has committed to growing its Recharge network of on-forecourt charging points to 5,000 by 2025.
Price to charge: £0.79 per kWh for 7-22kW charging and £0.85 per kWh for rapid and ultra-rapid charging at 50kW-plus.
How to charge: Via the Shell Recharge app, or Pay-as-you go
Our experience: First impressions say Shell operates one of the more expensive charging tariffs for EV drivers, second to Ionity — but we need more exposure to the Shell Recharge network, so watch this space.
7. GeniePoint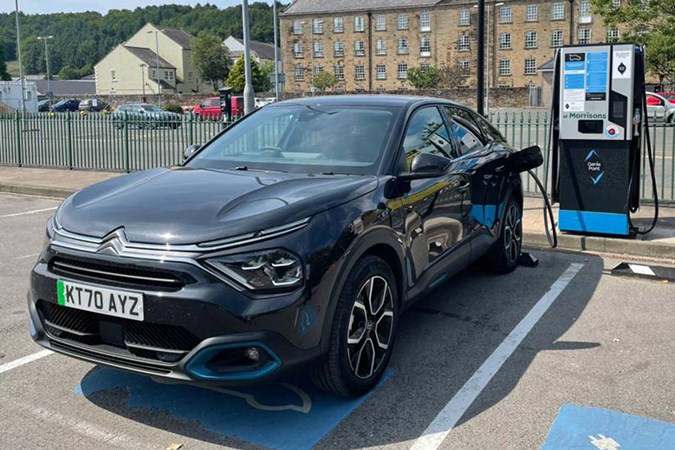 Engie EV solutions runs the GeniePoint network. Over 250 of it chargers can be found at Morrisons supermarkets.
Price to charge: Charge on any GeniePoint public network charger and you pay £0.79 per kWh at peak hours between 08:00 and 19:59. Charging at off-peak hours – 20:00 to 07:59 – costs £0.75.
How to charge: Register with the app or with a pre-registered access card.
Our experience: Average — one rapid charger we visited, on a forecourt in Great Yarmouth, caused us issues. No contactless payment, no mobile signal. No way of remotely initiating charge from customer services. (To make matters worse, no loo.) Eventually, when the app had confirmed 'initialising charge', we wandered off for 20 minutes, only to return to a car that had charged for less than a minute.
Later, Geniepoint called us back and explained the ongoing chip shortage has delayed the rollout of its devices getting the contactless payment updates. Other chargers we've used are more reliable, but rarely deliver the promised charge – and are often on sites that are time limited.
8. Ionity
Ionity is the charging network a number of carmakers are backing. If you have a car that supports it, Ionity's Ultra Rapid Chargers can deliver up to 350kW, which means you're topping up from 20-80% on compatible EVs in less than 20 minutes.
In October 2022, Ionity announced a collaboration with the e-mobility technology company, &Charge. This platform enables drivers to rate the functionality, repair status and cleanliness of the charging stations and offer extensive feedback. By 'becoming part of the quality assurance process', drivers are rewarded with a monetary credit against their charging account.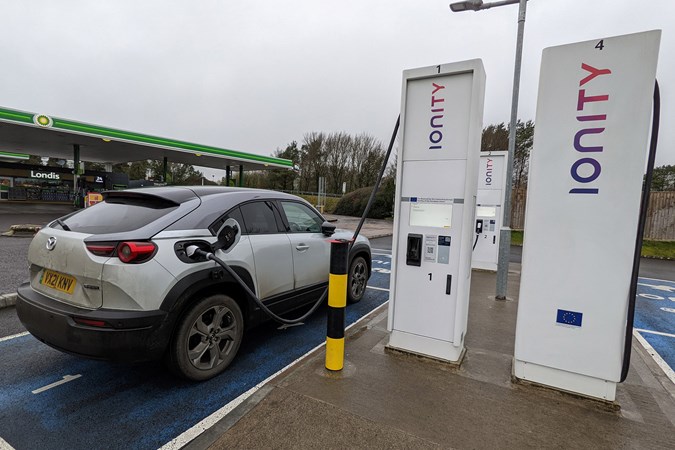 Size of network: 19 locations in the UK, with four or more charge points on each site. 13 more sites are currently being built.
Price to charge: £0.56 per kWh on a £10.99 monthly contract, and £0.74 per kWh on an ad hoc basis
How to charge: Contract or pay-as-you go, via the app
Our experience: Largely positive. Very fast, but expensive, with charger banks in good locations – some failed charges, though. Excellent phone support, too. Some connector issues stop it from being further up the list.
9. Chargeplace Scotland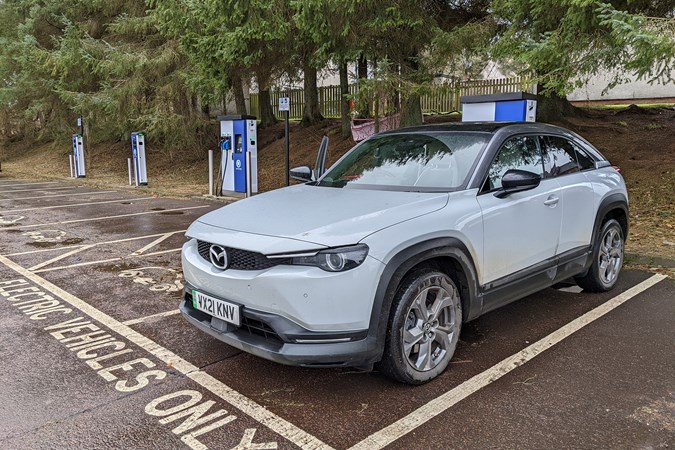 Owned and developed by the Scottish Government, Chargeplace Scotland aims to make EV charging accessible to all EV drivers, from Shetland to the border with England. It forms part of the BP Chargemaster network.
Size of network: Over 2,168, 70% of which are outside cities. Figure includes more than 300 rapid chargers.
Price to charge: Varies, some points are free, while others are an affordable £0.20 per kWh with a minimum charge of £1.00. Fast charging (up to 7-22kW) is typically £0.40 per kWh, but rapid chargers (50kW and above) can cost as much as £1.00 per kWh.
How to charge: Download the app, register and you're good to find chargers on your route, initiate charge and report an issue with a charge point.
Our experience: The app has been slated for its laggy, unreliable service. We found that it's not quick or easy to install it. The chargers are well located and easy to find. However, charging is controlled via the smartphone app, with no option to tap and pay on a guest basis.
10. Osprey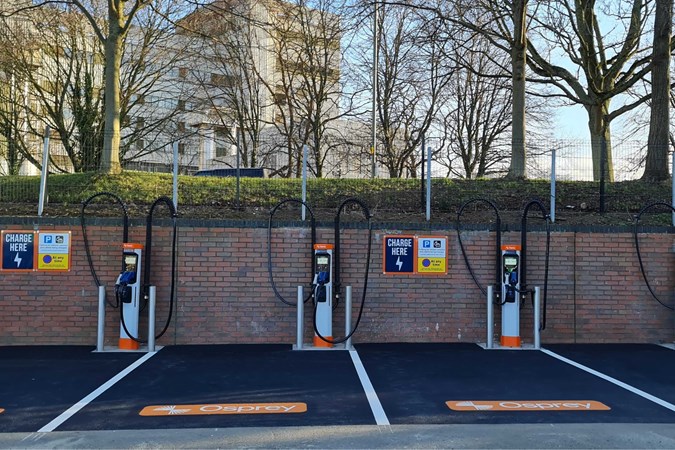 Like Fastned and Gridserve, Osprey is committed to providing a network of rapid-chargers in accessible locations. Those locations include supermarkets, pubs and coffee shops. It's also keen to ensure 'accessibility' is for all, so locations are well-lit and disability-friendly. In August 2022, the brand partnered with British Garden Centres to roll out additional rapid chargers in the car parks of its UK stores.
Size of network: Over 170 sites with 700-plus chargepoints, including four high-power charging hubs, with views to secure a further 150 hubs over the next four years. Osprey reckons its ultra-rapid chargers can add 100 miles of range in as little as 20 minutes.
Price to charge: £0.79 per kWh, contactless on every device
How to charge: Osprey App gives regular users access to monthly billing, receipts, etc.
Our experience: Osprey is also on our list of points to try, so we'll keep you posted.
11. BP Pulse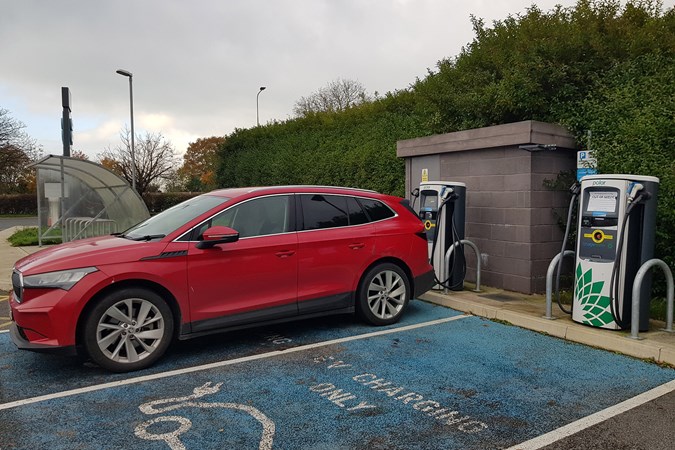 BP took over the largest public network, formerly Chargemaster, integrating the Polar Network then rebranded into BP Pulse. It's been a rocky road. Though no one could doubt its commitment to providing a broad network of accessible, fully working charge points, the reality isn't as straightforward.
Nonetheless, it is the UK's biggest network, since it supplies a number of other networks, including Chargeplace Scotland, ChargeyourCar, BMW's ChargeNow, Islington Council, D2N2 supporting Derby and Nottingham, and Evolve in Jersey. To get access to these chargepoints, however, you still need the corresponding app. BP has yet to amalgamate them into one.
Size of network: 8,750 chargepoints, from pulse7 (7kW delivery) to pulse150 (150kW), the latter being rolled out onto the BP forecourts with over 1,200 nationwide. The newest announcement should see that number more than double by 2030, with a focus on superfast charging points.
Price to charge: Varies, mostly £0.59 per kWh for 7kW in urban locations, up to £0.85 per kWh for 150kW delivery and 7kW delivery on motorway location. Members pay from £0.44 and £0.63 per kWh respectively, get discounts and free use at selected points.
How to charge: Through the BP Pulse app, via contactless or an access card
Our experience: Mixed. The scale of the network means we're never sure what kind of experience we're going to have using any given point, and we're finding an above average number of chargers out of order. That said, if a point isn't working, BP Pulse open the point up for 'Free Vend', meaning this network won't leave you stranded, and we like the fact that you can pay without an account using contactless. However, guest charging is more expensive, and an account costs £7.85 per month + £9 monthly credit.
12. Chargeyourcar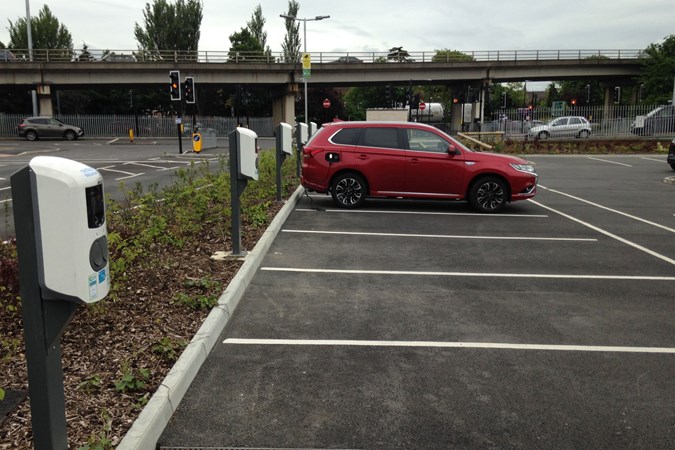 Also known as CYC, Chargeyourcar is one of the longest-serving networks in the UK and the pay-as-you-go arm of BP Pulse. CYC is a network more focussed on destination charge locations; shopping centres, town car parks, places where drivers will spend a bit of time. They're not ultra-fast chargers, but CYC does charge an overstay fee to dissuade charge point hogging.
Size of network: More than 1,900 charge points at 400 locations.

Price to charge: Minimum charges start from £1 and price per kWh starts at £0.59 for a 7kW charger. A 150kW charger costs £0.83 per kWh. There's a £5 overstay charge to deter charging point hogging.
How to charge: Register with the app or send off for the access card, which costs £20 per year.
Our experience: Mixed. When CYC works, it works really well. However, hitting 'start charge now' and getting no response is infuriating. Usually poor service comes down to poor mobile reception, thus CYC point to the access card for a failsafe approach. Gah.
New to the scene
EvoEnergy
In partnership with York City Council, EvoEnergy has opened two electric car HyperHubs in York.
The Monks Cross HyperHub, next to one of York's Park and Ride sites is one of the largest EV charging hubs in Northern England. It features four 175kW ultra-rapid chargers (which can be upgraded to 350kW when more EVs can charge at this rate), four 50kW rapid chargers, with an adjacent area having thirty 7kW chargers for Park and Ride users.
---
Useful things to know about public electric car chargers
Charging ports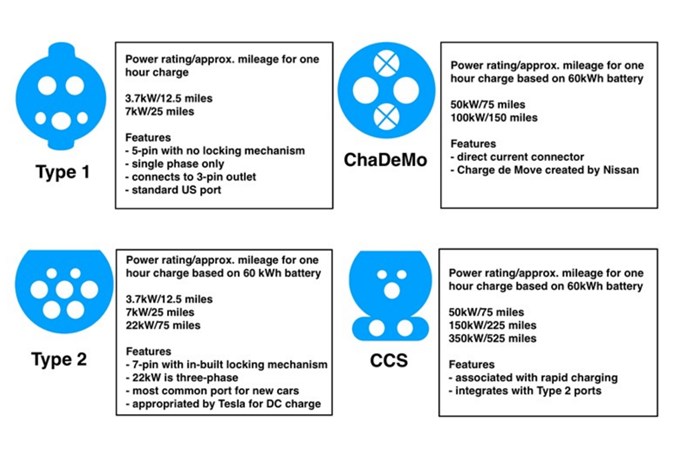 There are a few things you're going to have to know before you can consider yourself a canny EV driver. The first thing you'll notice as you become familiar with electric vehicles are the different charging ports. Like Apple's Lightning cable versus the micro-USB, the port type depends on the manufacturer, country of purchase and how fast the manufacturer wants you to be able to charge. While non-standardisation is frustrating, it's a legacy result of manufacturers trying to reduce charging times, to make electric vehicles more appealing, thus borne from good intentions.
The charge points are sized in kilowatts, or kW. The most important thing to note is the bigger the number of kW, the larger the possible delivery of power to your car, thus the greater mileage you can recharge in a shorter amount of time.
Locations of charging
There are three core locations: 1) base, 2) en route and 3) at destination.
1. Base
Base charging is essentially charging at home. That said, it doesn't necessarily mean on your particular driveway. To be inclusive of the 40% of households which don't have the accessibility of a charge point proximate to their residence, there are alternative solutions, such as on-street charging, community charging networks and portable chargers. Whatever option you use, base charging is where the majority of charging happens.
It's usually the cheapest way of charging your electric vehicle, since the car's companion app can enable drivers to schedule a charge. Since, charging only starts when timed to, owners can take advantage of the cheaper overnight tariffs from energy suppliers.
Overnight charging is slower, usually through a 3kW, or more commonly a 7kW charge point.
2. En route
Route charging is most common for EV drivers covering many motorway miles. Driving an EV on a motorway is the quickest way to deplete battery reserves. This is because the road type, unlike undulating country roads or stop-start city streets, doesn't take advantage of regenerative braking technology. For that, hills are your friend.
Car makers have configured their proprietary navigation systems to do the hard work for you, by suggesting charge points along the road as waypoints to head for. That being said, these navigation systems don't always show the real-time availability, charge point status or cost, unlike the very comprehensive Zap-Map app.
These charge points tend to be 50kW or 150kW, and rather impressively 350kW charge points are beginning to pop up, albeit cautiously. These could see charge times reduce to as little as 15 minutes for a full charge 0-100%. However, the on-board charger plays a significant role in how quickly your vehicle can charge too.
3. Destination
Destination charging accounts for the charging done away from the home while you're doing something else.
These points tend to deliver 22kW or 50kW of charging power (though some can be only 7kW). They often come with additional perks, like free parking. They are usually found in locations where dwell-times are higher, such as a shopping centre, the cinema or even rurally located eateries. We've found brands such as Tesco, Lidl, Starbucks and Costa are really clued into this model, where Beefeater, Sainsbury's, Aldi and Premier Inn are some of the many brands that could try harder.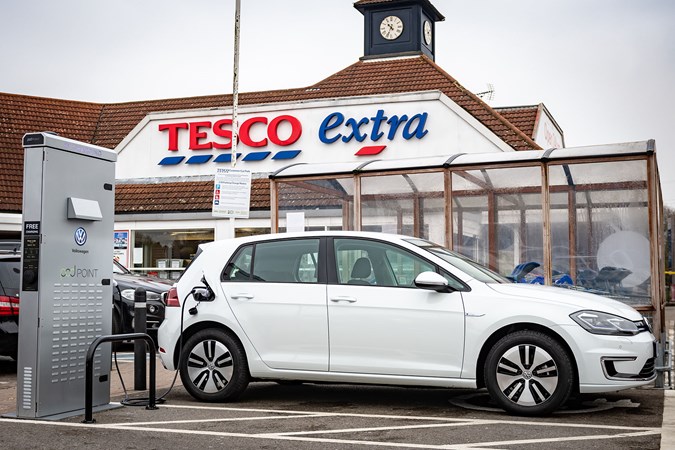 The science of charging
Charging quickly isn't everything. As helpful as rapid charging is to the course of our day, particularly on a long journey, regularly juicing the battery fast will cause deterioration in the chemical components of the battery itself.
Initially when the charge starts, the energy transfer from source to battery is slow. As charging occurs, the battery cells heat up. At first, the heat aids the battery to charge faster, so the charging rate increases until it hits a sweet spot. However, as the cells get hotter, the charge slows down again to protect them. This is why EV drivers tend to be charging between 20-80% of their battery's capacity.
Home chargers are usually 3kW or 7kW as these work easily alongside the single-phase set-up already in our homes (though some homes have three-phase and thus, can go to 22kW units if desired). In order to protect the battery, car manufacturers have configured a limit on how quickly the battery can charge at home to prevent battery degradation.
The key brands manufacturing these units are Andersen, BP Pulse, Easee, EO, EVBox, Indra, Ohme, Tesla, Wallbox and Zaptec. Each brand has a different unique selling point, whether you're looking for a three-phase compliant box, one which locks or one which integrates with pre-existing solar panels, so it's worth looking into the options best suited for your circumstances. Rightcharge offers a great comparison tool for finding the best home charger for you, while also helping you to compare EV tariffs from energy providers.