Ford Focus RS (2016 - 2018) review
no other hatchback drives this well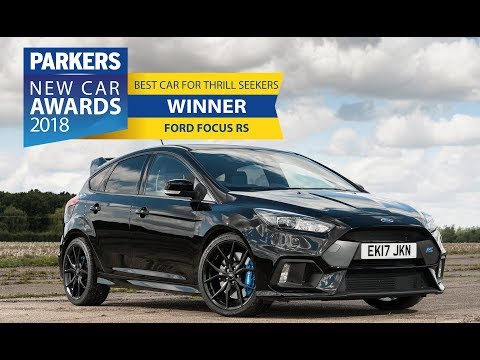 Enlarge
1

videos
Enlarge
105

photos
PROS
Staggeringly fast
Incredible handling
Strong resale values
CONS
Design is reserved for an RS
Cabin could be more interesting
Smaller boot than Focus ST
PROS
Staggeringly fast
Incredible handling
Strong resale values
CONS
Design is reserved for an RS
Cabin could be more interesting
Smaller boot than Focus ST
Britain is full of fast Ford fans, and most absolutely covet the RS brand. Since the sixties those two letters have signified the very best production road cars the Blue Oval can offer and have adorned some of the most revered cars in automotive history. Who can forget the whaletail-boasting Sierra and Escort RS Cosworths? The rally-romping Escort RS2000? These are now true classic cars and used values reflect it.
Rivals are many and varied
So it's with mighty history and massive enthusiasts' fanfare to contend with, we travelled to Valencia, Spain, for our first go in the 2016 Ford Focus RS on the road and on the race track. It's got its work cut out to take on the Mercedes-AMG A45, Audi RS3, Honda Civic Type-R, Volkswagen Golf R and Renaultsport Megane.
Its basic recipe looks promising, with a tuned 2.3-litre engine borrowed from the latest Mustang meaning capacity for 0-62mph in 4.7 seconds and 165mph, while the clever all-wheel drive system (AWD) - a first for a Focus RS, which until now has always been front-wheel drive only - making a 'drift mode' a possibility. Tail-out antics ahoy, then.
Who do you think you are? Ken Block?
Actually, it's funny you should mention that. The Youtube star was consulted on the development of this RS, and it's his influence that makes powersliding possible even if you've never tried it before.
The remarkable thing is this is one seriously capable car on a circuit too, with the Track setting stiffening the two-stage adaptive suspension dramatically and altering the AWD system along with the steering weighting, throttle response, traction control and engine noise.
Even on the road there's a setting above Normal that makes the RS way more playful. Sport mode does all the above, but without the comfort penalty of switching those dampers to their most aggressive setting.
Focus RS is equipped for enthusiasts
While the cabin doesn't look particularly inspiring – it's very similar to a Focus ST – we found the special Recaro seats to be brilliant.
But the majority of customers are expected to upgrade these to race-style items instead. In fact, a lot of pre-ordered Focus RSs will come with almost every option ticked. That isn't a huge amount, but things like lighter forged wheels, stickier tyres and the Luxury Pack (explained here) have been carefully selected by Ford to appeal to the sort of enthusiast who values such things.
Ford RS models have strong resale values
There are only five colour options, but Ford expects the overwhelming majority to take the launch colour – Nitrous Blue.
Still, if you pick every option available you're only adding a relatively small percentage of the car's value. For that you'll get a car that'll comprehensively out-handle anything in its class and go quicker than most, too. Considering the incredibly strong residual values the RS brand enjoys, it'll make a fantastic buy or a great-value lease.
Should I buy one?
If you're in the market for a car like this, and want something livelier than a Golf R, more usable than a Civic Type-R and cheaper than an A45 or RS3, yes. It's hilariously good to drive.
To find out what the new Ford Focus RS is like in more detail, read on for our full review.
Other Ford Focus (2011 - 2018) models: