Ford Fusion Estate (2002 - 2012) review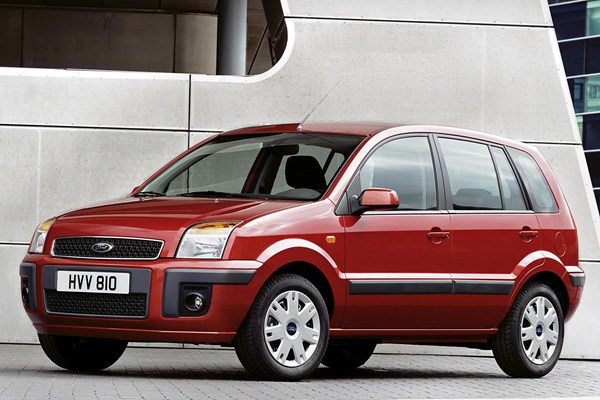 PROS
Good rear passenger space, decent boot room, comfortable ride
CONS
Awkward styling, mediocre equipment levels on base models, plasticky interior
PROS
Good rear passenger space, decent boot room, comfortable ride
CONS
Awkward styling, mediocre equipment levels on base models, plasticky interior
The Ford Fusion is based on the Fiesta but aims to offer a more practical car with some SUV-like styling. It has taller sides than a Fiesta and a higher set driving position, though this is no lofty 4x4. Some buyers like it for the ease of entry and exit, though many also shun it for its dumpy looks. Like the Fiesta, there's a good choice of engines and trims and, as it's a Ford of the modern generation, it rides and handles with flair too.
Plenty of cabin space
The Ford Fusion is, effectively, a plus-sized version of the previous Fiesta. Its raised driving position is comfortable and plenty of owners praise it for how easy it is to get in and out of without having contort their bodies. The broad windscreen gives a good view ahead and also imparts a sense of space and airiness to the cabin. While there's lots of room for the driver and passengers to get comfortable, the driving position is compromised by the steering wheel's limited adjustability. Still, there's lots of room in the rear seats for two adults or three children, though the Fusion's pretensions to MPV-dom are scuppered by rear seats that don't fold or stow the way most modern people carriers' do. However, the boot is a good size and larger than a Fiesta's. It's also easier to load.
Aging dynamics
Basing the Fusion on the previous generation Fiesta was a good move on Ford's part as the Fiesta is a beacon of good handling and ride quality. In making the Fusion taller, Ford has not sacrificed too much of these qualities and the Fusion copes well with the UK's rougher roads. However, the Fusion is based on a generation of Fiesta that has itself now been superceded for some time so it's inevitable the Fusion now feels a little behind the best in this niche sector. It still handles with some flair but there's too much lean in corners for the Fusion to be considered as anything other than a second tier choice for most buyers.
To find out exactly how this car performs, read on for our comprehensive Ford Fusion review.