Ford Grand Tourneo Connect review
Current Model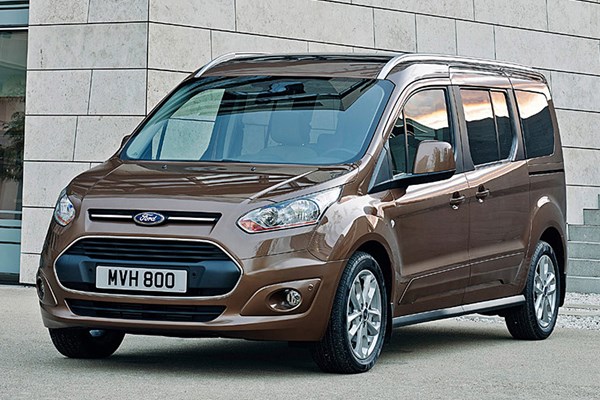 PROS
Commodious seven-seater interior
Positive steering and supple ride
Large sliding doors for easy access
Economical diesel engine range
CONS
Commercial vehicle styling obvious
Third row of seats aren't standard
Style specification lacks equipment
Longer than many people carriers
PROS
Commodious seven-seater interior
Positive steering and supple ride
Large sliding doors for easy access
Economical diesel engine range
CONS
Commercial vehicle styling obvious
Third row of seats aren't standard
Style specification lacks equipment
Longer than many people carriers
Ford Grand Tourneo Connect rivals
Launched at the same time as its shorter, five-seat only sibling, the new Ford Grand Tourneo Connect is a value-focused people carrier designed to wrestle the market stranglehold away from Citroen, Fiat and Peugeot.
What the Grand Connect isn't is the regular model with an extended rear. The body from the front doors back is unique, with a longer wheelbase, wider sliding doors and modified rear wing panels. Consequently it looks more balanced and arguably a little less van-like than the shorter version.
Enormous interior
Essentially a car version of long-wheelbase Transit Connect van, the Grand Tourneo Connect is designed primarily to be a seven-seater people carrier, but the third row of seats are optional. That said, Ford expects the vast majority of customers to pay the additional cost.
Great attention's been paid to maximise the voluminous interior, with impressive amounts of head, shoulder and leg room in all three rows.
Ford suggests most customers for this type of people carrier don't mind it looking more functional than their similarly-sized Grand C-MAX – it's a car to fit active lifestyles as well as being an impressively capable entrant in the taxi market.
Boot space with all seven seats in use is obviously more restricted but that third row of seats slides fore and aft as well as folding flat into the floor for more load room – a first in this segment.
Despite that interior volume, it remains quiet and car-like inside, with liberal use of sound-deadening materials to keep noise down.
Large exterior
There's no escaping that at 4.82m the Grand Tourneo Connect is a big car, emphasised by the upright stance, yet it remains very car-like to drive.
Underneath the bodywork are components that are shared with the Focus, which bestows the Grand Tourneo with ride and handling that outdoes some conventional cars.
Over the shorter version, the car's extra weight ensures it rides with even greater compliance over uneven surfaces, although this doesn't seem to have any significant handling penalties such as excessive body roll. Even the steering remains positively communicative.