View all Hyundai i30 reviews


Hyundai i30 Estate (2008 - 2012) review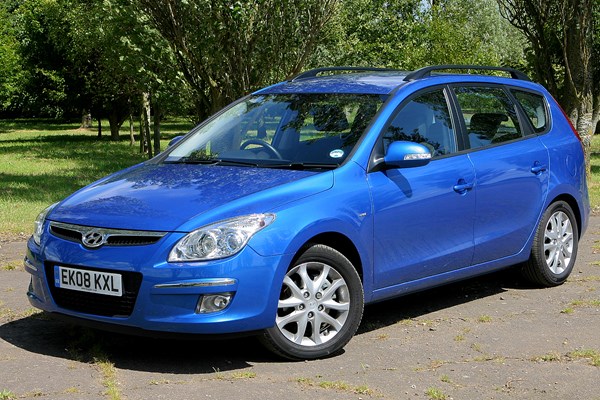 PROS
Roomy boot
Long warranty
Good diesel engine
Well equipped
CONS
Lacklustre image
Similar Kia Ceed SW is cheaper and more spacious
PROS
Roomy boot
Long warranty
Good diesel engine
Well equipped
CONS
Lacklustre image
Similar Kia Ceed SW is cheaper and more spacious
Hyundai i30 Estate rivals
The Hyundai i30 is an excellent all-rounder and a good alternative to more mainstream European and Japanese models. The Hyundai i30 Estate builds on this with a good sized boot, but there's more to it than just load-lugging. A longer wheelbase means rear passengers get extra space. It's also excellent value, particularly when you consider it comes with a five-year warranty from new. It isn't especially exciting to drive, but it feels safe and reassuring plus it comes with a well-built cabin. The i30 estate makes less sense when compared with the similar Kia cee'd SW though - both are built on the same platform and share components, but the Kia has far more boot space, comes with a longer warranty and is cheaper too.
Engines
The engines are solid and unlikely to fail in the early years of ownership but the choice is pretty limited with a 1.6-litre 124bhp petrol and a 1.6-litre 115bhp diesel on offer. If fuel economy is a priority then you'll go for the diesel that returns a claimed average of 52.3mpg but you'll pay around £1,000 extra for it.
Trim choices
Unlike many car manufacturers that like to blind you with science with myriad trims, Hyundai has gone down a very simple route. Initially, the i30 Estate was offered in three choices: Comfort, Style and Premium but in December 2009 Hyundai axed the mid-trim to leave just Comfort and Premium and although you can specify the Comfort with a four-speed automatic transmission you can only get the Premium with five or six-speed manuals. No auto is pictured here. Still, that's probably a blessing since the auto compromises efficiency, cutting about 4mpg off the official combined fuel consumption figures on the Comfort model.
Reasons to be cheerful
Of course, there's that long warranty but if you do buy an i30 Estate in the standard Comfort trim you'll get plenty of kit including alloy wheels, air-con, electric mirrors and windows and MP3 connectivity. For an entry level model that's pretty impressive, particularly when you consider the bargain purchase price. Is this enough to take on the European rivals? Read the full Hyundai i30 Estate review to find out.