View all Infiniti QX50 reviews


Infiniti QX50 review
Current Model
Alternative Infiniti SUV in packed-with-talent premium class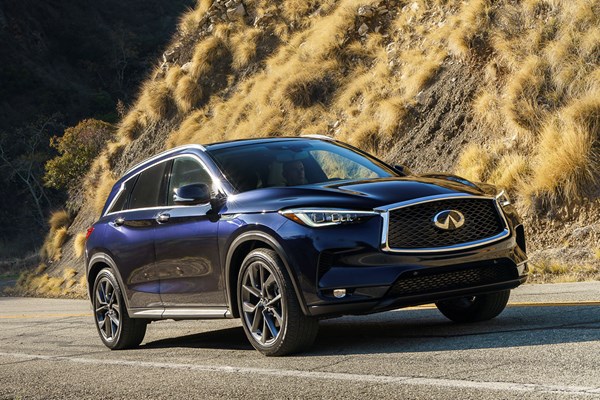 PROS
New engine technology
Alternative choice
Spacious interior
Choice of two- and four-wheel drive
CONS
No diesel or hybrid engine available
CVT automatic only
Small dealer network
Lack of brand image
PROS
New engine technology
Alternative choice
Spacious interior
Choice of two- and four-wheel drive
CONS
No diesel or hybrid engine available
CVT automatic only
Small dealer network
Lack of brand image

Some nine years on from Infiniti's introduction in the UK, there's something of a confident swagger about Nissan's luxury arm with this new QX50 SUV.
Infiniti's minnow-like status in Britain might make it a leftfield choice for buyers, but with sales up 21% in 2017, this QX50 could be the car to get it onto the radars and shopping lists of buyers looking for a crossover with a premium badge.
The only trouble is that this sector of the market is awash with talent. From the latest Audi Q5, BMW X3 and Volvo XC60, there's also the Mercedes GLC, Lexus NX and Jaguar E-Pace, before you get to the Range Rover Evoque and Porsche Macan.
Single engine option
Positioning the QX50 in among that lot is no easy task either. For starters it'll only be offered with a single choice of a turbo-petrol engine with an automatic gearbox in either two- or four-wheel drive. That's a tough ask in a sector that's still dominated by diesels despite the current downturn against them, and without even the alternative option of a hybrid like the NX.
In the QX50's favour though is that it boasts a world first with its variable compression engine technology (something that other manufacturers are also looking to introduce) with Infiniti boasting petrol performance with diesel economy.

On paper, the Infiniti certainly impresses with 270hp from its 2.0-litre engine and a 0-60mph time of just 6.3 seconds along with a 143mph top speed. Economy and emissions figures have yet to be released for Europe, but our estimate is that they're likely to be around 35mpg and 187g/km. Our test drive included some spirited driving around twisty mountain roads with the air-conditioning on and we returned 28mpg easily, so 35mpg isn't beyond doubt.
Despite that performance and a lack of bodyroll through bends, you shouldn't mistake the Infiniti QX50 for a driver's car though. The CVT automatic transmission, while well-matched to the engine and smooth enough in normal driving, can be rather vocal when driven hard and the steering is all but lifeless in terms of telling you what the car is doing beneath you.
This is not a car in which you're likely to voluntarily take the longer, twistier route home.
Solidly built cabin
That said, refinement levels are good with little wind or road noise coming into the cabin and an impressively comfortable ride quality even on broken roads on the larger 20-inch wheels.
The QX50 continues to impress inside too. The build quality, together with the fit and finish and materials used are all of high quality with two touchscreens for the sat-nav and in-car controls such as the stereo and ventilation.

A Bose 17-speaker stereo is an option, while there's also heated and cooled electric front seats, a panoramic sunroof and a head-up display. There's also Infiniti's new Propilot Assist system which incorporates intelligent cruise control and automatic braking as well as adaptive steering and lane assist.
Furthermore, there's a good amount of space inside. Infiniti claims that the QX50 boasts more rear legroom than the Q5, X3, GLC and XC60 and that's not hard to believe. The back seats also slide for more space or to add to the already capacious boot.