View all Land Rover Range Rover Evoque reviews


Land Rover Range Rover Evoque (2011 - 2019)
Review
Smallest of the Range Rover family is still a rewarding car to own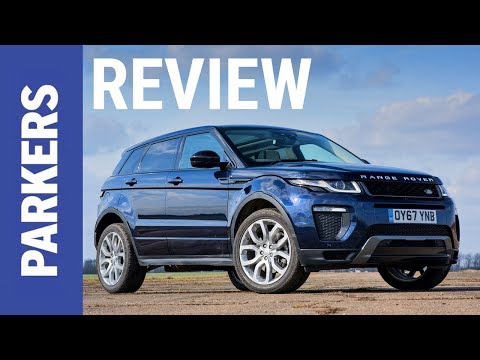 Enlarge
1

videos
Enlarge
71

photos
PROS
Stylish and desirable image
Interior is refined and classy
Capable on- and off-road
Holds its value very well
CONS
Media system really lags behind rivals
High cash prices and PCP finance costs
Feels quite wide for a compact SUV
Rear visibility is a little limited
PROS
Stylish and desirable image
Interior is refined and classy
Capable on- and off-road
Holds its value very well
CONS
Media system really lags behind rivals
High cash prices and PCP finance costs
Feels quite wide for a compact SUV
Rear visibility is a little limited
Verdict
The Range Rover Evoque - first launched in 2011 - has been a roaring success for Land Rover, quickly becoming its bestselling car in the range. It's easy to see why it's such a success - it offers buyers Range Rover looks and luxury for a fraction of the price, while remaining one of the most practical SUVs of its size thanks to a spacious interior and well-shaped boot. Add to that looks that still look modern and stylish in 2019 and it's bound to be a success. That's probably why it's not surprising that the new 2019 Range Rover Evoque looks almost exactly like this one, just with more details that bring it into line with the more expensive Range Rover Velar.
What's even more impressive is that the Evoque is up against some very talented opposition. The premium crossover market, which Land Rover once had to itself is now packed to the rafters with talented opposition. The Audi Q3, BMW X1, Mercedes-Benz GLA and MINI Countryman are queueing up for your money – and all are younger, and arguably fresher than this version of the Evoque. Most Range Rover Evoque customers chose the practical five-door SUV, but for those seeking extra individuality there's a more rakish three-door Coupe version as well as a daring two-door Convertible, which will be a little trickier to get hold of on the used market.
Range Rover Evoque styling: striking looks and road presence

When the Evoque went into production it was a revelation because so very little about the car had changed from when it was first seen as the LRX concept car in 2007; it was spectacular.
Even today, you're hard pushed to find a better-looking, classier, crossover for your money. The design undoubtedly turns heads, but you have to ask yourself: is this all style over substance? Land Rover's ably demonstrated that's not the case.
For instance, it's equipped with the firm's Terrain Response system, designed to cope with all manner of tricky conditions. It's satisfyingly capable off-road, even on lower-spec models where only the front wheels are driven.
Range Rover Evoque interior: high quality and plenty of room
Undoubtedly it will appeal to city slickers who want a bit of urban chic as well as something they can take to the country for a bit of a jaunt on the rough stuff, and it should please those who simply want something distinct.

Although less dashing than the exterior, the Range Rover Evoque's cabin is classy and – following the mild facelift in 2015 – particularly luxurious, with leather enveloping the dashboard and door panels. In short, it's a terrific-looking effort.
The instrumentation is clear, the switchbear is chunky, and if you choose an automatic version, you'll get the same rotary gear selector that you'll find in a Jaguar F-Type or full-fat Range Rover. It's simple, elegant, and just works.
Range Rover Evoque engines: Smooth diesels and powerful petrols
Most popular are the pair of 2.0-litre diesels: with 180hp on tap and a choice of manual and automatic transmissions, the four-wheel drive TD4 versions deliver a strong mix of pace, economy and capability, but it's the front-wheel drive eD4 with 150hp that's the most cost effective.

Opt for that entry-level mechanical package and, while you're unlikely to see the quoted 65.7mpg in the real world, CO2 emissions of 113g/km ensure VED car tax charges are the lowest in the range.
Since 2017, there's alse been a 240hp SD4 turbodiesel version. This one boasts 500Nm of torque for a 0-62mph time of 6.9 seconds. But it's still reasonably efficient, with a official combined fuel consumptiopn of 48.7mph and 153g/km of CO2 emissions. In reality, we've found it averages more like 33mpg in real-world driving during our long-term test.
Not many opt for the most powerful Evoques – the Si4 – powered by 240hp and 290hp 2.0-litre petrol engines, with a nine-speed automatic gearbox and four-wheel drive as standard. A 6.0-second 0-62mph time might impress with the 290hp edition, but its thirst for fuel makes it expensive to run.
What's the Evoque like to drive?
Very good. Despite getting on in years, and being based on aging Ford architecture, the Evoque is a well-resolved driver's car. The steering is full of feel, well-weighted and perfect for the motorway, the handling is faithful, and doesen't ever feel out of its depth on A- and B-roads, while the ride, even on 20-inch alloys is perfectly acceptable. Firm, but well damped.
It's hushed at speed, with little in the way of wind and road noise. Engine refinement lags behind the very best of the opposition, but it's well insulated, so that diesel clatter won't both you too much.
The nine-speed automatic transmission is responsive, and makes good use of the diesel engine's narrow power band – so it's long-legged and restful on the motorway, but responsive and eager when pushing in the bends. We'd like it to be a little more responsive out of Sport mode, but that's a minor criticism.
Range Rover luxury in a compact SUV package
As befitting the Range Rover aspect of the Evoque's name, even the entry-level SE is generously-equipped with eight-way electrically-adjustable front seats, leather upholstery, automatic wipers, electrically-folding door mirrors with puddle lights and parking sensors.
Unsurprisingly, it doesn't feel as plush as the full-sized Range Rover, but it nevertheless feels upmarket and special compared with its rivals, amplified by the generous use of leather, contrast stitching and general detailing.
Overall, it's a very satisfying car to drive and own, and as we have found, the Evoque has been continuously developed throughout its life to remain on the pace of its younger rivals.

The Parkers Verdict
Since its debut in 2011, the Range Rover Evoque has become the default choice for those looking for a premium-but-compact SUV. But that's selling the Evoque short – because even if you didn't buy it just for that prestigious badge on the tailgate, you'd be left with a feel-good SUV that continues to impress even in the long-term.
The Range Rover Evoque is not perfect – far from it, in fact. The interior is now more cramped than rivals like the BMW X1 and Audi Q3, it's hard to see out of, and the sheer weight of the thing drags down its fuel efficiency. But there is substance behind those good looks, and genuine off- and on-road ability, to reinforce its credentials as the UK's favourite premium SUV.

Read on for the full Range Rover Evoque SUV review