View all Kia Soul reviews


Kia Soul Hatchback (2009 - 2013) review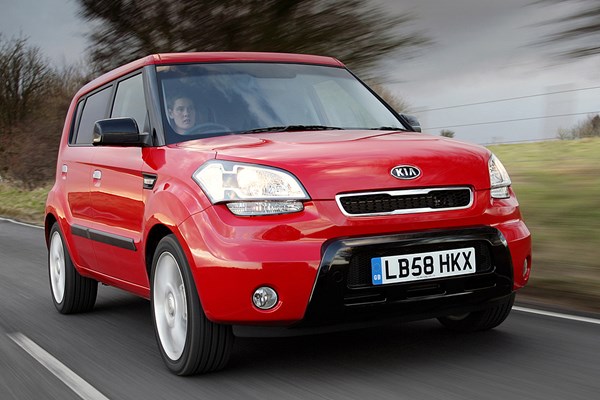 PROS
Distinctive looks, practical interior, plenty of customisation options, long warranty
CONS
No especially economical engines, petrol engine too noisy at speed
PROS
Distinctive looks, practical interior, plenty of customisation options, long warranty
CONS
No especially economical engines, petrol engine too noisy at speed
The Kia Soul is a practical small car. It's not much longer or wider than a Vauxhall Corsa, but it's usefully spacious and stands out for people who'd rather choose something more distinctive than a run-of-the-mill small hatchback.
There is a choice of a petrol or diesel engine and sitting above the normal trim levels, the Soul launched with three different limited editions: Samba, Shaker and Burner - reflecting its youthful image.
Plenty of rear passenger space, a decent boot plus a well put together interior make the Soul a great small family car, while a smooth ride and light steering make it ideal for town and city driving.
In January 2010 the standard warranty on new models was upped from three years to seven years, making it even better value.
Stylish and practical
The Kia Soul may not have MINI owners deserting their cars in droves, but the Korean is a stylish alternative to most superminis thanks to its distinctive looks and compact size. Don't let the small footprint of the Soul fool you, however, as the tall sided styling means he Soul's occupants sit upright to make the most of the available interior space.
It also has a large boot, which is as generous as most small hatch models, and the rear seat splits and folds to augment the Kia's versatility.
A large glovebox, which comes lined in some funky colour options, adds to the flexibility of the Soul and there are plenty of other places to keep small items from rattling around loose inside the car.
Noisy and mediocre economy
Kia may have called on the services of Lotus to help make the Soul drive as well as it can for UK roads, but there's still too much lump and grind over bumpy British roads in the top spec model with its large 18-inch alloy wheels. Better to stick to the other models with their smaller wheels that make a better fist of coping with groove-addled roads.
Fuel economy of 54.3mpg in the 1.6-litre diesel model is not going to send shivers down your wallet's spine, but nor is it on a par with the best in the supermini sector. Read on for the full Kia Soul review.