View all Lexus GS reviews


Lexus GS Saloon (2005 - 2011) review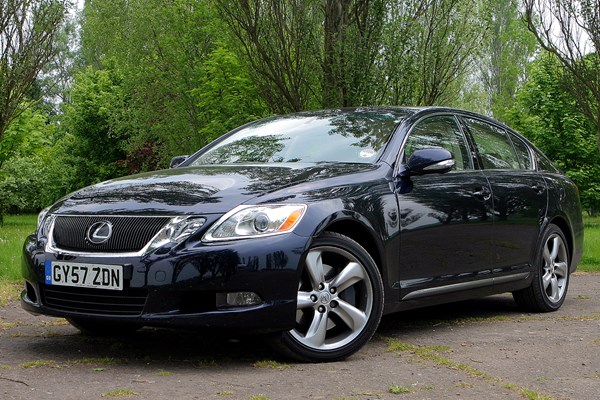 PROS
Gadget-packed, comfortable ride, different to the usual German saloons, hybrid version available
CONS
Thirsty petrol engines, no diesel engine available, overly assisted steering feel
PROS
Gadget-packed, comfortable ride, different to the usual German saloons, hybrid version available
CONS
Thirsty petrol engines, no diesel engine available, overly assisted steering feel
The Lexus GS – an alternative to the likes of the BMW 5 Series – has never been up to scratch or as common as its German counterparts but those who prefer to stand out from the crowd a little and want something different will find the Lexus a well-equipped and refined alternative with great levels of standard equipment. It's packed with cutting edge technology too - there's even a hybrid option in the form of the GS450h. It features an electric motor alongside the conventional petrol engine, meaning outstanding performance but low emissions. Buying from Lexus dealers means you'll be getting some of the best service around - the company repeatedly tops nearly every customer service poll, both here and in the US. However, there are no diesel options to pick from and the petrol choices can be rather pricey when it comes to running costs.
Engine line-up
Things are rather limited in the engine line-up of the Lexus GS. There are no diesel engines to pick from, which is a problem, as the rivals tend to offer very good diesel cars. The petrol engines that were available throughout the six years the car was on sale offered good performance, but didn't offer much in terms of saving money. There was a choice of two petrol engines, a 275bhp producing 4.3-litre V8 or a 3.0-litre version making 242bhp. The 4.3-litre car will reach 62mph in 5.9 seconds while the slightly smaller offering will do the same benchmark in seven seconds. A 4.6-litre V8 was introduced in 2008 and produced 342bhp. The more sensible, and affordable, option is the 450h Hybrid model. This combines a 3.5-litre V6 engine with an electric motor to produce 341bhp. This allows the car to go from zero to 62moh in 5.9 seconds but capable of 36mpg and with lower road tax. All three engines were updated throughout the six years, so be sure to check the right figures for the car you're buying.
Premium kit list
To go with the large saloon's premium image, it was given a list of rather fancy standard equipment. Even the entry level cars came with a 10 speaker sound system, smart key function cruise control and eight-way electrical seats. These means that even shopping for the GS on the used market should reward buyers with a car that comes with plenty of creature comforts. So, is the GS a genuine substitute to the BMW 5 Series, Audi A6 and Mercedes-Benz E-Class? Read the full Lexus GS review to find out.