Jaguar XF Saloon (2008 - 2015) review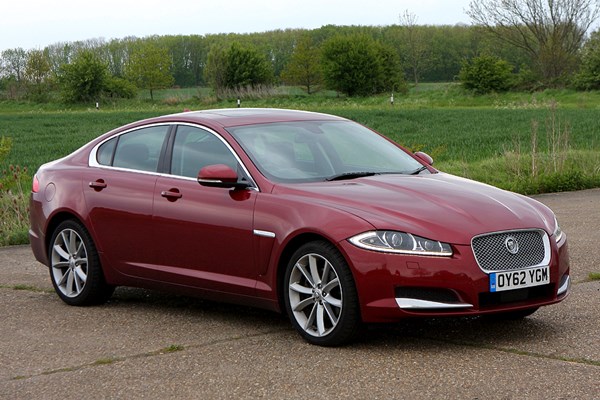 PROS
Modern and elegant styling
Unique interior
Supremely comfortable
Classier image than a BMW or a Mercedes
CONS
Rear seat space a little cramped
PROS
Modern and elegant styling
Unique interior
Supremely comfortable
Classier image than a BMW or a Mercedes
CONS
Rear seat space a little cramped
Years of criticism for being too 'traditional' and flagging sales prompted Jaguar to take a radical step when replacing the S-Type. The Jaguar XF has hints of previous Jaguars in details of its design, but looks and feels every inch a modern, upmarket saloon.
The interior is wonderfully stylish and despite actually containing more wood than any previous Jaguar, it's combined with aluminium to give it a contemporary appearance. It's amazingly comfortable too but also good to drive with very little body roll and responsive steering.
The XF proves that Jaguar is back to its best when it comes to building luxury saloons. The model slightly was revised in March 2009 with a more powerful V8 petrol engine plus a superb new 3.0-litre diesel (available with either 240bhp or 275bhp) replacing the 2.7-litre unit. A more extensive facelift was carried out in the middle of 2011 that is easily identified by the smoother shape of the headlights.
A quality offering
The Jaguar XF is brimful of all the qualities the company is rightfully renowned for. It combines a sure-footed drive with supreme comfort, excellent refinement and just that hint of rogue-ish sporting ability that makes Jag the envy of many of its rivals when it comes to image.
With the XF, the reality goes much deeper than just image thanks to the Brit being a very credible rival to the Audi A6, BMW 5 Series and Mercedes E-Class. With the arrival of the 2.2-litre turbodiesel engine in mid-2011, Jaguar also opened up XF ownership to a whole new raft of company and private buyers thanks to lower carbon dioxide emissions and higher economy than the 3.0-litre V6 diesel can offer. It also revised the 2.2-litre diesel in late 2013 to further reduce CO2 emissions to 129g/km (from 135g/km) and improve fuel consumption to over a claimed 57mpg (up from 55mpg).
Short on space
Jaguar's old lie of 'grace, pace and space' is largely true in the XF, but if you have to travel in the rear quarters for any distance, you may wish you were being chauffeured in a Mercedes E-Class or Audi A6 instead. It's not the Jag is very cramped, it's just a little short on rear leg and head room. The head room is down to the coupe-esque profile of the XF saloon, while knee room is just a result of the car's design. Neither will put off company car drivers with young families, but it's something to bear in mind if you regularly transport fellow adults. Read on for the full Jaguar XF review.
Other Jaguar XF (2008 - 2015) models: