Mercedes-Benz E-Class AMG (2009 - 2016) review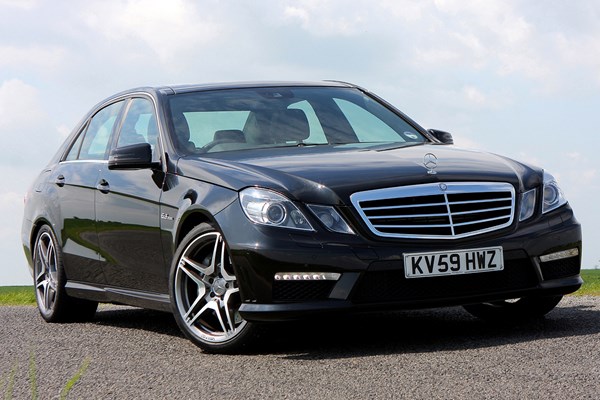 PROS
Straight-line speed, handling, covers miles with ease, slick gearchanges, comfort
CONS
Expensive options, some rivals cheaper, high running costs
PROS
Straight-line speed, handling, covers miles with ease, slick gearchanges, comfort
CONS
Expensive options, some rivals cheaper, high running costs
Mercedes-Benz E-Class AMG rivals
The Mercedes-Benz E63 AMG is the pinnacle of the E-Class line-up. It features a huge engine and loads of kit, but also has a fairly large price tag.
Large V8 engine
AMG is Mercedes-Benz' official tuning department and its latest incarnation of the E-Class saloon and estate is impressive. The 6.3-litre V8 delivers big numbers: 517bhp, 630Nm of pulling power, 0-62mph in just 4.5 seconds and a top speed limited to 155mph. All this is served in either a roomy saloon body or an even more practical estate.
Luxury interior
The E-Class AMG doesn't skimp on luxury either with full leather interior as standard and a host of gadgets to keep even the most ardent of tech fans happy such as the fully electrically adjustable seats with memory function that memorises not just the seat's position but also the steering wheel and side mirrors.
Facelift in 2013
In 2013 a face-lift saw the introduction of a new E63 AMG with a 5.5-litre twin-turbocharged V8 engine. It had 552bhp and 720Nm of torque, meaning 62mph was possible from a standstill in just 4.2 seconds. It also has a claimed average fuel economy figure of 28.8mpg, while CO2 emissions fell to 230g/km.
Also available post-facelift was the E63 AMG S, which is the ultimate E63. The 5.5-litre engine is pumped up to an output of 577bhp and 800Nm, dropping the sprint to 62mph down to 3.6 seconds for the saloon and 3.7 seconds for the estate.
In European markets the E63 is available with a four-wheel drive system called 4MATIC, but unfortunately UK buyers will only be able to order these in left-hand-drive configuration. If you want your steering wheel on the right, you'll have to make do with rear-wheel drive and slightly less traction than cars such as the Audi RS 6 – especially in inclement conditions.
This update also ushered in a few aesthetic updates – most notably a revised front end.
Some of the E63 AMG's rivals offer similar performance at a cheaper price, but in terms of pace, space and comfort, the AMG is hard to beat.
Read on for our full Mercedes-Benz E63 AMG review.
Other Mercedes-Benz E-Class (2009 - 2017) models: