View all Mercedes-Benz G-Class reviews


Mercedes-Benz G-Class (2012 - 2018)
Review
Uncompromised ability, yet compromised to fulfill all roles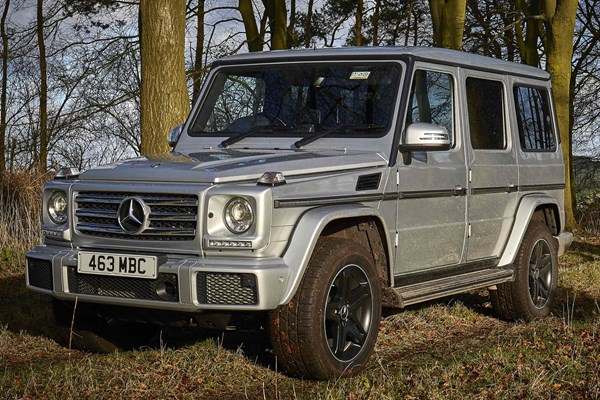 PROS
Off-road capability
Endearing character
Premium feel and quality build
Timeless and upmarket
CONS
Difficult to justify
Expensive to buy and run
True ability rarely needed
Outclassed on-road by rivals
PROS
Off-road capability
Endearing character
Premium feel and quality build
Timeless and upmarket
CONS
Difficult to justify
Expensive to buy and run
True ability rarely needed
Outclassed on-road by rivals
Verdict

The Mercedes-Benz G-Class has been in production for more than 40 years, during which time it has evolved from a utilitarian working vehicle to a globally recognised status symbol. Nevertheless, it has retained those core abilities and improved incrementally over the years.
Depending on your perspective, if off-road ability is important you could consider a Jeep Cherokee Trailhawk, a Range Rover, Land Rover Discovery or perhaps a Toyota Land Cruiser to be fair rivals. If luxury and performance are more valuable to you, then a Porsche Cayenne, Bentley Bentayga or Maserati Levante are probably more appealing alternatives.

Either way, the G-Class is not a cheap car, and the underlying four-decade-old solid axle, indirect steering and off-road focused chassis can only be tweaked so far towards good handling and road manners. Mercedes-Benz has worked wonders during the evolution of this model, but it is now due for replacement – and faces the enviable position of being valued for the unchanging nature of it, rather than being obsolete.
G-Wagen: Powerful engines and capable transmission
Under the bonnet of the G-Class lies either a 213hp 3.0-litre turbocharged diesel engine that outputs an impressive maximum pulling power of 540Nm, or a Mercedes-AMG V8 petrol. Official figures say the diesel will average 25.2mpg, which reflects a hefty 2,570kg weight and permanent, mechanical 4x4 - so the engine of the G 350 d has to work hard to get moving.
Mercedes-Benz G-Class buyers in the UK can enjoy the rather aggressive 540hp Mercedes-AMG G 63 if they wish to avoid diesel. To cope with the twin-turbocharged V8 engine, further modifications are made to suspension and brakes allowing a top speed of 130mph (limited) and 0-62mph in 5.4 seconds. Drama is created by the distinctive quad exhaust pipes that exit below the rear passenger doors.
This aggressive, instantly recognised performance SUV has become a staple of gangster rap videos, an urban status symbol that is ludicrous yet, somehow, thoroughly acceptable in a way a Hummer or Lamborghini LM002 wasn't. For that level of extrovert, the 4x4x2, 6x6 pick up and Mercedes-Maybach G 65 Landaulet provide, for an appropriate cost.

Despite its weight the G-Class performs well and its smooth seven-speed automatic gearbox helps to deliver a relaxing driving experience. From behind the wheel the G-Class feels imperious and, while it's not as competent on the road as some of the alternatives like the Porsche Cayenne, it's still a good car to drive.
Age has advantages, too, as good visibility through the flat windscreen, slim A-pillars and a close, compact dashboard is very different to the experience in a cossetting, protective modern SUV. Weaving the narrow-bodied G-Class through city streets and narrow tracks is far easier than the weight, cost and image as a big off-roader suggests.
An extensive standard equipment list
The G-Class is pricey but it comes with a long list of standard equipment. As well as features such as cruise control and climate control, it comes with premium kit such as an upmarket media system, sat-nav and an electrically adjustable steering wheel. Further boosting its abilities are myriad electronic assistance systems.
Buyers looking to personalise their G-Class won't be disappointed either. Mercedes offers a wide range of options, including different interior and exterior trim finishes and multiple alloy wheel choices. Also available is a comprehensive array of advanced features, like radar-guided cruise control, and accessories like a towbar.
The Parkers Verdict
The G-Class is likely to appeal to a limited selection of buyers due to its price and boxy styling but it has a lot of charisma and its off-road capabilities are hard to beat – after all, the G-Class has been continually evolving and developing to take advantage of new technology while still meeting the needs of its customers.
Regarded by many as one of the most enduring and iconic cross-country vehicles, the G-Class combines impressive off-road abilities with a prestige badge, a high-quality interior and upmarket equipment.
So important is the style and construction of the G-Class, when replacing the model Mercedes-Benz invested significant amounts in producing a new vehicle that barely strays from the original, despite substantial changes in body, chassis, suspension and technology.
It's almost impossible to stop it moving off-road, and it hasn't stopped moving out of showrooms despite age and high pricing.

Scroll on for the full Mercedes-Benz G-Class review