Mercedes-Benz G-Class review
Current Model
No other 4x4 can offer this mix of grit and glamour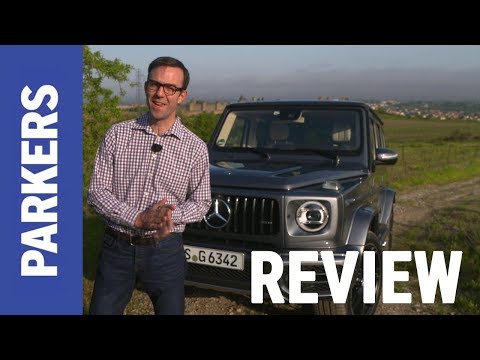 Enlarge
1

videos
Enlarge
66

photos
PROS
Go-anywhere off-road ability
Good to drive on road too
Indestructible quality
Generous equipment spec
CONS
Very expensive to buy…
...and to run
Restricted engine line-up
A little ostentatious!
PROS
Go-anywhere off-road ability
Good to drive on road too
Indestructible quality
Generous equipment spec
CONS
Very expensive to buy…
...and to run
Restricted engine line-up
A little ostentatious!
Mercedes-Benz G-Class SUV rivals

The Mercedes-Benz G-Class is the toughest, muddiest Merc you can buy today. It's a proper 4x4 from the old school – as capable off road as anything from Land Rover or Jeep, but the new model launching in summer 2018 adds a welcome degree of polish to make it more viable as a daily driver on road too.
Don't mistake this for a lifestyle crossover. The latest Mercedes G-Class – also known by devotees as the G-Wagen, a label never officially used in Britain – is an altogether more serious off-roader and comes equipped with some proper mud-scrambling hardware to boot. The trio of go-anywhere differential locks (for better traction), low-range transfer gearbox (for scaling 1:1 mountains) and separate, ladder-frame chassis (a tougher foundation for off-roading) are all indications this is no mere posing machine.

Sadly, all that technical complication also means it's a very expensive car. Only two versiosn are offered in the UK: the moderately pragmatic G 350 d diesel and the hilarious AMG G 63, with pricing for the former starting just shy of £100,000. Mercedes-Benz UK is also considering adding the G 500 petrol version in future, but there's no word on when that might arrive.
Whichever you choose, you'll need deep pockets to run a G-Class. No wonder it's seen as an alternative purchase to a supercar in a rich person's dream garage – if you're thinking of buying one, you should also consider Bentley's Bentayga, Porsche Cayenne or the full-fat Range Rover for outright performance and polish, or maybe a high-end Toyota Land Cruiser for proper off-road credentials.
Mercedes-Benz G-Class: the tough choice
You only need to look at the perpendicular styling to realise the G does things a little differently. That bluff, upright styling makes this 4x4 stand out from the crowd and also contributes to a very roomy cabin. Where the last-generation G-Class was surprisingly cramped, the new one is bigger in all key dimensions, making it roomy enough for two full-sized adults in either row of seats, although you'll find more space in the GLE.

With no third-row seating available, this car is a five-seater. The boot is a decent size, but just remember there's a side-hinged tailgate which is very heavy owing to the full-sized spare wheel bolted to the door. It's also hinged on the left making it awkward for loading if you've parked kerbside in the UK. Thankfully, the G-Class has a clever strut system that holds the tailgate open, so you can open it and not worry it may slam shut on you in a gust of wind.
Limited Mercedes-Benz G-Class engine range
Buyers considering a G-Class have a very simple shopping list as there are only two engines available.
Topping the range is the top-dog AMG G 63 packing a 4.0-litre bi-turbo V8 sending a dizzying 585hp and 850Nm of pulling power to all four wheels. It is not a slow car.

Performance has to be felt to be believed: not many 4x4s can scurry from 0-62mph in just 4.5 seconds – it's as quick as many Porsches, and there's a wonderfully rich, baritone V8 soundtrack to accompany the warp-speed acceleration.
The penalty is poor fuel economy: Mercedes-Benz quotes just shy of 22mpg on the combined fuel efficiency cycle, but a more realistic figure is likely to plummet low into the teens. Visits to the forecourt will be frequent and expensive.

More pragmatic – not that the G-Class is a car many would choose rationally – is the G 350 d available in showrooms from May 2019.
With a 2.9-litre inline six-cylinder engine and a more modest 286hp output, the G 350 d can still crack the 0-62mph benchmark in 7.4 seconds, but has an on-paper claim of 29.4mpg. Expect mid-20s in the real-world.

Read on for the full lowdown on how the G-Class drives. We detail the ride and handling – and its extraordinary off-road ability – in our detailed analysis lower down this page.
Mercedes-Benz G-Class: an electrified future
Despite its old-fashioned charm, the adoption of new underpinnings means that as technology advances, the Mercedes-Benz G-Class can move with the times, although nobody expects it will have a near 40-year production run as its predecessor did.
That means that electrification will become part of the G-Class range over the next few years as Mercedes works to lower the model's CO2 output.

While a fully electric G-Class battery electric vehicle (BEV) is technically possible, such a version will only be considered if demand is considered sufficiently high.
More likely is a plug-in hybrid (PHEV) version, perhaps with a diesel engine, similar to the combination already available in the E-Class Saloon and Estate ranges. Don't expect that to be on sale before 2020, though.
Other Mercedes-Benz G-Class models: