View all Mercedes-Benz SLK reviews


Mercedes-Benz SLK AMG (2012 - 2016) review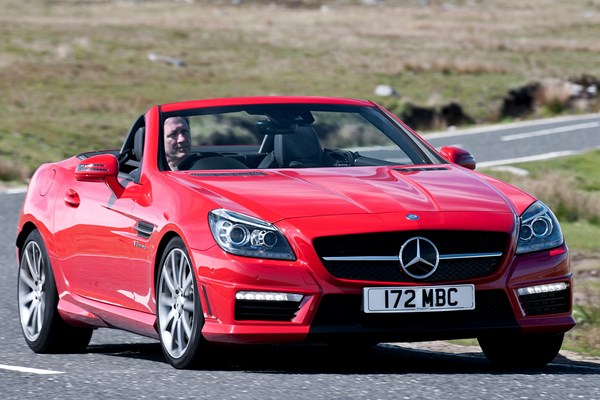 PROS
Seriously fast
Engine sounds great
Fairly competitive running costs
Lots of standard kit
CONS
Slow roof operation
Small boot
Not as engaging as main rival
PROS
Seriously fast
Engine sounds great
Fairly competitive running costs
Lots of standard kit
CONS
Slow roof operation
Small boot
Not as engaging as main rival
Mercedes-Benz SLK AMG rivals
The Mercedes-Benz SLK 55 AMG Roadster is a convertible performance car with a folding hard-top.
It's based upon the regular SLK but comes with a huge petrol engine which makes it one seriously quick cabriolet. While it's not the best driver's car in its class – the Porsche Boxster takes that title - it's extremely quick and does offer the enthusiastic driver a level of enjoyment befitting its price tag.
Big petrol engine
The engine in the SLK 55 is the real news here. It's a 5.5-litre V8 which develops enough power to get it to 62mph in 4.6 seconds. Its top speed is electronically limited to 155mph. On the road those performance figures are believable, but the thing you really notice isn't the speed. It's the noise this car makes.
Bellowing out from the quartet of exhaust pipes, there's a thunderous roar from the V8 as the rear tyres battle to hook into the tarmac and get you on your way.
Thanks to its rear-wheel drive configuration it handles fairly well too, the steering sharp and precise and the controls well-weighted. All that grunt is metred out through a seven-speed automatic gearbox which Mercedes calls 'Speedshift Plus', yet despite the name it isn't the quickest thing in the world to change gear when left in 'Comfort' mode.
Press the button to change to Sport mode and this sharpens things up a touch, the changes coming with noticeably more ferocity. The finally option is Manual mode, which allows the driver to change gears using the paddles mounted behind the steering wheel.
Slow roof
While it'll beat a Porsche Boxster to 62mph, we suspect that if you had to live with either car every day you'd end up with the Porsche. As well as being a more rewarding driver's car, the Porsche's roof operates twice as quickly while travelling at over twice the speed of the SLK's.
Inside the cabin you'll find a blend of familiar Mercedes switchgear and AMG badging which serves to remind you you're driving something a little bit special – not that you'd forget it once the car barks into life when you turn the key.
To find out more about this monster engine, and the car around it, read on for the full Parkers Mercedes-Benz SLK 55 AMG review.