View all MG GS reviews


MG GS review
Current Model
MG's cheap and cheerful SUV doesn't quite hit the target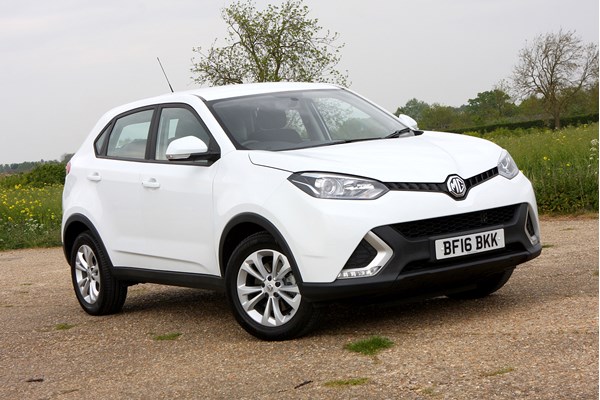 PROS
Clever packaging and above-average rear-seat space
Entry-level models are extremely well-priced
Good steering, and light, positive gearchange
Looks good on (optional) big wheels
CONS
Some interior plastics are sub-standard
Fidgety ride and below-par damping
Engine refinement let down by high-rev harshness
No diesel option, and only one petrol
PROS
Clever packaging and above-average rear-seat space
Entry-level models are extremely well-priced
Good steering, and light, positive gearchange
Looks good on (optional) big wheels
CONS
Some interior plastics are sub-standard
Fidgety ride and below-par damping
Engine refinement let down by high-rev harshness
No diesel option, and only one petrol

The long and laborious rebirth of the MG marque since it moved into Chinese ownership enters its third stage with the GS SUV. It's affordable and claimed to be fun by MG – with the company , the new GS targets the likes of the Nissan Qashqai, Renault Kadjar and Mazda CX-5.
However, with an appealingly low list price for the entry-level smaller, more affordable crossover choices such as the SsangYong Tivoli and Dacia Duster are likely to be on the shopping list of any potential owners of an MG GS.
The problem is that the majority of these cars offer more choice, with a wider trim derivatives. All of the rivals have diesel engines available – which many buyers in this market sector are looking for. The question is, does its low price offset the inconvenience of its small range and tiny dealer network?
What exactly is an MG GS?
The MG GS is a small SUV that's been styled and engineered in the UK, but manufactured in China and imported back to Britain. It comes in three forms, Explore, Excite and Exclusive, with the latter version topping the range. The cheapest Explore model was priced at £14,995 at launch in 2016, but was still well equipped.

Despite the chunky and sharp SUV looks, there is no four-wheel drive option, and there's only one engine available, a 166hp 1.5-litre four cylinder (above), co-developed with General Motors, and used in the Vauxhall Insignia Grand Sport.
Mated with a six-speed manual transmission, or seven-speed automatic, the 250Nm powerplant driving the front wheels delivers a claimed 46.3mpg on the official fuel consumption test. So, the MG GS is a petrol-only choice, then – not necessarily the handicap it might have been not so long ago.
Affordable price, generous kit
The low opening price for the MG GS will certainly attract buyers into the showroom. And with MG's five-year warranty as standard, that should instill anyone looking to buy with some confidence – especially compared with the three years most rivals offer.

So, if you're looking for an inexpensive, well-equipped family-friendly SUV, the MG GS has a fair bit to offer. Standard equipment on the Explore version includes 17-inch alloy wheels, LED daytime running lights, 6.0-inch infotainment screen with smartphone compatability, and automatic air conditioning.
---
The Parkers Verdict
The MG GS is no ground-breaker, and if it weren't for the MG badges it wears, it really wouldn't attract that much attention. But it does, and as a result, it's something of a talking point. Most people are still unaware that MG still makes cars under Chinese ownership – and that's a shame, because the GS is largely competent.
The main points where it struggles are in the questionable residual values for a car with such a low profile. The dealer network is thin, too, which means many people will find this car too impractical a prospect to take on. If you don't mind these two issues, it's roomy in the rear, well kitted out, with a simple-to-use infotainment system, and is sharp looking.
As an ownership proposition, it's not that bad to drive, although the ride quality is unsettled due to poor damping. The steering, though, it sharp and gives the driver plenty of road feel, which goes some way in justifying that sporting badge on the nose. But we're not sure it's quite good enough to choose over a more mainstream rival, despite its good size-to-price ratio.

Read our full review to find out more about the MG GS SUV.