View all Nissan 370Z reviews


Nissan 370Z Coupe
Review
Current Model
An anti-turbo, anti-refined coupe for rebellious drivers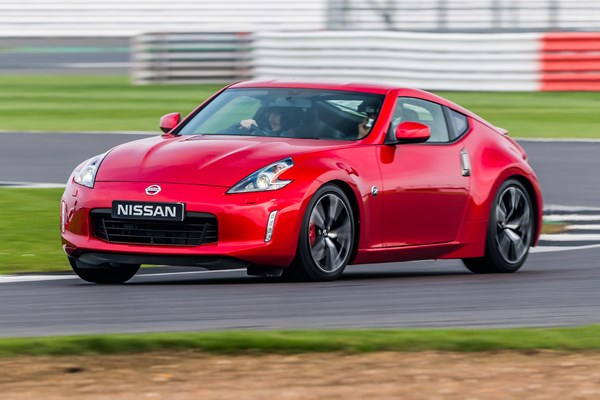 PROS
Fast
Fun
Good value
Non-turbo V6
CONS
Heavy controls
Boot space
Expensive Nismo
Lack of refinement
PROS
Fast
Fun
Good value
Non-turbo V6
CONS
Heavy controls
Boot space
Expensive Nismo
Lack of refinement
Verdict

Nissan has a long heritage of building sharp handling Z-badged sports cars going back to the 1960s and this smart looking coupe is the current custodian of that moniker.
With a rumbling V6 engine, heavy manual gearchange and low-slung driving position it's very much in the mould of the old-testament two-seater performance coupes that precede it.
In terms of performance it competes with top end models like the Porsche 718 Cayman, Audi TT and BMW 2 Series, but represents far better value for money.
Large displacement, naturally aspirated engine
There's only one motor to choose from in the 370Z range – a larger than life 3.7-litre V6 with either 328- or 344hp depending on whether you pick the standard car or the Nismo-tuned version.

Either way it's a big hearted unit with plenty of power on tap, plus a distinct lack of turbocharging - unlike the majority of its rivals.
That gives it a different character to something like a Porsche 718 Cayman, which makes do with a smaller, less characterful powerplant.
Simple range to navigate
Only three trim levels exist in the Nissan 370Z range – the standard car, the GT and finally the Nismo-tweaked model.
Entry-level cars come with lots of kit, including 18-inch alloys, keyless entry and ignition, climate control and a limited-slip differential.

Climbing up to GT adds things like sat-nav while the Nismo car comes with a particularly lairy looking bodykit and standout ducktail spoiler.
Old-school handling style
The Zed's German rivals offer something more of a refined driving style, the 370Z is much more hairy chested, with heavy control weights and scruff-of-the-neck appeal.
It's actually quite sophisticated in its handling however, with loads of grip thanks to a standard limited-slip differential. The traction control is also quite keen to step in when things start to get out of shape too.
In 2018 a new clutch was installed that promised a slightly lighter action and this has certainly helped the overall usability of the 370Z.
The Parkers Verdict
As more and more of the Nissan 370Z's rivals adopt smaller engines and turbochargers the hulking great 3.7-litre V6 in this car is beginning to be a real selling point.
That's in combination with an overtly physical and involving driving experience that has all been refined out of the two-seat sports car market.
If those two characteristics are a priority for you then your pool of cars seems to be diminishing by the day. Here's a six-pot coupe for hot hatch money.