Nissan 370Z Nismo review
Current Model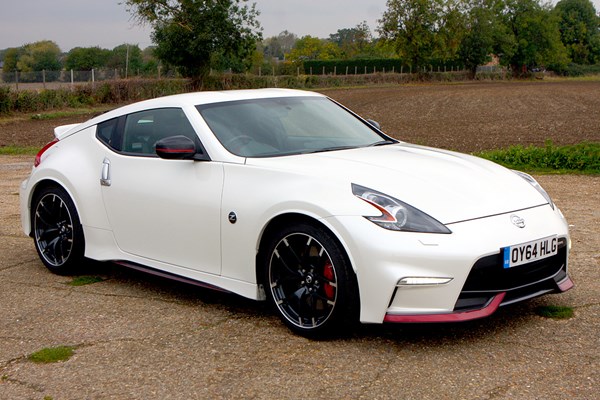 PROS
Rarer than regular 370Z
Sporty exhaust note
Well-equipped interior
Distinctive Nismo modifications
CONS
Minimal performance increase
Lacks rivals' finesse
Too expensive for a 370Z
PROS
Rarer than regular 370Z
Sporty exhaust note
Well-equipped interior
Distinctive Nismo modifications
CONS
Minimal performance increase
Lacks rivals' finesse
Too expensive for a 370Z
Although it looks like its escaped off the set of a Fast and Furious movie set the Nissan 370Z Nismo is actually a low-volume production car.
Sportier proposition
Nissan's 370Z Nismo is the second model in the current line-up to come the Japanese firm's high performance division following the launch of the Juke Nismo earlier in 2013. The name's derived from Nissan Motorsport, and these models represent the pinnacle of the range. They offer sporty modifications and, more importantly, increased performance and improved handling.
On the outside the overall effect is impressive, with extra details designed to underscore the car's higher-performance nature. Featuring dramatic styling with red Nismo design signatures, it is available only as a coupe with a six-speed manual gearbox. A version of the 370Z Nismo is already on sale in North America and Japan, but for Europe a unique, more compliant, specification has been developed to suit both road conditions and the tastes of European driving enthusiasts.
Sportier body kit
In the same way that the Juke Nismo has been modified to set it apart from the rest of the range, the 370Z Nismo get a more aggressive design which also improves airflow under the car. This gives better downforce as well as more grip and stability at high speeds and through corners. As well as the modified aerodynamics, the 370Z Nismo gets revised suspension and a reworked chassis to give better handling on both road and track, although it may not feel as extreme as some buyers were expecting.
Exterior-wise there have been quite a few changes. The coupe features Nismo red pinstripe lines at both the front and the rear and on the door mirrors. There's also lightweight 19-inch forged alloy wheels shod with wide, high-performance tyres and sports-derived red brake callipers too. At the rear there's an enlarged spoiler to improve aerodynamic performance and add extra visual drama, matched at the front with a splitter below the front bumper.
Inside, the steering wheel is finished in alcantara and leather with a red race-inspired centre marker, as seen on the Juke Nismo. The sports seats are fully electric with special Nismo badging and red stitching. The finishing touch is a numbered Nismo plaque adding exclusivity to each 370Z Nismo. Basically, it's impossible to miss that you're in a Nismo-branded 370Z.
Other Nissan 370Z models: