View all Nissan GT-R reviews


Nissan GT-R review
Current Model
Godzilla is softer in old age but hasn't lost its bite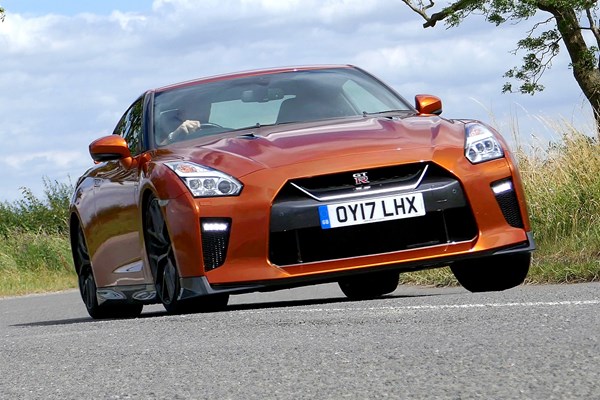 PROS
Supercar performance
Superb handling
Aggressive styling
Technologically advanced
CONS
Limited availability
Requires frequent servicing
Automatic-only gearbox
Noisy drivetrain
PROS
Supercar performance
Superb handling
Aggressive styling
Technologically advanced
CONS
Limited availability
Requires frequent servicing
Automatic-only gearbox
Noisy drivetrain

Frequently lauded as the supercar for the Playstation generation, but don't be dissuaded from trying one – the Nissan GT-R is infinitely more visceral than it is virtual in its appeal.
While the initials GT-R have a history stretching back to 1969 in the car's Japanese homeland, official sales in the UK only began in the late 1990s, with restricted numbers of what aficionados refer to as the R33 and R34 generations of the Nissan Skyline GT-R.
Dropping the Skyline name for this R35 iteration, the GT-R is much more brutal in style and performance, yet is less expensive than key rivals such as the Porsche 911 and the Mercedes-AMG GT Coupe, or even the Audi R8.
Twin-turbocharged engine
Nissan's development has come a long way during this generation GT-R's time on the market. When launched back in 2009 the 3.8-litre twin-turbo V6 engine produced 480hp, but the revised editions from 2017 have upped the ante further to 570hp, while the range-topping Nismo packs 600hp.

Officially, all of the current models have a top speed of 196mph and although 0-62mph times aren't quoted, it's fair to expect them all to be sub-four seconds.
A number of other improvements were ushered in from 2017, all of which are designed to enhance the GT-R's performance: revised aerodynamics improve stability, a stiffer structure enhances grip and modifications to the dual-clutch automatic gearbox means it's much less jerky when driven at urban speeds.
Naturally a car offering this degree of performance isn't inexpensive to run, so consider GT-R ownership with your eyes wide open: an average of 23.9mpg is claimed while CO2 emissions are 275g/km.
Techno-fest interior
Despite the swathes of leather, the Nissan GT-R's cabin felt a bit on the cheap side compared with its high-performance rivals, something largely addressed as part of the facelift ushered in at the end of 2016.
Not only did material quality improve, the shape of the dashboard was subtly altered and the vast quantity of buttons and switches was significantly reduced.

What remains is an array of on-board electronics, including real-time graphics displaying everything from G-forces to laptimes – the latter data set can be downloaded and played through a Playstation rendering your circuit exploits in 3D graphics.
Although the GT-R's a physically large car, the cabin itself is a tight squeeze for four adults, those in the back especially bereft of both head- and legroom.
Restructured 2017 GT-R line-up
Nissan reorganised its GT-R line-up as part of the styling revisions at the end of 2016, with the range comprising of five distinct trim levels. Pure is the entry-level grade – although at around £80,000 it's far from basic – with Recaro (with sports seats from the German brand), Prestige (wider, comfier seats), Track Edition (no more power but some Nismo styling and suspension components) sitting above, with Nismo as the balls-out range topper.
All come with electric seats, LED lights front and rear, an 11-speaker Bose audio system and dual-zone climate control as part of a long roster of standard kit.