View all Nissan X-Trail reviews


Nissan X-Trail
Review
Current Model
A crossover for families when a Qashqai's not big enough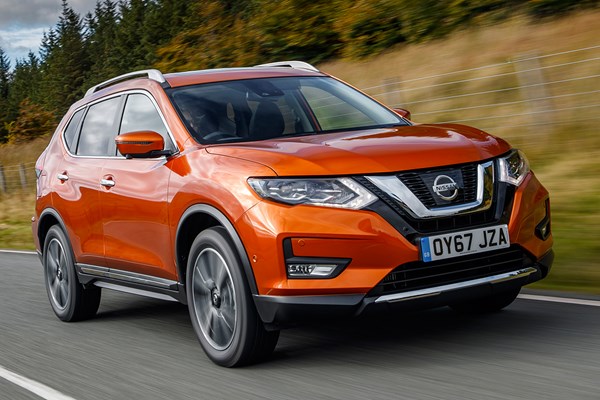 PROS
Easy to drive
Generous equipment levels
Good choice of diesel engines
Decent space for most families
CONS
Not as capable off-road as some rivals
Interior quite plasticky, doesn't feel special
X-Tronic gearbox not the most responsive
Third row of seats cramped
PROS
Easy to drive
Generous equipment levels
Good choice of diesel engines
Decent space for most families
CONS
Not as capable off-road as some rivals
Interior quite plasticky, doesn't feel special
X-Tronic gearbox not the most responsive
Third row of seats cramped
Verdict

The Nissan X-Trail SUV is a large, five-seat family SUV with the option to upgrade to seven seats for those needing to accommodate larger families.
It was facelifted in August 2017 to give the range some mid-life extra zip.
While the X-Trail is similar in size to the Honda CR-V (which only has five seats), more direct competition comes in the form of the Hyundai Santa Fe, Kia Sorento and Skoda Kodiaq, all offering space for seven in an SUV body style.
What's clear is that Nissan has followed the modern trend of softer, more family-friendly motoring with an on-road bias, as opposed to something more utilitarian like the first- and second-generation X-Trails.
Choice of two diesels and one petrol
Buyers can specify their X-Trail with a choice of 1.6-litre and 2.0-litre dCi diesel engines, and one 1.6-litre DIG-T petrol unit. Both two- and four-wheel drive versions are available with the diesels, while the petrol is only available in two-wheel drive form. Most Brits pick the 2wd option.

The two-wheel drive 1.6-litre dCi 130 is the one to go for if low running costs are a priority, with a claimed 57.6mpg and 129g/km of CO2. Four-wheel drive models are slightly quicker, but it's the more powerful 2.0-litre dCi 177 that provides strongest performance of the whole line-up.
The 1.6-litre turbocharged petrol – badged DIG-T 163 – is more of a niche option in a big, family SUV, but performance is similar to the higher-powered diesel's, although fuel economy will not be quite as impressive.
Nissan X-Trail: practical interior with space for seven
As standard, the X-Trail is a large five-seat family SUV, but you can upgrade to a seven-seater if you need two extra pews that fold out of the boot floor.

They're not the most spacious set of third-row chairs on offer, but if you occasionally need the extra versatility, they're useful. Around 40% of buyers order the third row of seats.
Plenty of equipment as standard
There are two trim levels to choose from, but even entry-level N-Connecta model comes well equipped with most of the equipment most buyers would need.
If you want more options, Tekna trim level comes with a wider choice of engine and gearbox combinations, as well as the choice of two- and four-wheel drive - the N-Connecta is four-wheel drive only.
As you'd expect, top-level Tekna cars are packed with desirable technology and safety equipment for the money.

The Parkers Verdict
The Nissan X-Trail is a great SUV that offers plenty of space for all the family, a wide range of engine and gearbox choices and a relaxed, easy-driving experience. It won't go mud-plugging like X-Trails of old, but on-road comfort and refinement are more important to those spending most of their time in town or on the motorway.
Read on for the full Nissan X-Trail review