View all Peugeot 308 reviews

Peugeot 308 Hatchback
Review
Current Model
Understated and underrated hatchback hero – GTI is a highlight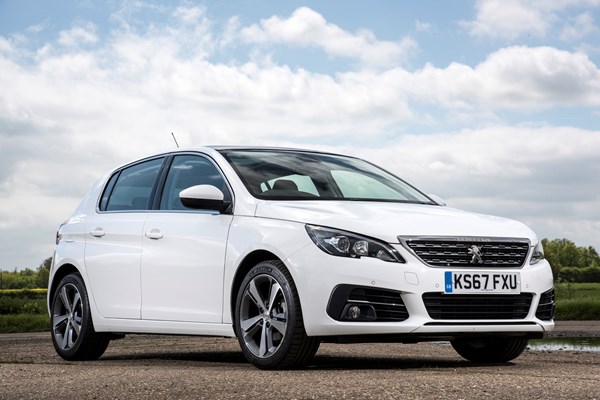 PROS
Good looking modern hatch
Refreshingly simple interior
Very practical
Excellent running costs
CONS
Intense competition
Lack of buttons in cabin
No hybrid or electric version
Could be bigger in the back
PROS
Good looking modern hatch
Refreshingly simple interior
Very practical
Excellent running costs
CONS
Intense competition
Lack of buttons in cabin
No hybrid or electric version
Could be bigger in the back
Verdict

If you're on the hunt for a family hatchback then the Peugeot 308 needs to be on your list – this talented all-rounder is more than a match for the go-to choices of Ford Focus, Vauxhall Astra and Volkswagen Golf.
This is the second-generation 308 after Peugeot ditched its strategy of increasing the third number of its model names by one when the model was replaced. From now on, each new Peugeot will end with '08'.
There's no particular big reason why you should buy this Peugeot, rather a host of smaller reasons that add up to a compelling case for the 308 as your next new car.
As any family knows you need great practicality, low running costs and a real value for money price tag. The 308 is claimed to have the biggest boot in its class, and it can stow significantly more luggage than its rivals.

Mild Peugeot 308 refresh for 2017
Compare the pre- and post-facelift versions of the 308 and you'll be hard-pressed to tell the difference, reflecting the general success of the car's original design.
Pore over it in more detail and you'll spot that the grille's more upright and it's flanked by tweaked headlights that have LED daytime-running lights on all models. There are larger grilles in the lower bumper to improve engine cooling too.

Inside, the multimedia touchscreen has been tweaked to make it more responsive, while the on-board technology's been upgraded – notably the adaptive cruise control now has a braking function.
Low running costs
Running costs are kept low thanks to frugal and low-emission diesel and petrol engines, with the 1.2-litre petrol and 1.6-litre diesel particularly kind to wallets.
That range of updates in 2017 also brought a much more refined 1.5-litre BlueHDi 130 diesel and an eight-speed automatic gearbox fitted to the 2.0-litre BlueHDi 180 diesel, both of which aimed at lowering costs.

The range includes five trim levels: Active, Tech Edition Allure, GT Line (replacing the earlier Feline), GT and GTi. The entry-level spec comes with lots of tech including sat-nav, rear parking sensors and climate control.
Peugeot 308 GTi is impressive
The French manufacturer is back in business when it comes to hot hatches – not only is the smaller 208 GTi a well-regarded steer, the larger 308 GTi impresses too. It was given a tweak in 2017, receiving a new bonnet, grille and headlights, but the mechanicals remain unchanged.
Which is no bad thing. It comes with a punchy 260hp engine – the 250hp version initially sold alongside it was dropped in 2017 – as well as better brakes and a mechanical limited-slip differential to help meter out that power hike.
Externally the 308 GTi benefits from subtle styling cues rather than an outlandish bodykit and a touring car-spec spoiler, so you can enjoy all that performance with a grown-up image.
High-tech gadgets
The 308 also features a minimalist interior with very few buttons. Instead, a central 9.7-inch touchscreen accesses all the car's major functions such as climate control, sat-nav and audio, leaving a much cleaner and uncluttered central dash.
Updates in 2017 brought standard smartphone connectivity with Android Auto, Apple CarPlay and MirrorLink, as well as improvements in its responsiveness.
The Parkers Verdict
It's fair to say previous Peugeot medium-sized hatchbacks have been quite forgettable, but with this 308 the French manufacturer is back on winning form.
The 308 is stylish and has very competitive running costs making it one of the leading medium family hatchbacks you can buy.
It won't appeal to all, but we also think the 308 GTi is one of the best of the hot hatchbacks on the market, its grippy front differential and under-the-radar styling giving it stealth-fighter appeal.

Read on for the full Peugeot 308 Hatchback review