Peugeot 308 review
Current Model
Understated and underrated hatchback hero – GTi is a highlight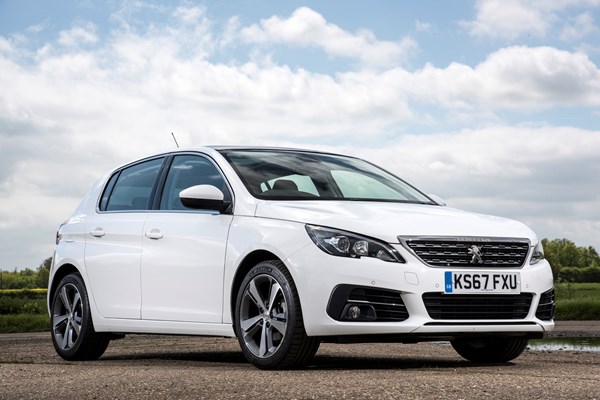 PROS
Good looking modern hatch
Refreshingly simple-looking interior
Largest boot in the class
Excellent running costs
CONS
Intense competition
Frustrating touchscreen
No hybrid or electric version
Cramped rear seat space
PROS
Good looking modern hatch
Refreshingly simple-looking interior
Largest boot in the class
Excellent running costs
CONS
Intense competition
Frustrating touchscreen
No hybrid or electric version
Cramped rear seat space
Peugeot 308 Hatchback rivals
The Peugeot 308 is a smartly-styled five-door family hatchback offering a vast range of frugal engines – be it PureTech petrol or BlueHDi diesel – a good drive and a modern interior to make it as competitive as possible with a huge number of rivals. But Peugeot hopes that its combination of attractive styling inside and out, great efficiency and a comfortable ride are enough to place it on top your shopping list.
The problem with that are that it has so many talented rivals, and it's difficult to make cut-through in this market. For instance, the Ford Focus and Volkswagen Golf to the Hyundai i30, Kia Ceed, SEAT Leon, Vauxhall Astra and Renault Megane are highly highly-appealing hatchbacks, all of which are well rated by Parkers. So, how does Peugeot stand out against this lot?
Then you throw in similarly-priced family SUVs such as the Nissan Qashqai, Renault Kadjar and Skoda Karoq, not to mention some in-house threats from the 2008 and 3008 crossovers and it gets very difficult for the 308.
But there's a lot to recommend about the 308 – if you want the hatchback with the biggest boot on offer, the 308 is your car with 470 litres of space. It's accomplished in many areas and does offer low running costs, a good dose of practicality and value for money.
Interior: clean design but some ergonomic issues
The 308 features Peugeot's i-Cockpit design, which means there's a simplified dashboard with everything controlled via a large touchscreen, plus a small steering wheel and high-set dials. It all looks appealing and most of the materials used inside are pleasant, but the driving position won't suit all because of the dinky steering wheel and the fact it's set quite low.
The touchscreen is also not the most responsive to use, and it's the only way of changing things like the temperature inside the car. It's frustrating as it can be slow to respond and requires the driver to take their eyes off the road to use it, when a simple dial would have been much more user-friendly.

Plenty of technology
The 308 also features a minimalist interior with very few buttons. Instead, a central 9.7-inch touchscreen accesses all the car's major functions such as climate control, sat-nav and audio, leaving a much cleaner and uncluttered central dash. Updates in 2017 brought standard smartphone connectivity with Android Auto, Apple CarPlay and MirrorLink, as well as improvements in its responsiveness.
Running costs are kept low thanks to frugal and low-emission diesel and petrol engines, with the 1.2-litre PureTech petrol and 1.5-litre BlueHDi diesels particularly kind to wallets. The PureTech line-up consists of 110hp and 130hp versions of the 1.2-litre, while a more powerful 225hp 1.6-litre PureTech is available on GT models along with a 2.0-litre BlueHDi 160.
Both come with an eight-speed EAT8 automatic. The rest of the diesel range is made up of 100hp and 130hp versions of the 1.5-litre BlueHDi. The range includes five trim levels: Active, Tech Edition Allure, GT Line (replacing the earlier Feline), GT and GTi. The GTi has been available in several power outputs during its life - starting off with 250hp and 270hp versions, whereas now it comes with 260hp from its 1.6-litre turbocharged petrol engine.
Sporting GTi is impressive
The French manufacturer is back in business when it comes to hot hatches – not only is the smaller 208 GTi a well-regarded small hot hatchback, the larger 308 GTi impresses too. It was given a tweak in 2017, receiving a new bonnet, grille and headlights, but the mechanicals remain unchanged.
Which is no bad thing. It comes with a punchy 260hp engine – the 250hp version initially sold alongside it was dropped in 2017 – as well as better brakes and a mechanical limited-slip differential Groupt to help meter out that power hike. Externally the 308 GTi benefits from subtle styling cues rather than an outlandish bodykit and a touring car-spec spoiler, so you can enjoy all that performance with a grown-up image.
So, is the Peugeot 308 individual enough to tempt you out of one of its highly-competent rivals? Read the full Parkers review to find out