Peugeot 508 RXH (2012 - 2017) review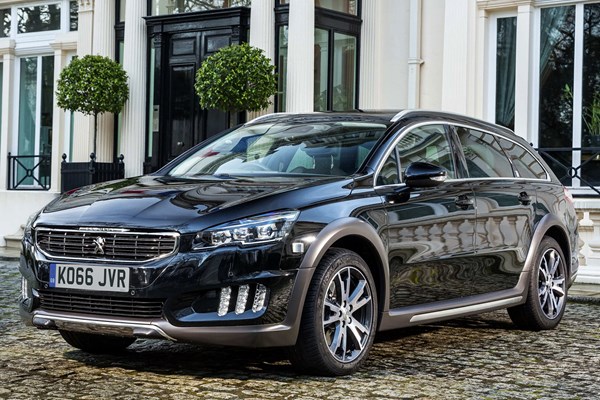 PROS
Fuel-efficient engine
Low CO2 emissions
Can run on pure electric for up to 2.5 miles and speeds of up to 40mph
CONS
EGC automatic gearbox is jerky and becomes tiresome
Wallowy handling
PROS
Fuel-efficient engine
Low CO2 emissions
Can run on pure electric for up to 2.5 miles and speeds of up to 40mph
CONS
EGC automatic gearbox is jerky and becomes tiresome
Wallowy handling
Off-road capabilities, an electric motor that reduces CO2 emissions and a spacious interior make the Peugeot 508 RXH hybrid estate a real contender in a sector currently dominated by 4x4 and estate crossovers such as the Volkswagen Passat Alltrack and the Audi A4 Allroad.
Given this sort of competition, the Peugeot 508 RXH has certainly got its work cut out to make the grade.
Diesel-electric hybrid power
This is a unique beast. It's powered by two sources: a 2.0-litre diesel engine and an electric motor producing 37bhp. There's also the added bonus of having four-wheel-drive.
Higher and wider than the regular Peugeot 508 SW estate, the RXH can be distinguished by its LED daytime running lights, making the car look menacing at the front. The only giveaway that this car is a diesel-electric hybrid is the RXH badge on the rear of the vehicle. That's one of the upsides of the 508 RXH, because it looks and behaves like a normal car.
The RXH is not to be confused with the Lexus RXh 4x4, but like the Lexus it has the ability to run on electric power alone. The Lexus, though, can only run on electric power at speeds of up to 25mph and only for two miles, but the Peugeot can do up to 40mph on electric power for 2.5 miles, which is great for fuel economy around town.
To look at, the Peugeot cuts a fairly fine dash while rivals including the Volvo XC70, the Audi A4 Allroad and the VW Passat all suffer from less adventurous lines on the design front.
The 508 RXH is only slightly longer than the saloon (2mm longer) and this means the car feels quite nimble, particularly for an estate.
Potential savings for business drivers
This car could be a great form of transport for business drivers who need a 4x4 with a usable load space as well as low CO2 emissions to keep costs down.
The emphasis on green technology will appeal to business drivers and private motorists but this is a car promising a lot and it needs to deliver to turn the heads of those insistent that a VW or Audi badge is the only way to go.
Off-road capability is fairly good and it is never going to rival outright mud-pluggers like a Land Rover, but can it cope with wet fields and mucky tracks? The ultimate test will be if the 508 RXH is good enough on- and off-road and still return high average fuel economy. If this is the case then the VW Passat Alltrack and Audi Allroad will certainly be in its sights. Read on for the full Peugeot 508 RXH review…
Other Peugeot 508 (2011 - 2018) models: