Renault Twingo review
Current Model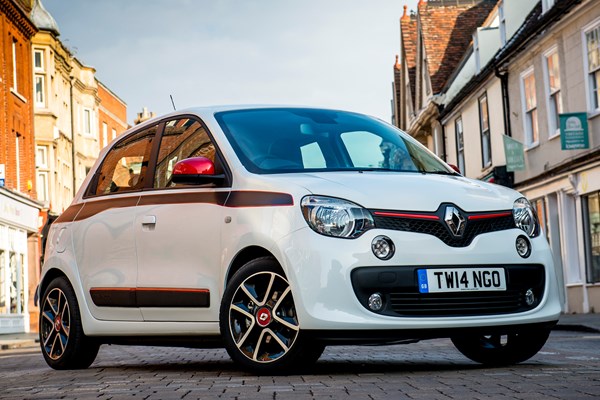 PROS
Good looks and spacious interior
Wide range of customisation packs
Exceptionally manoeuvrable
Handles well out of the city
CONS
Rear-engine layout may put off buyers
Boot space in four-seat mode is tight
Servicing costs likely to be higher
May disappoint enthusiastic drivers
PROS
Good looks and spacious interior
Wide range of customisation packs
Exceptionally manoeuvrable
Handles well out of the city
CONS
Rear-engine layout may put off buyers
Boot space in four-seat mode is tight
Servicing costs likely to be higher
May disappoint enthusiastic drivers
Forget all you know about the outgoing model with the same name because the new Renault Twingo is a new take on the city car segment.
Unlike newer rivals from Citroen (C1), Peugeot (108) and Toyota (Aygo), as well as the established Citigo/Mii/Up trio from the Volkswagen Group, the new Twingo is only available as a five-door hatchback, with its engine located under the boot floor driving the rear wheels.
Why rear-engined?
Those enthusiasts hoping this will immediately be a recipe for an exceptionally fun to drive and playful alternative in the segment may have to dampen their hopes. Yes, it does offer greater agility than others in this class but first and foremost the Twingo is a city car that's been designed for people who couldn't care where the engine's located or which wheels are driven.
So why the rear-engined format? Four reasons specifically: firstly it liberates considerably more space inside the car. Although it's 10cm shorter than the outgoing three-door Twingo, the new five-door model has an astonishing 33cm extra interior cabin length.
Secondly, as Euro NCAP crash testing becomes ever-more rigorous, in such a small car there are safety benefits for placing the engine at the back allowing more space up front for crash protection structures.
With the engine located at the back, the front wheels have more space in which to turn, allowing them to achieve angles of 45 degrees in the Twingo, giving it exceptional manoeuvrability in tight spaces, with the smallest turning circle in its class.
Finally, the new Renault Twingo has been developed in conjunction with the next generation of Smart ForTwo and ForFour models, the two sharing significant commonality with underpinnings and engines.
Petrol power only
Talking of engines, despite Renault's growing expertise in electrical propulsion, no Twingo EV is planned – neither is there scope in the near future for a diesel-engined model, with the associated extra cost of purchase and the price of fuel rendering such a version financially uneconomical.
Instead, the Twingo has a choice of two three-cylinder petrol engines. The 1.0-litre non-turbocharged SCe 70 produces 69bhp and is better suited for Twingos which will spend the majority of their time in the city, while the 0.9-litre turbocharged TCe 90, with 89bhp, makes journeys further afield easier to manage.
The SCe 70 engine is fitted to Expression, Play and Dynamique trim levels, the latter with standard stop/start functionality boosting fuel economy to claimed 67.3mpg, emitting just 95g/km of CO2. Currently the TCe 90 motor is only available in Dynamique guise.
All models feature a five-speed manual gearbox, with a six-speed dual-clutch automatic due before the end of 2015.
Renault has a rich history of producing sporty small cars, and although the company won't confirm whether it will be a fully-blown RenaultSport version, a higher performance Twingo is in the pipeline.
Customisation is key
As with its rivals, Renault has recognised that buyers in this segment are craving a greater degree of customisation, hence the new Twingo is available with a range of bodyside graphics, different coloured exterior and interior trim accents and a fabric full-length sunroof for a semi-convertible feel.
So is the rear-engined layout a gimmick or are there real benefits that customers will embrace?
Read Parkers full new Renault Twingo review to find out.