Skoda Fabia Estate (2008 - 2014) review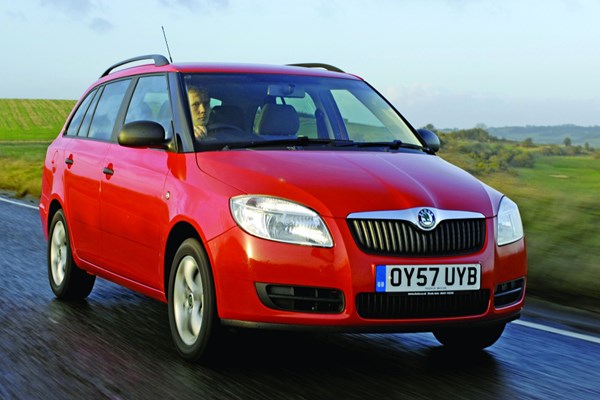 PROS
Very good value for money
Huge boot for a small car
Easy to drive and park
Low emissions version available
CONS
Not big enough for larger families
Noisy diesel engines
PROS
Very good value for money
Huge boot for a small car
Easy to drive and park
Low emissions version available
CONS
Not big enough for larger families
Noisy diesel engines
The Skoda Fabia Estate is a great choice for young families. It's roomy, good to drive and cheap to run. The estate model offers additional practical benefits to the hatchback - namely a bigger, versatile boot - and it meets the needs of families with smaller children with a well thought-out design.
The bigger load space results in a longer body, so it isn't as ideally suited to city life as the hatchback. However, buyers in need of a roomy family car with a reasonable price tag should give this estate serious consideration.
A Greenline model is available which, thanks to low emissions, is cheap to tax and returns impressive economy. There's also a Scout version which has a more rugged look along with chunky bumpers and side protection.
Loads of space
One of the key selling points of the Skoda Fabia Estate is, as you'd expect from a wagon, its boot. However, the Fabia bests most of its competitors with the amount of luggage room it provides to make it one of the most practical small estates available.
The large tailgate open high to reveal a large opening and low loading sill, so lifting in heavy suitcases is easier. The well shaped boot makes storing lots of cargo easy, while the rear seats are split 60/40 and tip forward, though they don't fold completely flat.
Other neat touches include a flexible plastic strap that clips into the sidewalls of the boot to keep delicate items from being flung around while driving.
Excellent economy
Every Skoda Fabia Estate offers good fuel economy, whether you choose one of the petrol engines or the frugal turbodiesels. However, there's one model that stands out for its exceptionally low fuel consumption, not just in the Fabia range but for any car on sale. It's the Fabia Estate Greenline II, which originally offered 69mpg and 109g/km carbon dioxide emissions but comes with even more impressive 83.1mpg average economy and emissions of just 89g/km. Even with its efficient three-cylinder 1.2-litre turbodiesel engine, the Fabia Estate Greenline II is still a decent load lugger. Read on for the full Skoda Fabia Estate review.
Other Skoda Fabia (2007 - 2014) models: