View all Skoda Superb reviews


Skoda Superb Estate (2010 - 2015) review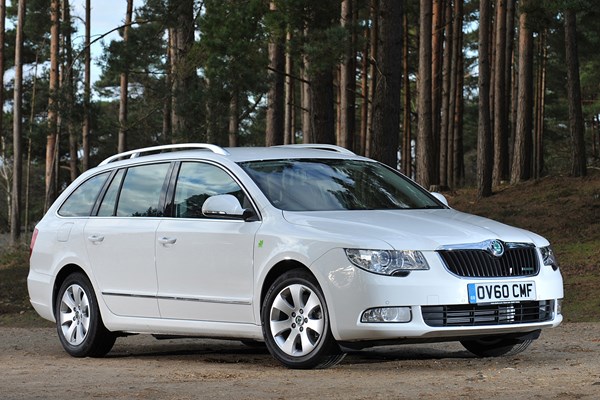 PROS
Great value for money
Huge boot space
Refined and comfortable
Impressive engine line-up
Masses of cabin room
CONS
Limited rear visibility
Sheer length makes parking awkward
PROS
Great value for money
Huge boot space
Refined and comfortable
Impressive engine line-up
Masses of cabin room
CONS
Limited rear visibility
Sheer length makes parking awkward
Skoda Superb Estate rivals
The Skoda Superb Estate is one of the most complete family cars on the market. It may be the most expensive model in the Skoda range, but it's priced to compete with top models of the Ford Focus and Vauxhall Astra – and you get an awful lot more car for your money.
Wide range of engine options
Engine choices on the Estate version of this large Skoda are many and varied. From launch there were three petrol engines – a 1.4-litre, a 1.8-litre and a 3.6-litre V6.
Diesel options included a 1.9-litre and a choice of two 2.0-litre with different power outputs.
In early 2010 a new 2.0-litre was introduced, while in 2011 a Greenline II version was available with surprisingly low CO2 emissions and high fuel economy.
Gearbox options include a five-speed manual, a six-speed manual and a six-speed semi-automatic 'DSG' gearbox as seen on many other Volkswagen, SEAT and Skoda products.
Comfortable and practical
The Superb Estate is a seriously comfortable car. Its ride quality is excellent, the cabin isn't too noisy and the seats are supportive.
It's also absolutely huge, which means occupants get limousine levels of legroom.
Then there's the boot. Fold the seats and there's a load area that's almost the biggest of any estate car - no matter how much you've got to spend.
Other neat touches include a rechargeable torch in the boot, an umbrella concealed in the door, hard drive storage for MP3 music files and the option of Park Assist – a function for making the Superb steer itself into parking spaces.
Facelift in 2013
In 2013 the Estate was updated, with totally redesigned front and rear bumpers featuring now-ubiquitous LED lighting.
Its engine range was also tweaked, with a hike in efficiency of up to 19% over the previous models. This was achieved through the addition of technology such as stop/start and brake energy recuperation systems.
The Greenline model now emits just 109g/km of CO2, meaning seriously low road tax and company car tax for such a large vehicle.
There are also a number of new trim options including colour schemes, interior detailing and alloy wheels.
Read on for our full Skoda Superb Estate review to see our comprehensive evaluation.