View all SsangYong Turismo reviews


SsangYong Turismo review
Current Model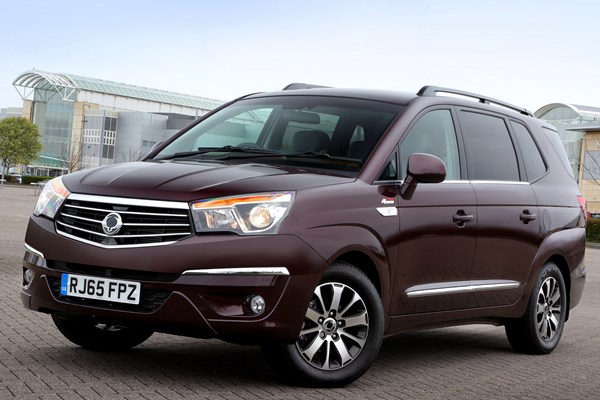 PROS
Huge space for seven
Seats easily accessed
Lots of kit
Sheer value
CONS
Poor seating flexibility
Cheap interior plastics
High running costs
PROS
Huge space for seven
Seats easily accessed
Lots of kit
Sheer value
CONS
Poor seating flexibility
Cheap interior plastics
High running costs
There's no escaping the sheer physical scale of the new SsangYong Turismo, a vehicle that dwarfs almost every other car on the market.
Replacing the visually challenging Rodius in SsangYong's line-up, the new seven-seater Turismo is hardly a beauty, but at least its looks are no longer quite as polarising, something which should have a positive impact upon sales.
Vast cabin
SsangYong's latest model occupies a segment many other manufacturers have long since abandoned – that of the 'full-size' people carrier.
Here's a cavernous estate that's capable of carrying seven adults and their luggage at the same time. Consequently, it's far from compact and its 5.13m length might be off-putting for some drivers.
The seats are laid out differently to many European people carriers, with a pair of 'captains' chairs in the middle row and a three-person bench at the back. The advantage is that passengers can access the rear-most seat without middle-row occupants being forced to vacate the vehicle.
Front passengers are cossetted plus there's a great view outside thanks to a high riding position and large windows around the car.
They're less useful for rearward visibility though, with extended rearmost head restraints interrupting the view – a reversing camera would prove useful. However, the boot space within that large rear end is an impressive 875 litres with the seats occupied, something smaller seven-seaters can't remotely get close to.
Conventional to drive
Despite its high stance and rear-wheel drive (selectable four-wheel drive is standard on the range-topping EX version), it doesn't feel dissimilar to many other people carriers to drive.
Essentially its role is one of providing comfort to occupants rather than being an enthusiastic partner for B-road jaunts. This it does well.
All passengers should feel relaxed and isolated from the road's imperfections, regardless of speed and the cabin is insulated from wind noise and tyre roar too. Only the strained note of the engine when accelerating hard is particularly noticeable.