View all Subaru Outback reviews


Subaru Outback Estate (2009 - 2014) review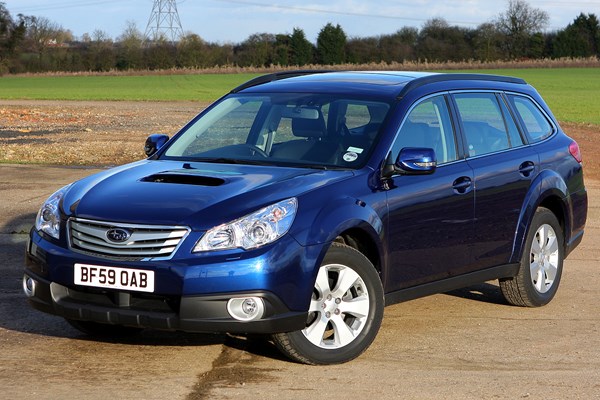 PROS
Four-wheel drive ability
Spacious and comfortable cabin
Large boot
Decent ride
Very reliable and well built
CONS
Expensive list prices
Limited engine choice
Notchy gear change
Lacks poise in corners
PROS
Four-wheel drive ability
Spacious and comfortable cabin
Large boot
Decent ride
Very reliable and well built
CONS
Expensive list prices
Limited engine choice
Notchy gear change
Lacks poise in corners
With its sophisticated four-wheel drive systems and extra ground clearance, the Subaru Outback offers the off-road capability of a more traditional 4x4, but in an estate-sized package.
Previous versions have built up a reputation for reliability and bullet-proof build quality, strengths which have kept owners incredibly loyal to the brand. It's also why the Outback is a popular choice in rural areas, both as a workhorse and a family vehicle.
This version, based on the Legacy Tourer, is more refined than before but it's not the most sophisticated car around with a rather utilitarian cabin, especially when compared to similar models such as the Skoda Octavia 4x4.
It comes with a decent diesel engine though, offering useful economy while there's a large boot and plenty of interior space too.
Four-wheel drive ability
The Subaru Outback has been around in one shape or another for a long time and this is because there are people out there who need an all-wheel drive vehicle but don't want a full-blown SUV.
This is where the Outback has a great role to play, offering a surprising amount of off-road ability yet still working perfectly well as an everyday estate car. There's loads of traction from the all-wheel drive system and it works to make the Outback very secure on normal roads too.
There's also a supple ride, decent performance from the unusual 'boxer' engines and decent refinement at all speeds. The Outback is even good fun on twisty roads.
Expensive
If you're wondering why not everyone is driving a Subaru Outback when it has good all-round driving abilities and even some off-roader credentials, the answer is cost.
The Outback is quite expensive to buy in the first place and then you will rack up the costs running one as servicing is pricey at official dealers and any repair work is markedly more expensive than for the Outback's obvious rivals from Volvo, Volkswagen and Skoda.
Go for the petrol model and you will only see average miles per gallon in the low 30s and its carbon dioxide emissions punish you when it comes to paying road tax. Even the 2.0-litre turbodiesel is not especially economical or clean for this class of car nowadays, although it was made available with the Lineartronic CVT transmission from November 2013 when the range was facelifted.
To find out more, read on for our full Subaru Outback review.