View all Toyota C-HR reviews


Toyota C-HR review
Current Model
Toyota's stylish challenger brings coupe flavour to crossover segment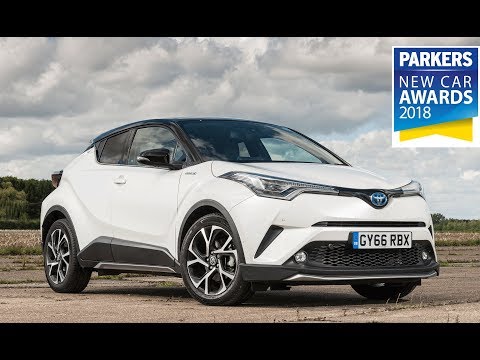 Enlarge
1

videos
Enlarge
89

photos
PROS
Hybrid efficiency
Concept car design
Engaging to drive
Comfortable and refined
CONS
Only two engines – and no diesel
Not as practical as rivals
CVT auto not for everyone
Interior trimming very bold
PROS
Hybrid efficiency
Concept car design
Engaging to drive
Comfortable and refined
CONS
Only two engines – and no diesel
Not as practical as rivals
CVT auto not for everyone
Interior trimming very bold
The C-HR is Toyota's futuristic-looking alternative to popular small SUVs like the Nissan Qashqai, Volkswagen T-Roc and MINI Countryman. The sharp lines and slashes in the body work go hand-in-hand with practical SUV space for four adults, but its stand out feature for some will be the engine choices - a turbocharged petrol or a hybrid powerplant, with the latter boasting low running costs.
Its extraordinarily bold exterior is married to an interior that features equally surprising elements and, to top it all, Toyota has worked hard to give the C-HR a much more satisfying driving experience than we're used to from this fundamentally sensible Japanese manufacturer. In fact, Toyota describes the C-HR as a 'gamechanger' for the company. The coupe-SUV combination isn't unusual these days – but Toyota is the first to really bring this idea to the mainstream family crossover class, in some respects making the C-HR a potential ideal follow-on car for people who have out-grown the massively popular, similarly proportione, but much smaller Nissan Juke.
Certainly, the C-HR is a breath of fresh air compared with more conventional rivals such as the Qashqai, Renault Kadjar, and Kia Sportage – all of which also deserve a place on your shortlist. Toyota is hoping buyers will also consider it a worthy rival to more premium alternatives.
How much space is there inside?
There are disadvantages to the shape, of course – both rear headroom and bootspace suffer by comparison, and the small amount of glass in the rear doors may lead to younger backseat occupants complaining of claustrophobia (once they're old enough to know what the word means). And the rear door handles are too high up on the door too, making it difficult to access the rear with your hands full. Both of these issues can be blamed on the styling that'll also attract so many buyers to the C-HR.

Still, it is possible to get a couple of adults in the back (three if they're really friendly, though the middle seat is very much of the occasional persuasion), and while smaller than rivals', the boot isn't tiny. It's a compromise you might be prepared to make if the rest of the package appeals.
Cheap to run and good to drive
The C-HR plays the style card with impressive conviction – for a Toyota – and the hybrid drivetrain is a novelty in the crossover sector. This combination of a 1.8-litre petrol engine and electric motor is borrowed from the latest Toyota Prius, as is the vehicle platform the C-HR is built upon. This might not sound too promising, especially in reference to the driving pleasure claims. But not only do the Prius underpinnings give the C-HR a lower-than-usual centre of gravity for a crossover, the whole project has been engineered in Europe for Europe, with particular attention paid to European driving habits. It's even been tested in the UK – and we've found it an incredibly impressive system.
It's extremely smooth, quiet and simple to drive but more importantly, it's capable or returning as good, if not better, mpg than a diesel. In fact, in an effort to prove some colleagues wrong, one of the Parkers team aimed for the best fuel economy possible and actually beat Toyota's claimed 72.4mpg.
Low BIK for company car drivers
Thanks to the petrol-electric hybrid C-HR's CO2 output of 87g/km, this is an SUV that company car drivers can consider. The benefit-in-kind tax system is geared towards rewarding lower CO2 models, and in particular cars using petrol rather than diesel.
A 1.2 turbo petrol and an efficient hybrid
Around 75% of C-HR buyers are expected to choose the hybrid. Any shock in this stat is lessened by the knowledge that there is only one other engine choice – a 1.2-litre turbo petrol. Toyota is not offering, and has no plans to offer, a C-HR diesel; it's actually more likely we'll see a higher-performance petrol model further down the line.
Is there a 4x4 version?
For now the 1.2 comes as a six-speed manual with front-wheel drive and a CVT automatic transmission, with a choice of front- or all-wheel drive. The hybrid comes as a front-wheel drive with the same auto 'box only. There are three trim levels: Icon, Excel and Dynamic. All are well equipped, with safety and technology heavily represented. The Toyota C-HR Dynamic is the most heavily customisable trim, with a colourful interior design to match the futuristic exterior.
What about a more-powerful Toyota C-HR?
We think this is highly unlikely. While the Toyota Corolla is available with a 1.8-litre hybrid, and a more potent 2.0-litre system that's geared more towards keen drivers, the company's spokespeople say that driver enjoyment, rather than outright power is a priority for the C-HR.
So could the Toyota C-HR be the hybrid honey that's been missing from your driveway? Read our full review to see if it's the right car for you.