Toyota GT86: Fond farewell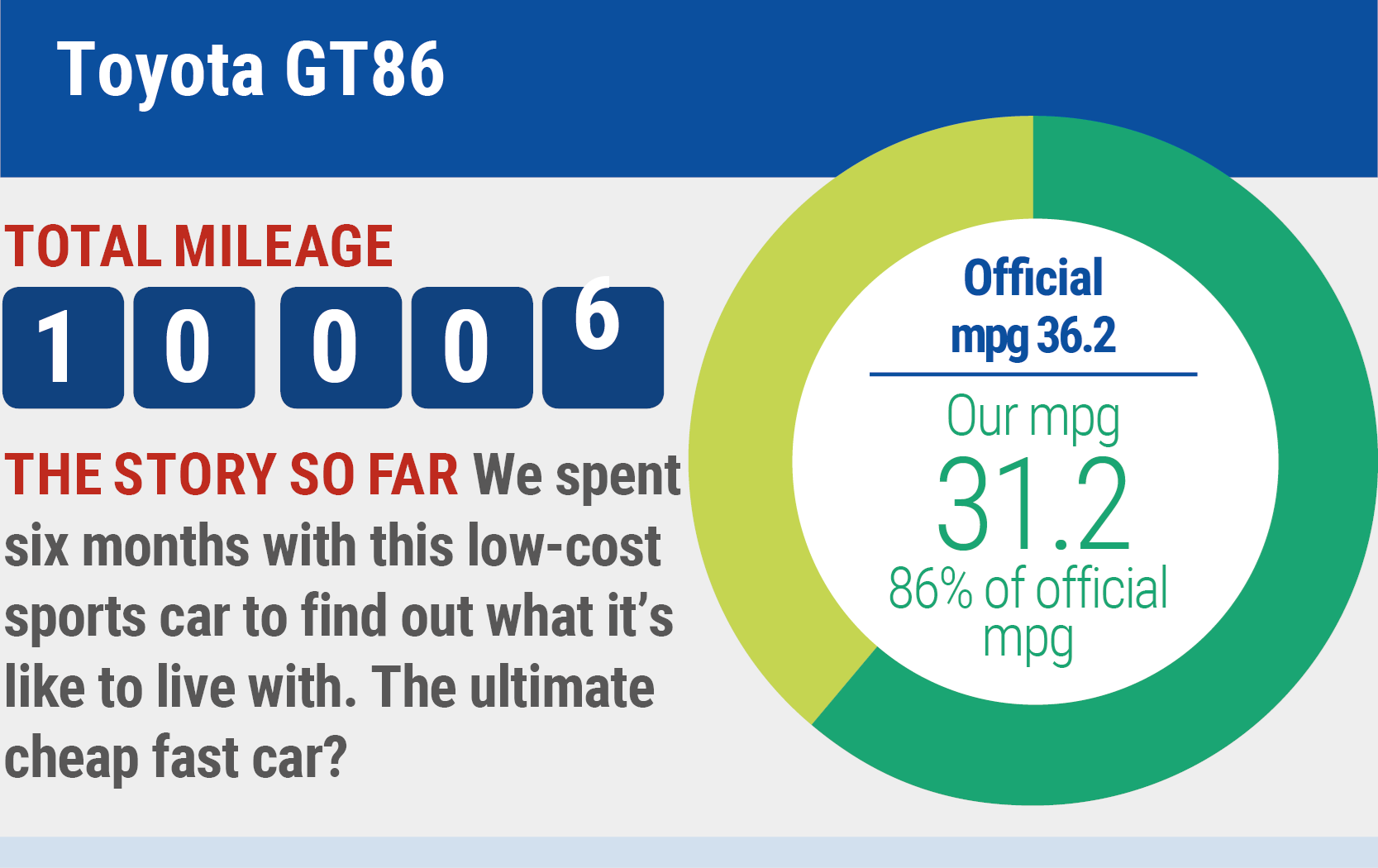 We're sad to see the GT86 leave the Parkers fleet
Find out what we loved and hated about Toyota's two-door
Read the full Toyota GT86 review
The time has come to hand the keys to our Toyota GT86 back. It's a very sad day – and here's why.
Over the six months we had the car it won hearts and minds across the entire Parkers team and further still, impressing colleagues at Car, Classic Car Weekly and Top Sante magazines along the way.
Closer to home, I learned what it's like to live with day-to-day, and what from the outset looked like an impractical sports car actually turned out to be just right for my lifestyle.

Sure, it only has two doors and a small, awkwardly shaped boot, but I never found it lacking. If you absolutely have to, you can carry four adults, though it isn't exactly comfortable for anyone involved over any sort of distance.
Those rear seats serve another purpose, however – they're heavily dished, which makes them perfect for keeping shopping bags in place when you're driving enthusiastically.
And make no mistake: that's the point of the GT86. It's been built specifically for those who love to drive. We've waxed lyrical about its engaging yet confidence-inspiring cornering capability, and although not everyone likes the 200hp petrol engine, I wouldn't have it any other way.

There's enough power on offer, it sounds feisty and its flatter design means it can be mounted lower down in the car, which has a big impact on handling.
Oh, and considering the fact that it's so much fun, the calculated 30+mpg fuel economy it returned really was impressive. A reliable 300 miles per tank was the norm, so no range anxiety here.
The multimedia system with its touchscreen isn't the final word in automotive technology either, but you wouldn't expect that in a cheap sports car.
To conclude, it's a case of small niggles and huge fun. The Toyota GT86 is one of, if not the best cheap performance cars you can buy. If you can live with its foibles, you'll love it too.
Farewell, friend.

---
Update 13: Putting it to the test
Our Toyota GT86 doesn't have many direct rivals. The closest pair are probably the Mazda MX-5 RF and the BMW 220i Coupe that CAR magazine put up against it in a recent article.
However, at Parkers we like to think of things a little differently. Instead of positioning the '86 against cars of similar bodystyles and power outputs, we included it in a much bigger group test to determine who builds the best cheap fast car.
We judged it both on the road and on a short sprint circuit at Rockingham Motor Speedway.
Watch the Parkers Cheap Fast Cars group test video below:
Cheap fast cars: a personal perspective
The outcome of our group test was a win for the Ford Focus RS Mountune, and rightly so. It strikes just the right blend of price, performance and practicality.
But in my mind the GT86 walked away with the prize. That's because while others in the test were indeed faster and more capable, nothing else had the purity of purpose that Toyota's two-door tearaway exhibits, and so nothing else was as much fun.

Its steering, unhindered by engine output that is directed exclusively to the rear axle, is head and shoulders more communicative and confidence-inspiring. You've always got a sense of what's going on under the front wheels.
Predictable and involving handling
In fact, that's the same for the handling in general, it's predictable and involving in a way that none of the other seven cars could get close to.
The engine is probably the least interesting part of the car, with some reviewers claiming it didn't have enough power, but actually for me that's missing the point. Sure, it's not as quick from 0-62mph as a lot of the cars in our test.
But the GT86 has relatively tiny tyres on 17-inch wheels, so there isn't a lot of traction and the engine doesn't have to work very hard to overcome grip, which means it's exciting at low speeds.
Shame it's so impractical
It's in the practicality question that the '86 suffers most, and that's my bone of contention. Its door count is half what most combatants had, immediately blowing a huge hole in the overall proposition, and this isn't helped by the poorly-sized boot. It's these compromises that meant we couldn't award it overall victory.
Shame. But it'll always be the winner in my eyes, because I'm 33, married with no children (and none planned) and I love to drive. I don't need more doors or a boot for the pushchair. I don't even need the licence-endangering speeds of the turbocharged Focus RS.
For me, the GT86 is the ultimate cheap fast car.

---
Update 12: With a little help for our friends
While here on Parkers we're keen to help the car-buying public get the best deal humanly possible at the dealership, it isn't unheard of for our crack team of motoring experts to contribute to sister title CAR magazine – one of the world's most respected publications on all things automotive for those who love cars.

This collaboration recently took on another form as a request came in to borrow our GT86 for a feature on...we won't ruin the surprise – you can read what happened when our Toyota took on the BMW 2 Series and Mazda MX-5 RF by clicking here.
---

Update 11: A future classic?
Classic cars are hot property at the moment, with sought-after top-end pieces of art on wheels continuously topping the charts of the most investible assets.
With that in mind, we lent Murray, the news editor of Britain's biggest-selling classic title, Classic Car Weekly, and driver of a Mk1 Mazda MX-5, our GT86 for a weekend of fact finding.
Did he find it too digital for his analogue way of life?
'I've been itching to drive a GT86 since it came out in 2012,' Murray said.
'Five years down I finally had the perfect excuse to borrow one. It was Drive It Day, one of our country's best excuses to go out and drive your car properly and for enjoyment. Not only that, but I was going to Bicester Heritage – a cornucopia of classic car goodness based at a former RAF base. Surely, acceptance among visitors at this event would surely help decide whether the GT86 has future classic potential or not.
Driving warrior
'The GT86 is billed as a real drivers' car. And understandably so – 200hp, rear-wheel drive, rev-tastic boxer engine. On paper, it all looks fantastic. After approximately five minutes behind the wheel it was a relief to say it's fantastic to drive too. Even the most modern-car-hating classic fans who lambast new cars for their sloppy driving dynamics and lack of character would be bowled over by it.

'Throttle response is nearly as sharp as anything I've ever driven before, steering is brilliantly weighted, and the driving position is spot on too. Nice and low down, with figure-hugging seats. A huge tick under the driving section for the GT86 then – only being let down by the fake engine noise. It's not offensive per se, but you know it's as fake as an American's smile and that just gnaws away in the back of your mind.
Plastic interior
'Buying the GT86 for the quality of its interior is a bit like visiting Ayia Napa for the quality of its olive oil. Interior class doesn't really bother me too much, but as it starts from £25,274 I suspect Toyota still has some people to impress.

'One such person is my friend Dan. He's a salesman, and an Audi driver. He's not necessarily the sort of person who would buy a GT86, but still, he was thoroughly unimpressed. He said the plastics were cheap, and the infotainment system dated.
'The GT86 is easily comfortable enough to use every day, although the interior would put off some people from buying one for everyday use. I also suspect among Audi, BMW, and Mercedes-Benz drivers the badge doesn't quite have the bling for the office car park parade.
Classic status confirmed
'There's an old adage in the classic world - an expression that causes much debate. Nevertheless, it's something I agree with entirely. Every car becomes a classic, it's just a case of when. Some cars take decades to find acceptance in the classic world, but the GT86 won't be one of them. This car will be caked over the front cover of classic magazines in the next 15 years or less. And rightly so.

'It nestled among much older and more expensive machinery at a location as historical at Bicester and never felt out of place. At one point, I parked it next to a 1972 Alfa Romeo Spider and a 1962 Alfa Romeo SZ - both in a similar red hue to the GT86. And although they're miles apart in price, performance, and even character, they share the same ethos of being cars made for enthusiasts. In short, drivers' cars rule.'
By Murray Scullion, news editor of Classic Car Weekly
---
Update 10: Time to tweak? Call Cosworth...
Back in 2012 I attended the original launch of the GT86 in Barcelona. It was a memorable trip for many reasons, but a chat with one of the car's engineers stuck in my mind. He told me that right from the outset this is a car that's built to be modified, personalised to the owner's tastes for looks, handling, comfort or performance – or indeed a blend of all four.
But the question is, where do you start? We thought it would be a good idea to get our hands on a car that had been tuned by experts to see what's possible. Who better to ask than world-renowned motorsport engineering firm Cosworth, responsible for building performance Fords and Subarus as well as involvement right at the pinnacle of several types of racing?
Tell me more about the Cosworth GT86…
It just so happens that the firm sells a number of parts to enhance the 86's engine (and indeed the Subaru BRZ's, which is identical), and group them into a pair of packages based on how much extra power you'd like.

Dubbed Power Packs, you've got a choice of Stage 1 or 2. The first is mild tuning, featuring a claimed extra 15hp thanks to a freer-flowing air filter, a new thermostat and an ECU recalibration along with a Cosworth car badge. That costs £595, but the ECU tweaks add some neat features, such as:
four-way map switching to offer varying engine responses, activated by the cruise control stalk
a throttle blip when you change down a gear to match the engine's revs to its road speed, keeping the car stable when decelerating
full-throttle gearchanges to retain momentum when driving quickly
launch control for the optimum takeoff from standstill
You're able to upgrade this further with the addition of a £870 exhaust mid-pipe (including a high-flow catalytic convertor so you stay legal at the MoT station) and £1,344 tailpipe system. You'll see a 40hp increase if all of the above are installed and working together.

However, if that's not quite sufficient you'll need the Stage 2 package (£5,490), which is what's fitted to the blue car we're driving here. By far the most significant thing about this is the addition of a supercharger, which is a belt-driven compressor that forces more air into the engine, eliciting a massive 80hp more grunt in a perfectly linear fashion.
What's the Cosworth GT86 like to drive?
The thing that impressed us most about this demo car's character was the engine's power delivery. Not only is it significantly faster than the standard car, but on the road it feels just as quick and exciting as a Porsche 718 Cayman or Audi TT RS. The exhaust note sounds like a racing car, while you get an entertaining whining noise from the supercharger under acceleration.
Watch our video for an idea what this brilliant improvement sounds like
Interestingly, Cosworth's distributor Fensport also claims that this kit can be installed by the 'home enthusiast mechanic'.
We found the handling less to our tastes, however. It's still brilliant but while the mixture of aftermarket coilover suspension, uprated bushings and lightweight 18-inch alloys and low-profile tyres would be excellent on a race circuit, but on the road it's a trifle unforgiving over poorer road surfaces.

Perhaps we'd go for the best of both worlds here and choose a decent-quality coilover kit with full adjustment and a set of wheels and tyres specifically for track use – the '86 was specifically designed to be able to fit four alloys with rubber behind the two front seats. The seats are shaped in such a way as to leave room for a driver's helmet, too.
Verdict
You really have to be concentrating to get the best from this car, but it's a seriously engaging, characterful thing that doesn't detract from the essence of what makes the GT86 one of our favourite cheap fast cars.
The engine parts we've mentioned above are expensive when looked at in isolation, but when you factor in the performance improvement and compare like-for-like with more expensive cars, a secondhand '86 with these bits looks like a bit of a bargain.
We're listing used GT86s for sale from £11,995, so for £25k you'll have a machine that'll easily take on cars twice that price.
For more details on Cosworth's power packs click here, and to buy it visit Fensport's website.

Mileage: 7,211
Fuel economy: 33mpg
---
Update 9: Orange Edition announced
Toyota released news this week of a GT86 Orange Edition to sit above our base-spec model and the Pro version.
Based on the latter, it's the first of a new run of 'Club Series' models aimed at appealing more to enthusiasts. It isn't the last word in innovation, however – the triple-layer Solar Orange paint is the biggest change, along with anthracite alloy wheels are black tips for the bootlid spoiler.
Inside, the leather and Alcantara upholstery is black with orange stitching. Everything else remains the same, which is great news because we're still absolutely loving our time with the two-door tearaway.
Does this bright new model appeal to you? We'll wait until we see it in the metal, but strongly suspect we'll prefer our simple red paint job...



Mileage: 6,240
Fuel economy: 33.1mpg
---
Update 8: Toyota GT86 vs Ford Fiesta ST200
Regular readers of this page will know by now that we're thoroughly enjoying our time with the Toyota GT86. It is – in many people's eyes – the ultimate affordable sports car.
After all, it comes with an adjustable, well-balanced chassis, rear-wheel drive layout and rev-happy 200hp engine. And most importantly, oodles of driver appeal. Even if it's lacking a turbo.
However, there is another, cheaper, and more practical way to have fun on the road – one that for most people is hiding right in plain sight.

Introducing the £23,215 Ford Fiesta ST200. In essence, it's the hardcore, more powerful version of one of the nation's favourite hot hatches, packing 200hp+ of front-wheel drive frivolity into the humble Fiesta bodyshell.
Can it rival our beloved GT86 long-termer? Let's take a look.
Performance
Whereas the GT86 relies on its naturally aspirated 2.0-litre engine and rear-wheel drive layout to provide the thrills, the Fiesta has a front-wheel drive layout and a turbocharged engine of the same displacement.

That means the Ford has the legs on our Toyota when it comes to real world pace – accelerating from 0-62mph in 6.7 seconds.
But is it any more exciting in a straight line?
Yes! We'll give this one to the Fiesta ST200. It's not just the superior speed, but the way it gains it. First gear is oddly tame, but once up to second there's a strong surge of torque and power as the little Ford gains speed with alarming alacrity.
This is partly down to the overboost function which, under full throttle, unleashes an extra 15hp and 30Nm of torque. Enough then, for the latter to produce a total of 320Nm and a whole lot of torque steer (a sensation where the steering wheel moves to the left and right as the front wheels struggle to deal with the mountain of pulling power).
Through the bends
This is where the Toyota excels. The steering is accurate and precise, its balance near perfect and its appetite to waggle the rear end near insatiable. Surely the front-wheel drive hatchback can't compete?

Not so fast. The Fiesta ST200 is eerily good when it comes to a piece of intricate, twisty tarmac. You can go into bends at a lick the GT86 can only dream of, hauling off speed with the startlingly strong brakes and aiming the hungry front end towards the apex.
Want to have a bit of GT86-akin fun? Lift off the throttle mid-corner and not only will the nose tuck in obediently, but the playful back end will come into play, throwing out angles no front-wheel drive road car has any right to.
No, they won't be as impressive as the Toyota's tail-happy exploits but the little Ford will run it surprisingly close. A draw in our book.
Living with it
Our GT86 might look worried here. The Fiesta ST200 will happily return mid-forties mpg on a motorway cruise.

And yet, the Ford lets itself down in an unexpected way; the ride quality. Make no mistake, our GT86 is no Bentley over the bumps, but it's nowhere near as firm as the Fiesta.
During our weekend with the latter, we ended up driving along a particular piece of average British B-road like we were in a supercar.
We were either trying to avoid clonking one of the eminently kerbable 17-inch matt black wheels on a pothole or, deliberately driving a line to avoid the worst of the chassis' alarming rigidity.
It's the same in and around town, too, so be prepared for a seriously bumpy ride in the Ford. The high driving position is another bug bear, especially since the GT86 excels in this respect.

Other than that, the extra torque of the Ford is incredibly useful in everyday situations and, while its cabin is hardly bang-up-to-date, it knocks spots off the Toyota.
Verdict
In truth, either contender is good for serious driving thrills on a relatively-modest budget, opening up the performance car market in a way few cars have done before. But what if it was my own money, which would get the nod?
The GT86, by a whisker.
Mileage: 5,332
Fuel economy: 32.9mpg
By James Dennison
---

Update 7: Toyota GT86 versus Subaru BRZ
Although it's got a Toyota badge on the front of it, our GT86 was actually built on a Subaru production line. That's because it's the result of a joint venture between the two carmakers, sharing almost all parts between the Toyota and Subaru's sister model, the BRZ.
But which one should you choose? Let's start by exploring the differences.
Subaru's supple suspension
While most components are shared between the two cars, it's the set-up that makes the biggest difference to how they handle. For example, the BRZ has slightly softer suspension on its rear end, which means more traction and hence control of the car's tail.

Our Toyota is stiffer, which means it's less grippy and so tends to slide a bit more once you've put it into Track mode, which dulls down the electronic nannying of the stability and traction control systems for a more engaged, playful experience.
This is the biggest single differentiator in the way this pair drive. The engines and gearboxes are identical (although there's no automatic option from Toyota following 2017's facelift) so nothing to say there. It might not sound like a big deal, but if driving enjoyment is on your agenda then we'd suggest test-driving both to see which you prefer.
Cabin pressures
The other major difference is the cabin, or more precisely the touchscreen infotainment system – our Toyota's is much more neatly integrated with the rest of the car's design, the BRZ's looking like an aftermarket afterthought in comparison and functioning that way too.

You'll need to have Subaru's Starlink app installed on your smartphone to unlock many of that unit's features, whereas the Toyota's does have apps, but most of the functionality is there without downloading a thing. Our 86's navigation system is a £750 optional extra, however, and the Subaru's is standard-fit with just £105 separating their list prices.
Other differences include the dash trim and front seats, which are finished in a vehicle-specific design.
Owning and buying
While running costs for both cars should be around the same, the ownership experience could be very different. There are far more Toyota dealerships in the UK than Subaru ones, so it's going to be more difficult to get your BRZ serviced and maintained.
And finally, since Subaru is a much smaller concern than Toyota, it's unable to offer the same sorts of attractive finance deals that 80% of new car buyers take advantage of.

We do prefer Subaru's range of colours, however – it's subjective, but we think they're more interesting.
Both firms have an appealing five-year, 100,000-mile warranty in place should anything go wrong, although we reckon that's unlikely give both firms' reliability records.
Verdict
On a personal level there's absolutely no doubt which of these similar cars I'd pick. The Toyota's fractionally more fun to drive and the dealer network flexibility would be the final nail in the BRZ's coffin.
However, if you love driving, you won't be disappointed with either choice. The Subaru will certainly be the rarer choice, which will no doubt appeal to some buyers.
Mileage: 4,267
Fuel economy: 32.3mpg
---

Update 6: carbon infusion
Carbonfibre is a substance often used on sporty cars. The primary reason is its almost unequalled meld of lightness and strength, which means components can be as tough as metal and significantly lighter. It's a cake-and-eat-it scenario – albeit an expensive one.
First seen on McLaren F1 cars in the early 1980s, it's fair to say carbon's use has now far superseded necessity. This has manifested itself in the below picture: the somewhat incongruous use of the black woven material for the electric window surround in our GT86.

Now, I'd challenge anyone to explain to me quite why this has happened. Do we really believe the 86 benefits from it? Are the fractional weight gains significant enough to warrant carbon instead of plastic?
Clearly not, because many of the larger, heavier components (such as the seats and stereo) are made of plastic and metal. Furthermore there's loads of obviously fake carbon-look material around the cabin - such as across the dash (below) that makes our go-faster window switches seem yet more incongruous.

I can only surmise it's an aesthetic thing, which seems a shame; why take what is already one of the most engaging sports cars around and festoon it with falsehoods? There's no need.
Bin the carbonfibre, please, Toyota, unless it's having a meaningful effect on how quick the car is.
Still, I've noticed the fuel economy creeping up. It's reading above 30mpg now by my calculations, indicating the engine's freeing up nicely. I'd also have to say the car's performance feels like it's following suit...
Mileage: 3,352
Fuel economy: 32.2mpg
Update 6: Damn you Doris!
Storm Doris wasn't fun for anyone I know. With near-hurricane-force winds hammering the country, the best advice was to batten down the hatches and stay inside.
Unfortunately my calendar had other ideas, which resulted in me and 14 colleagues flying back from a car launch event into Stansted airport right in the middle of Doris's tantrum.
Well, we tried landing at the Essex airfield – four times, in fact – before the pilots took the decision to completely abort and head to Luton instead. Doris was close to her most despicable and the winds were just too high.
We then got a minibus from Luton back to Stansted, by which time the M11 was shut just north of the airport, the M25 was a mess and it was approaching rush hour. Time to jump in the '86 and tackle some proper traffic.

Sitting in a gigantic motorway queue moving at approximately 0.5mph, frankly this was my beloved Toyota at its worst. The brilliant feedback through the driving controls switched to an irritating heaviness – particularly under my left foot after an hour of continuous repeated clutch movements.
The engine isn't easy to contend with either in those sorts of situations. The arrow-sharp throttle response requires an incredibly light touch of the throttle making it difficult to drive smoothly in a jam. I snapped an old car's accelerator pedal clean in half at Donington Park last year, and subsequently earned myself a nickname:

This wasn't ideal.
Anyway, it's not all doom and gloom. The GT86's seats proved very comfortable indeed, the sat-nav's ETA function worked surprisingly accurately, and of course as soon as the traffic eased and I found myself driving it properly again I remembered why it's such a fun little thing. It's truly among the most entertaining road cars I've experienced.
My journey home from Stansted took around four hours – it's usually closer to one – and it's something I wouldn't want to repeat in a hurry in any car. I'd have picked many over the '86 though – it's simply not built for traffic.
Mileage: 2,060
Fuel economy: 29.7mpg
---
Update 5: alternative take
Different perspectives are always welcome when we talk about cars. Variety is the spice of life, after all.
With that in mind, we lent Katy, the editor of top womens' health magazine Top Santé and driver of a BMW 3 Series Coupe, the GT86 for a while so she could get to know it as she went away on a spa weekend.
Did she succumb to its charm offensive, or leave her feeling cold? Let's find out:

Cars are like men. There are so many models and each one feels, moves and responds differently. Some are comfortable and reliable but perhaps lack a little excitement; others are fast, flashy and look great with their top down but end up being too high maintenance so you trade them in for something more practical.
But with the new Toyota GT86, you get both reliability and looks: the thrill of zipping down motorways leaving sluggish lorries for dust, and yet still getting at least a 350-mile trip out of a tank – not bad for a sporty petrol engine.
It took me a few days to adjust to driving the Toyota – there's always a degree of adjusting to any new model; learning how it likes to be handled; whether to go easy on the accelerator when pulling away or whether to rev the hell out of it to avoid bunny hopping to a stop. While some models need only the gentlest of brushes against their pedals to respond, with others, you really need to put your foot down to get them to move.

Having driven an automatic for the past nine months, I definitely revved this baby far too hard for the first few days, but soon got used to the pedals again. What I found most odd though was the position of the gear stick. It's so far forward it's almost buried into the control panel.
Each time I reached out to change gear, it felt like it was in third or fifth when in fact it was in second, fourth or sixth. I'd have a second-long panic about not being able to move it down, before realising it already was as far down as it would go.
Other odd design notes include the completely superfluous cup holder positioned very slightly behind the front seats so you can't actually use it if you're driving. It can't even be used by anyone sitting in the back because no one actually can sit in the back – those seats are purely decorative and serve no other function that to carry shopping bags or a handbag when the passenger seat is occupied.
But on the plus side, that's also what makes this car better than a regular two-seater sports car. Being a bit of a bag lady, I like to chuck stuff in the back, and I think I'd be too restricted if all I had was a teeny tiny boot, which is all you get with most sports cars.
Keyless entry causes confusion
The other thing I wasn't a fan of, perhaps surprisingly, was the fancy locking system. To be more precise, it was the unlocking part that I didn't rate. On the one hand, it was fabulous to be able to walk up to the car and open the door without fumbling around in my handbag for the keys – this is because a sensor in the car knows when the key is nearby and unlocks the door when you pull the handle.

This is a nice touch when I was laden down with those aforementioned bags. However, I wonder about the security of this function, as I like to check the car has actually locked itself by pulling on the handle, and you can't do that if it keeps unlocking each time! The only way you could do it, would be to have a mate with you at all times, and get them to take the key far away from the car so you can check it's locked. But that's completely impractical.
It's not all bad news...
So you may be assuming by now that I hate this car – far from it. I got more and more accustomed to it once I'd adjusted to the odd position of the gear stick (and having to use a clutch again). It drives remarkably well and the acceleration is awesome.
The first time I got onto the motorway and put my foot down, I heard a loud grunting sound, similar to that you hear when a motorbike is about to overtake you at 100mph. I looked in my mirrors but there was no bike. It took me a few minutes to realise the sound was coming from the Toyota's engine. 'OMG I'm driving a Gary-boy car!' I thought to myself – you know, the kind that's been modified to be extremely loud, which seems to be catnip to men but which makes most women roll their eyes and think 'idiot.

But, once I'd gotten used to the fact the engine was meant to sound that way, and it didn't mean it was going to explode, I began to enjoy the drive. It felt nice having such power at my feet. And I especially loved that fact 'it corners like it's on rails' to quote Julia Roberts driving Richard Gere's sport car in Pretty Woman. Even driving in the wet felt safe at speed (sometimes in my BMW I ease off when it rains, as it feels less stable, but the Toyota stayed glued to the Tarmac no matter what).
Perches and poultry
The bucket seats were also pretty comfy, despite clearly being designed for a man as the sides didn't hug my hips, as I'm sure they're meant to do when you're zooming round corners in Track mode. Although I confess I didn't test that function, as I was too chicken to find out what would happen if I pressed the button.
The sat-nav is OK except the default is to have a really far-out view so you can't see where you're meant to be gong unless you zoom it in with your fingers – not easy if you're on the move. Being such a new car there's no CD player, which won't bother most people but I'd have liked one as a lot of my music is still on disk (showing my age now).

And it's super easy to pair the car with your phone. Just make sure you press the off button on the media console when you park up or the next time you start the ignition, you'll be 20 metres down the road when a random track will suddenly blare out at you because the car has just synched back up with your phone (it scared the crap out of me when I'd just left the house and Jerry Lee Lewis's In the Mood, which I didn't even know was on my phone, piped up – I was like WTF! I haven't pressed anything! Where's that coming from!).
So, the big question is: would I enter into a long-term relationship with the Toyota? Probably not. Don't get me wrong, it was a lot of fun, it looks great, it has a lot going for it, but as they saying sort of goes, once you've had automatic, you never go back.
By Katy Sunnassee, Editor, Top Santé
---
Update 4: the High Mile Club
While it feels like it's built strongly and isn't showing any signs of wear, judging the reliability of our GT86 – or any car for that matter - isn't easy until something (or nothing) goes wrong.
But as such a crucial part of many folks' buying decision, it's left to experts like Parkers to suggest how well they think cars will fare over extended use.
There are many facets our reviewers asses in order to comment on a car's potential resilience. They can check our Owners' Reviews for real-world experiences, the DVSA's website shows any official recalls that have occurred, you can get anecdotal evidence through forums such as the GT86 Owner's Club and Driver's Clubs – some warranty companies even provide claim information from which some data can be extrapolated.
However, a car company's reputation plays a massive role here. While in a lot of cases there are considerable exceptions – if not total fallacies – in many firms' perceived reliability records, Toyota's is exemplary.

Thanks mainly to cutting-edge production processes (Toyota invented the Just in Time manufacturing system, also known as Toyota Production System, for example) and a rigorous testing regime, this Japanese brand has become the envy of almost every other car company out there. It's also why every car sold in the UK is offered with a five-year, 100,000-mile warranty.
While the GT86's production is admittedly a joint venture with Subaru, who build the BRZ on the same line, that is another company with a long history of tough, well-engineered vehicles. If anything, a marriage between the two firms should make for even more dependability.
It's this confidence in its own products that led to the creation of Toyota's High Mile Club in March 2016. The idea is simple: once your Toyota's odometer ticks over the 150,000-mile mark, send a picture of it via Facebook or Twitter using the hashtag #HighMileClub and in return you'll get a sticker (below) to display on your car.

Our GT86 has only covered a meagre handful of thousand miles at this point, but there's no reason whatsoever to believe it'll be anything other than entirely capable of proudly displaying its own sticker in the fullness of time.
Mileage: 1,608
Fuel economy: 32.2mpg
---
Update 3: Quick, quick slow
We've already spoken about why the Toyota GT86 is to be considered a drivers' car, but what about actually driving it? Since our run-in period has come to an end, it's finally time to stretch the legs of this low-cost tearaway and see what it's like out on some of our favourite roads.
Approaching the car cold, climb in, press the clutch pedal and thumb the keyless ignition button – you're met with a keen engine note with a touch more vibration through the car than most other 2.0-litre petrol engines. This is due to the boxer engine's layout, with the pistons travelling from side to side rather than up and down, as they do in most other powerplants.

Paradoxically this sound seems to come from under the pedals, which takes a bit of getting used to, but that's where the motor's noise is piped through the firewall and into the cabin.
Getting the GT86's juices flowing
Next you'll need to let the car warm up before you can make full use of the engine's performance. There's a blue icon on the instrument panel (below) that shows you when it's cold, and the right-hand TFT screen can be configured to display both coolant and oil temperatures along with the battery's voltage.

Personally, I always have the latter screen showing – having learned the hard way many years ago with my own older cars, I'm paranoid almost to the point of distraction about engine pressures and temperatures.
It takes around 10 minutes for the '86 to come to full temperature, allowing me to wring out the revs all the way to the redline – complete with its visual and audible warnings. You have the facility to switch the rev-limit beep off if you don't want it, but I've not found a reason to do this.
Fun at low speeds…
One of the most endearing aspects of the GT86 isn't how fast it is, or how well it corners. It's that you can have huge amounts of fun without ever breaking the speed limit. Its instant throttle response – something no turbocharged car can hope to match – means you're able to control the car's balance mid-corner using the engine.

Prod the right pedal too hard and the tail swings out, even with the traction and stability control systems engaged, but it does so in such an approachable manner that you're never worried the '86 is going to bite you.
This playfulness is thanks in part to the relatively small tyres it uses. Measuring 17 inches in diameter, the alloys aren't a patch on the 18- and 19-inch ones on many hot hatchbacks these days.

Their 215mm width is narrower than almost all modern performance cars – meaning there's less rubber touching tarmac, and so less effort is required to get to the limits of traction. This means it's more fun.
… but the driver needs to slow down too
While you're certainly able to drive the GT86 flat-out everywhere, slamming through the gears at lightning speed and hitting the rev limiter at every opportunity, I've found a simpler pleasure. It's a technique I've used to teach novice racers to drive classic cars quickly, and it works without fail: first you need to slow down.
What this means is pausing momentarily between gear changes, using slow and deliberate braking inputs and thinking carefully about where you're placing the car in corners. In this way the '86 rewards like few modern cars on sale, seemingly working with you the smoother and better you drive. You look forward to every manoeuvre, and indeed every single drive, which I guess is exactly the point of a driver's car.

We've yet to try out the two additional modes for the electronic safety systems (Track and all off - shown above), to really extend the '86's abilities, but will look forward to doing so when we can find a safe area in which to really test the car's handling.
Mileage: 1,299 miles
Fuel economy: 29mpg
---
Update 2: Early days
Believe it or not, in this age of modern technology and just-in-time engineering, many cars still require their engines running in.
So that's what we've been up to in the Toyota GT86 in recent weeks.
How exactly do you run a car in?
In a word: slowly. The theory is that the engine needs time for the components to bed themselves in, so the manual suggests you keep the revs below 4,000rpm for the first 1,000 miles.
The trouble is, in the GT86 this is difficult. The razor-sharp throttle response just begs you to rev it further, and the distinctive engine note (piped into the cabin from behind the pedals) gets increasingly exciting proportional to rpm.

It wasn't easy, but we managed it with minimal pain thanks to a few long journeys over Christmas. Still, a trip onto the GT86 Driver's Club website – a forum full of true enthusiasts who love cars – showed that perhaps I needn't have bothered.
Internet says no…
User Lauren said: "Okay, the 4000rpm limit is for those who have no understanding of such things. It's a safe way to run an engine in. So you could do that.
"It's better though to fully load the engine when it's warm. For example full throttle in second to 4000rpm then lift off and do this at least every time you drive it. Increase the RPM's as the mileage goes up. Vary the revs, get the engine under load, this helps seal the rings. Do not use cruise control and speed up and slow down if you are on the motorway. Also don't just cruise in 6th, use 5th as well to work the engine.
"I increased my rev limit as I went, with it starting at 4000rpm so by the time I had done 500 miles I was up to 5000rpm and by the time I had done a 1000 miles I was up to 7000rpm. Once I went over a 1000miles I was redlining it regularly. I still do!
"My car hasn't used any oil in 65K miles.
"I think it's better to run the engine in harder than it is to run it in softer. The absolute worst thing you can do is labour the engine. So don't cruise around at 1000rpm in top gear. In fact never ever do that. I was careful to keep the revs at at least 2000rpm. Obviously now 1500rpm is a minimum. For the first 1000 miles try using one gear lower than you normally would."

There are several other posts echoing Lauren's thoughts. You can read the thread yourself here.
As you can see, and as per usual on internet forums, there are myriad opinions out there on what's right and wrong. Since our '86 did the miles, at least I can rest safe in the knowledge that I did my bit.
First impressions of the Toyota GT86
Since I've not been driving it that quickly, the first few weeks gave me a chance to see what this car's like from a conventional motoring perspective. A few early thoughts:
I love the seats in the back – they're the perfect shopping bag holders – but I do wish the front ones reclined easier. It's a two-handed bother to load items into the rear
Once I'd figured out how to turn off the audible speed camera alert, which was driving me completely batty, I like the way the optional sat-nav system works. It's simple and intuitive, and the touchscreen is very responsive
It's missing the lane-change indicator feature where you touch the stalk and they flash three times. I'm used to this luxury now – it's standard on almost every car, but absent on the '86
Now the car's run in I guess I'll have to start using it properly and see what living with a sports car is all about. Can't wait…
Mileage: 1,000
Fuel economy: 27mpg
---
Update 1: Welcome
The latest addition to the Parkers long-term test car fleet is something a little different. Whereas in the main, our days are filled driving hatchbacks, saloons, estates and SUVs, this time around we're catering for a small but resilient group of motorists that all too often get forgotten about.
And yet, they account for myriad features found on many mainstream models, such as big wheels, low-profile tyres and of course, Sport mode. This is the Toyota GT86, and it's aimed squarely at those who enjoy driving.

Originally launched in 2012, it's been heavily revised for 2017. It now features a stiffer, more responsive chassis set-up along with a revised cockpit and a smaller steering wheel. We'll go into the changes in more detail later on in our tenure with the car.
What's the recipe for enthusing the enthusiast?
The '86 is a dyed-in-the-wool sports car. Developed jointly with Subaru (who also sell a similar version it calls the BRZ), its basic composition is a two-door, four-seat configuration with a 2.0-litre petrol engine driving the rear wheels through a limited-slip differential. Both manual and automatic gearboxes are available, but we've chosen the driver's choice here: the former.

That motor boasts 200hp and 205Nm of torque, which equates to a 0-62mph time of 7.7 seconds and a top speed of 140mph.
In other words, it's slower than most hot hatchbacks of a similar price, but thanks to the engine's 'boxer' configuration (featuring horizontally opposed cylinders, which means the engine is flatter for a lower centre of gravity) and the driver-focused transmission and suspension set-up, it should be just as fast around corners.

While the rear seats are better served for carrying shopping bags than passengers, both fronts are highly supportive bucket-type affairs to keep you in place when cornering quickly.
All of the driving controls are laid out so they're easily accessible, with the gearlever in the optimum position and the pedals perfectly spaced for keen drivers.
Sounds great, but what about creature comforts?
This is where the trade-off occurs. The GT86 doesn't feature a massive amount of kit as standard in any guise, and since our car's in the base-spec GT trim it's as sparse as it gets.

Many modern features that are standard-fit on other cars of a similar price are conspicuous by their absence, such as an electric handbrake (more on this later too), powered seats and driver assistance tech such as lane-departure or adaptive cruise.
It does have standard cruise control, however, along with dual-zone climate control, DAB radio, a touchscreen infotainment system with Bluetooth/USB/aux-in connectivity, and electric windows. Keyless entry and ignition is a welcome addition too, taking the hassle of fumbling with keys away.
The facelift ushered in steering wheel-mounted controls for the infotainment along with the redesigned cabin.

Its only optional extra is the Toyota Touch 2 with Go sat-nav system, and this is something I'd have picked if it were my car. Along with the extra functionality of voice control, 3D mapping, speed limit display, real-time traffic information and app-based parking information, it also bolsters your car's residual value to the tune of £300 after three years and 60,000 miles. Not bad at all considering it costs £750 to add in the first place.
We reckon that's a far better idea than upgrading to Pro specification, which adds leather and Alcantara seat coverings, heated front seats and a rear spoiler for £1,150, but that's up to the individual buyer's tastes really.
Is the GT86 at least practical?
Not really when compared with a hatchback, but this is a two-door sports car. Side-by-side with a Mazda MX-5 you'll be able to carry far more luggage, though, and a couple more passengers if you're all half-decent contortionists.

The 86's 237-litre boot isn't the last word in size or conveniently shaped loading aperture, but it does have a handy remote-opening lid that should prove useful.
So that's the introduction to what's certainly one of the more interesting cars on the Parkers fleet. What will it be like to live with? Over the next six months we're going to find out.
Mileage: delivery miles
Fuel economy: n/a