Subaru BRZ review
Current Model
Lesser-spotted GT86 sibling has niche appeal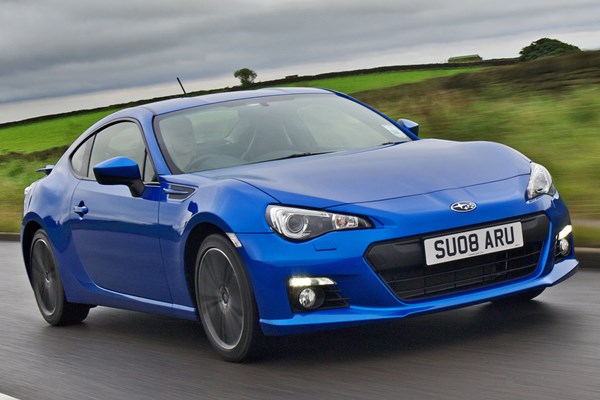 PROS
Agile handling
Simple dashboard layout
Striking looks
Good standard spec
CONS
Interior quality isn't great
Small dealer network
Unexciting engine
Useless rear seats
PROS
Agile handling
Simple dashboard layout
Striking looks
Good standard spec
CONS
Interior quality isn't great
Small dealer network
Unexciting engine
Useless rear seats

The Subaru BRZ is the result of collaboration between Subaru and Toyota to make a fun-to-drive and inexpensive sports car.
That ethos means it rivals the convertible Mazda MX-5 as well as diverse coupes like the MX-5, Audi TT, BMW 2 Series and Nissan 370Z.
Its most obvious rival, of course, is the Toyota GT86, which shares the overwhelming majority of parts witht he BRZ.
Its rear-wheel drive dynamics and a low-slung driving position make it more focussed than a hot hatch like the VW Golf GTI, but more compromised in terms of practicality as a result.
Excellent chassis
Handling is a big part of what the BRZ is about. The rear-wheel drive configuration is music to driving purists' ears, while the low centre of gravity means this is a car that simply loves corners.

The steering is excellent, the driving position is brilliant, and the clever electronic stability and traction control systems ensure you can have fun with fewer associated risks.
All of this means you can expect a much purer and uncorrupted driving experience compared with a front-wheel drive hot hatchback.
Slightly joyless but effective engine
Unlike many modern performance cars the Subaru BRZ uses a naturally aspirated engine. That means the 2.0-litre four-cylinder petrol unit makes just 200hp, while rival turbocharged cars extract nearly 50% more power from the same-sized motor.
The advantage, however, is a more linear spread of power over a wider rev range – you need to reach 7,000rpm for peak punch – rather than the laggy bottom and breathless top end associated with a turbo engine.
.

Consequently the BRZ's power is very predictable and easy to manage; the throttle response is sharp so when you want a quick burst of power, the Subaru delivers immediately. We'd have liked a more exciting engine note though.
As a result, while the BRZ's motor is a very effective tool it's not something you'll enjoy on an emotional level.
Surprising comfort, good specification
Although a sports car, the BRZ isn't what you'd call uncomfortable. Its sports seats are very supportive without being hard, and long journeys pose no real problem.
The ride is cossetting thanks to 17-inch wheels with relatively fat tyres, so there's not much of the choppiness associated with other focused sports cars.

There's also only one trim level and sat-nav is the single option, so all Subaru BRZs come relatively well-equipped. Active safety equipment is a notable absence, however.